Milan Pass with Duomo Terraces, La Scala, Hop-On Hop-Off Tour
Enjoy the best of Milan with the Milan Pass, a city pass valid for 48 hours. Gain free admission to seven top city attractions and enjoy a host (...)
Overview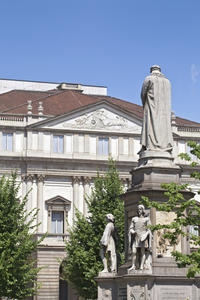 Location: Milan, Italy
Pick up your Milan Pass at the Milan Visitor Center in central Milan. Your city pass is valid for 48 hours, and includes a coupon book, a city map with useful tourist information, a guidebook with suggested itineraries and a Milan 'agenda' listing all local events and shows for the month. There's no easier way to plan and enjoy your Milan vacation!
Gain free admission to Milan's famous attractions and museums (shown in
Itinerary
below) including the terraces at Milan Duomo — the city's stunning cathedral — and the opulent theater of La Scala.
Standard passes include a 48-hour hop-on hop-off sightseeing tour or 48-hour public transport pass; simply confirm your choice with the local operator before travel. Upgrade to a Full Pass to include both options, if you wish!
All entrance fees included
Excellent value for money
What you can expect
Enjoy the best of Milan with the Milan Pass, a city pass valid for 48 hours. Gain free admission to seven top city attractions and enjoy a host of discounts. Choose a standard Milan Pass and enjoy a hop-on hop-off tour or free public transport; upgrade to a full pass to enjoy both.
In order to use The Milan Pass you need to download the APP – THE MILAN PASS from Play Store or Apple Store.
Practical information
What's inside
Milan Pass valid for 48 hours
City map and guidebook
Coupon book
Hop-on hop-off tour and/or public transport (depending on option selected)
Standard Milan Pass:
Enjoy free entrance to the following Milan attractions:
Duomo terraces and museum
La Scala Museum and Theater (free entrance or discount on a guided tour)
Brera Art Gallery (free entrance or discount on a guided tour)
La Triennale Museum
Art and Science Museum
San Siro stadium and museum tour
The World of Leonardo interactive museum
Vigna di Leonardo
Save on tours, activities and transport:
Navigli canal tour
Gran Tour of Milan
In the Footsteps of Leonardo (walking tour)
Enjoy discounts at select shops and restaurants:
La Scala Shop
Erboristeria del Castello
Maison Milano Restaurant
Sotto Sotto Food
Sotto Sotto Fashion
Pure Sport
Global Blue
Plus, choose between:
Free hop-on hop off city sightseeing bus ticket
Unlimited 48-hours travel on public transport around the city, including five metro lines and more than 100 tram and bus lines
Full Milan Pass:
All the benefits of the standard Milan Pass, plus free city sightseeing hop-on hop-off bus ticket and city public transport
What's NOT inside
Hotel pickup and drop-off
Gratuities (optional)
Food and drinks
Additional info
Refundable up to 4 business days prior to the travel date minus a 7% administrative fee.
Confirmation will be received at time of booking
Departure point:
Central Milan
Reviews & ratings
Milan Pass Including Duomo Terraces and La Scala
Milan Pass Including Duomo Terraces and La Scala

|

Barbara B.

|

26a septembro 2015

"We were disappointed in our tour. It was very difficult to hear and to understand the guide. The time spent in the Duomo was short 15 minutes which was a (...) "

Milan Pass Including Duomo Terraces and La Scala

|

Lmp128.

|

9a julio 2015

"We were glad that we booked this pass, especially for the Hop on, Hop off tour bus. We were sad that we could get in to see the Last Supper painting. Otherwise, it (...) "

Milan Pass Including Duomo Terraces and La Scala

|

Jacques G.

|

7a septembro 2015

"Super pour l'Expo universelle et la Scala. Mais nous avons dû payer 25 euros de plus sur le voucher de La Cène de Léonard de Vinci qui, normalement, était (...) "

Milan Pass Including Duomo Terraces and La Scala

|

Hei L A N.

|

6a aprilo 2016

"The pass is great for people who are a big fan of museums. For me, I went to Il Mondo di Leonardo, the Scala and the Duomo I only had half a day. I definitely (...) "

Milan Pass Including Duomo Terraces and La Scala

|

Seneka C.

|

9a junio 2015

"Scheduling conflicts caused some problems. Did not get to see The Last Supper and do the Tour of the city as planned. This city itself was (...) "

Milan Pass Including Duomo Terraces and La Scala

|

Neena C.

|

9a aprilo 2015

"Not the best. Very often the words of what u were hearing did not match with the place you were looking at. But for a general reference it was somewhat (...) "

Milan Pass Including Duomo Terraces and La Scala

|

Suzieqq.

|

16a februaro 2015

"We were lead to believe that when the driver picked us up at the airport, he would have all of the documents and passes with him. The driver had nothing with him, (...) "

Milan Pass Including Duomo Terraces and La Scala

|

Kanean L.

|

27a junio 2015

"I was very unhappy with the Milan city pass purchase. There was a marathon and I was unable to catch the bus for the tour. No one told me reservations are required (...) "

Milan Pass Including Duomo Terraces and La Scala

|

Mauro C.

|

6a julio 2015

"Your shuttle bus never came to pick us up as scheduled. After waiting TOO LONG, we took a cab to the metro and did not get back to our hotel until well after 1:30 (...) "

Milan Pass Including Duomo Terraces and La Scala

|

Dteijido.

|

25a oktobro 2014

"This tour was amazing ! "

0 10