Toledo Half-Day or Full-Day Trip from Madrid
Toledo Half-Day or Full-Day Trip from Madrid
View all photos
Location: Madrid, Spain
Duration: 5 or 8 hours
Toledo Half-Day or Full-Day Trip from Madrid
Travel from Madrid to Toledo, a national monument to Spain's art and history, and discover a treasure trove of El Greco artworks. Experience Toledo's past on a guided walk along cobblestone alleyways, and explore this World Heritage-listed city's medieval architecture and fortified city walls. As Toledo is on Madrid's doorstep, you can easily take a Toledo tour in the morning or afternoon, or explore in-depth on a Toledo day trip.
What You Can Expect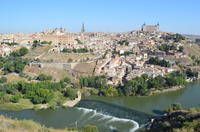 Leaving Madrid, relax on the 43-mile (70-kilometer) drive by luxury coach to Toledo, known as the city of three cultures, where Christians, Jews and Arabs lived together in harmony.

Your guided city tour takes you along the labyrinth of laneways winding through the medieval walled town. Your tour guide will point out the city's Arabic, Mudejar Gothic and Renaissance architecture, evidence of the city's Roman origins, Moorish influences and Baroque grandeur as the former capital of Spain.

View the medieval castle, with its storybook fortified towers, and the stunning Moorish architecture of Santa Maria La Blanca Synagogue, Europe's oldest synagogue.

Whether you're an art lover or history buff, you'll recognize the setting of Toledo from the majestic paintings by the 16th-century master, El Greco. Coming face to face with one of El Greco's most impressive works, The Burial of the Count of Orgaz, in the church of St Tome is a tour highlight. The painting features portraits of 16th-century Toledo's most important citizens, dressed in late-Renaissance fashions.

Also visit the Monastery of Saint John of the Kings, built by King Ferdinand and Queen Isabella in the 15th century. Notice the courtyard cloisters and royal coats of arms in this classic example of Spanish Gothic Mudejar design. The tour then takes you to the former house and studio of a local sculptor at the Victorio Macho Museum, where you can see examples of the artist's modern artworks and explore the lovely garden.

If you choose the full-day tour, you will visit the 13th-century Cathedral of Toledo, declared a World Heritage Site and Spain's finest example of Spanish Gothic architecture. Also enjoy a panoramic tour of Toledo that takes in all the city's highlights, from the river to the Alcazar fort, and pay an extended visit to the cathedral. Relax with a tourist-standard lunch of vegetable stew, veal and fruit salad, or indulge in a typical Spanish lunch of tapas, roast lamb, truffle cake with ice cream, accompanied by classic Spanish wine.
Tourist lunch menu (standard lunch):

Vegetable stew
Veal with green beans and french fry potatoes
Vanilla ice cream with fruit salad
Typical lunch menu (upgrade):
Appetizers and Castilian tapas
Roasted lamb with vegetables
Truffle cake with ice cream
Wine, mineral water and coffee
Days of Service
Half Day: Daily (AM with french guide only Wednesdays, Fridays)
Full Day:
April 1, 2013 to October 31, 2013
Daily
November 1, 2012 to March 31, 2013
Mondays, Tuesdays, Thursdays, Saturdays & Sundays

(with french guide all year round only Tuesdays, Sundays)
Full Day + Madrid:
Daily
(with french guide only Fridays)
Meeting Time
Morning Tour at 8:45am Afternoon Tour at 3:00pm Full-Day Tour at 9am Full-Day Toledo and Madrid Tour at 8:45am
Details
Inclusions
Entrance fees
Local guide
Transport by air-conditioned coach
Exclusions
Gratuities (optional)
Food and drinks, unless specified
Hotel pickup and drop-off
Additional Info
Confirmation will be received at time of booking
Infants aged 5 years and under are free of charge provided they do not occupy a seat
Due to uneven surfaces, this tour is not recommended for those with walking disabilities or using a wheelchair
Please note that private tables for lunch option cannot be guaranteed
Please note that the visit of the Cathedral will be possible only in the Full Day Toledo only
Operated by a bilingual guide in Spanish and English

Voucher Information
You can present either a paper or an electronic voucher for this activity.
Schedule and Pricing
Departure/Exchange Point
Central Madrid
Duration:
5 or 8 hours
Return Details
The tour ends at Bus Parking Plaza de Oriente, Level -2, Madrid
Policy:
Refunds, when possible, must be requested at least 4 business days prior to the travel date. Refunds are subject to a 7% administration fee. The Rail Protection Plan™ does not apply.
Note: Tours may be delayed or run late. Please plan accordingly.
8:45 AMTour

Code:ENG845AM

Toledo Half-Day Trip from Madrid at 8:45am with English-speaking guide
From
3:00 PMTour

Code:ENG1500PM

Toledo Half-Day Trip from Madrid at 3pm with English-speaking guide
From
9:00 AMTour

Code:ENG945FD

Full-Day Trip from Madrid including Cathedral with English-speaking guide
From
9:00 AMTour

Code:ENG945FDL1

Full-Day Trip from Madrid including Cathedral and tourist lunch with English-speaking guide
From
9:00 AMTour

Code:ENG945FDL2

Full-Day Trip from Madrid including Cathedral and typical lunch with English-speaking guide
From
8:45 AMTour

Code:ENG845FDTM

Full-Day Trip from Madrid including a 3-hour panoramic tour of Madrid in the afternoon with English-speaking guide
From
Customer Reviews
Mommyof3
This tour was amazing. Our tour guide was very informative. However Viator needs to indicate on the website that this tour requires a lot of uphill and downhill that my 79-year old mother definitely wouldn't and #39;t have been able to do.
Tamara M
We went on a half-day trip and the tour was very well organized. During those 3 hours it is a 5-hour trip but you spend around 3 hours in Toledo, 1 hour to get to Toledo and 1 hour to go back to Madrid, we saw all the most important sites in Toledo and our guide was very informative, friendly and funny. We had a great time.
Remedios E
This was great. The Tour Director was knowledgeable. I just wished that the group be concentrated with one language so time is not wasted in speaking in different languages. This comment applies to all tours!
Amir Z
very good although not good for handicapped.
Kami
We did the full day tour and it was FANTASTIC! Nooria was a great guide! Toledo is a completely different world from Madrid and it was fascinating to learn about its history. Highly recommend that you check it out!
Naser A
Great experience! Just wish it was even longer!
Steve S
A must is to visit Toledo while in Spain this ancient city has so much history and is unique. the tour guide was full of information. A great experience for the day.
Sandra B
This is surely a must see, from the sites, to the shopping to the beautiful architect loved every minute spent in Toledo, what a charming little town full of history..
Richard H
Our visit to Toledo was awesome! Jorge was an excellent guide with tremendous knowledge and passion for the history of Toledo. There was quite a bit of walking on this tour, including many hills and steps, but Jorge did a nice job of keeping the group together and making sure everyone was okay. the lunch was also very good, which a delicious menu and beautiful views.
Sopan C
Very well organized tour with comfortable buses and well versed guides!
HUGO P
The best one day tour you can get from Madrid, Toledo is great most do...
Colleen M
We enjoyed our full day trip from Madrid to Toledo, Spain. Up early at 6:30AM, Breakfast and headed to the tour operator. Nuria was our tour guide and Carlos our driver. It took 1 hour to get to Toledo. Toledo used to the capital of Spain. Founded in1081. Nuria warned us that she would take no prisoners...and boy, she wasn't kidding! Toledo is a very steep city with lots of steps and cobblestones I'd been warned! and she kept on at a good clip. Be sure to wear running shoes, not sandals!!! We got to see lots: the Cathedral, Church of St. Tome, Synagogue, El Greco paintings, St. Martin's Bridge, a glimpse of the Alcazar fort, and had an upgraded typical Spanish lunch of tapas at Figerales Restaurant, roast lamb, truffle cake with ice cream and wine! Think we still lost weight tho!
Holy Toledo it was 30 degrees! We slept well this night! Good job Nuria and Carlos!
John K
Excellent. The stop at the shop was the highlight of the tour.
Angelina C
Toledo is a beautiful medieval town with impressive old buildings. Loved the history of 3 different cultures living harmoniously together to make Toledo what it is today. The location is stunning. Don't recommend the lunch. Enjoyed the video show. Not enough time to walk around and see more on own.
Geenae R R
Our experience with Juliá Travel in Spain was excellent. Ana was a great tourguide, very knowledgeable of Toledo. Highly recommend it. Nuestra guia Ana fue excelente y el servicio de Juliá Travel fue genial.
Ann K
great tour great city!!!
Ronald D
Toledo is to die for. The guide was estremely well informed and the trip was thorough I fact we did not miss any of the city's best attractions
themisfits4
excellent trip, too many people in the group
Ed
Excellent tour and well worth the price. The tour guide was extremely knowledgeable and kept the tour moving on track. The traditional/typical lunch was amazing!
Saima N
This tour was excellent and I'd highly recommend this to my friends. The tour guide was extremely knowledgeable and amusing. He was funny and friendly and spoke three languages fluently. I thoroughly enjoyed the day.
Angelica G
This trip was good beyond our expectations! Our tour guide, Enrique was incredible, providing us with knowledge of Tarragona and Sitges in a very understandable way and without boring us with details nobody wants to hear. He also recommended us things to do in our free time, and all his recommendations were fantastic! I would recommend this trip to anyone, and ask for Enrique the writer to be your tour guide!
Susan A
This was a very good tour and a great opportunity to see beautiful Toledo with limited time available. We opted for the half day so were not able to visit the Cathedral other than to see it from the outside. The bus trip of an hour was very comfy and the 2h 30 minute walking tour of Toledo was most enjoyable covering the main sights with our good guide, the Old Town with its charming alleys and buildings is so pretty and the highlight was surely seeing El Greco's masterpiece. Sadly we werent offered any free time to wander or shop in town, but rather taken to a typical ''tourist shop out of town for 30 mins which lacked any character or authenticity and that was the only opportunity to buy a souvenir and Marzipan from a very limited range which Toledo is famous for. We would much rather have had 30mins free time in the Old Town. The trip back was very comfy and in all it was a great tour and highly recommended. If time permits the full day tour would be highly desirable.