Skip the Line: Van Gogh Museum and Amsterdam Canal Bus Hop-On Hop-Off Day Pass
Skip the Line: Van Gogh Museum and Amsterdam Canal Bus Hop-On Hop-Off Day Pass
View all photos
Location: Amsterdam, Netherlands
Duration: Valid for 24 or 48 hours
Skip the Line: Van Gogh Museum and Amsterdam Canal Bus Hop-On Hop-Off Day Pass
Combine fast-track admission to the Van Gogh Museum with a 24- or 48-hour Canal Bus hop-on hop-off pass, and you've got the best of Amsterdam covered. Explore the extensive collection of famous works such as 'Sunflowers' at the Van Gogh Museum, and see major landmarks including the Rijksmuseum and the Anne Frank House as you cruise Amsterdam's scenic waterways with your hop-on hop-off Canal Bus day pass. Get off at any of the 7 to 9 stops (depending on the season) to explore further.

What You Can Expect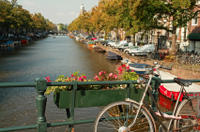 With the largest collection of paintings by Vincent Van Gogh in the world -- including such famous works as Sunflowers, The Bedroom and several self-portraits -- the Van Gogh Museum is a must-do for visitors to Amsterdam. The museum allows you to track Van Gogh's creative development and compare his paintings to works by his 19th-century contemporaries.

Reach other major sights in Amsterdam with your hop-on hop-off Canal Bus pass. Cruise Amsterdam's historic canals, listening to onboard commentary available in six different languages. Hop on and off as often as you like at any of 7 to 9 stops (depending on the season) located near top Amsterdam attractions such as the Rijksmuseum, the Anne Frank House and the Albert Cuyp Market. Your pass is valid for 24 hours or 48 hours, allowing you to sightsee at your own pace.

The boats operate a regular service along two routes: the Green Line and the Orange Line.

Please click on "view additional info" for the canal bus map and departure times.
Days of Service
Daily
Meeting Time
Van Gogh Museum Daily 9am - 5pm, Fridays open until 10pm Canals boats run at varying frequencies on two different lines.
Details
Inclusions
Entrance fees to the Van Gogh Museum
Unlimited use of the Canal Bus for 24 or 48 hours

Exclusions
Van Gogh Museum audio guide (5 euros)
Gratuities (optional)
Food and drinks, unless specified
Hotel pickup and drop-off
Additional Info
Confirmation will be received at time of booking
Not wheelchair accessible
Voucher Information
You must present a paper voucher for this tour. We will email a link to access and print your voucher at the Lead Travelers email address.
Schedule and Pricing
Departure/Exchange Point
The Green Line starts from Central Station West and the Orange Line from Rembrandt Plein. You can also hop on and off at any of the other canal stops.
Duration:
Valid for 24 or 48 hours
Return Details
You may disembark the Canal Bus at any of the stops throughout the city
Policy:
Refunds, when possible, must be requested at least 4 business days prior to the travel date. Refunds are subject to a 7% administration fee. The Rail Protection Plan™ does not apply.
Note: Tours may be delayed or run late. Please plan accordingly.
Tour

Code:24HOURVAN

Unlimited use on Amsterdam Canal Bus Hop-on Hop-off Tour. Valid for 24 hours. Plus fast-track admission to the Van Gogh Museum
From
Tour

Code:ENVG48

Unlimited use on Amsterdam Canal Bus Hop-on Hop-off Tour. Valid for 48 hours. Plus fast-track admission to the Van Gogh Museum
From
Customer Reviews
Matthew T
I did this in January, so there were no lines...which I understand to be completely different in the summer, making the presale tickets even more valuable. This is a quick and easy tour of the city. I knew nothing about Van Gogh and learned a lot get the audio tour. I also went to the Rijks museum again, get the audio tour. Then I took the 90 minute canal tour which gave a nice flavor of the city while I slowly worked through my jet lag.
Robert B
great trip, wish we had more time to spend before the boat sailed
Wendy T
Excellent tour. Compact and great overview. uide was amazing and very knowledgable. Would highly recommend it.
Diane C
It was great! We loved the Canal Bus Tour. It was so easy to stay at each stop and find a Canal Bus soon to go to the next stop. The Boat Guides were nice and very informative
Albert G
The tour went exceptionally well from the check in and the boats and drivers.Having the prepaid Van Gogh museum voucher/ticket was most helpful. I went on both the green and orange lines and enjoyed every minute.
Kenneth M
Van Gogh museum very interesting. Keep in mind skip the line just means skip the ticket line for ticket purchase. You still have to wait in the fairly long line to get in about 35 minutes for us_.
Canal bus is ok, but fairly minimal narration. Our hotel proprieter said the blue boats were better for a canal tour.
Michael G
Wonderful river tour and skipping the long lines to the VG museum was really worth it.
malinovskaia
Van Gogh Museum is a very beautiful museum, created with loving heart and pride of Vincent Van Gogh as a brilliant artist and honest, devoted to his brother Theo and his wife person- do not miss it if you have time in Amsterdam!
Canal bus was the best option to get acquainted with Amsterdam in one day!
John K
Hop On/Off Pass was the best investment for your trip
elizabeth s
This was awesome. We were told it would have been a 3 hour wait in line if we had not bought skip the line tickets
Michael H
Using the caanl hop-on hop-off bus made it easy to go everywhere we wanted to go. The boats were always on time and the pilots were very helpful. Getting the two day pass was a good value.
Lynn W
THE GUIDE WAS WONDERFUL!!! VIATOR THE PEOPLE WHO BOOKED THIS FOR ME MADE NUMEROUS MISTAKES!!!! I WILL NEVER BOOK A TOUR THROUGH VIATOR AGAIN. I HAD TO SPEND OVER 79 EUROS TO VIATOR COMPANY TO TRY AND FIX YOUR ERRORS. THE LOCAL COMPANY THAT YOU CONTRACTED FIXED EVERYTHING! VIATOR DID NOTHING. COULD NOT EVEN GET THROUGH YOUR TOLL FREE LINES!
Deborah H D
Really needed the skip the line museum ticket and the canal boat was a great way to see the city.
DAVID C
A must do in Amsterdam.
Antonio M N
The best value for paid price!!! This trip was the best way to get another perspective of Amsterdam. Boats met the indicated schedules. The three lines cover almost all Amsterdam areas.
MaryAnn T
This tour was amazing!
Angela C
Wonderful family pass. Van Gogh Museum is a must see. The canal bus is very easy to find. Many routes to take you anywhere in Amsterdam. I would recommend buying a time slot ticket for the Van Gogh Museum as the line is outrageously long even if you prebook a ticket. If not plan to wait in line for about 30-45 minutes.
Roberta S
The line waiting to buy tickets was very long,but we just sailed right in. Saved us a lot of time,it was great.
Sunflower
The Van Gogh museum has such an amazing collection of works. Wonderful paintings.
The canal pass was useful though the timetable is limited.
Cristiana C
It was a very good idea to book this tour, because we saved time at Van Gogh museum line. My advice for the tourists who want to buy this trip is to print the vouchers twice - because you get the entrance ticket to both attractions in exchange of the printed voucher (we didn't know and had to make a trip to the hotel for a second print). Van Gogh museum is absolutely fabulous, it definitely worths a visit (or more!). The boat tour is also very beautiful, but you depend too much on the weather and we had plenty of rain on the seond day. But it was a very nice tour of the city even so! So I highly recommend this tour. I love Amsterdam.
Arnold T
Hop on hop off canal tour is a great way to see Amsterdam. You would miss most of the city if you didn't use a boat. Quiet, relaxing, the only way to go. Not having to wait at the Van Gogh saves an hour in line. That alone was worth the ticket price.
jane7711
We had a great time on the hop on hop off canal boat and went to the Van Gogh museum which although busy was well worth seeing. It was great having the ticket in advance as saved a lot of queuing.