Rome Card and Omnia Vatican Card: Valid for 3 Days
Rome Card and Omnia Vatican Card: Valid for 3 Days
View all photos
Location: Rome, Italy
Duration:
Rome Card and Omnia Vatican Card: Valid for 3 Days
Explore Rome and Vatican City at ease with the Rome Card and Omnia Vatican card – two must-have 3-day sightseeing passes that include entry to selected attractions, discounts and more. Enjoy skip-the-line entry to the Vatican Museums, Sistine Chapel and St Peter's Basilica with the Omnia Card, and use the Rome Card for entry to two out of five possible attractions such as the Colosseum. Other features of the Rome Card include a hop-on hop-off bus ticket, a central Rome travelcard, guidebook and map.
What You Can Expect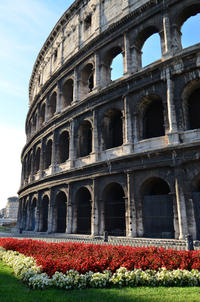 Simply exchange your voucher for the Omnia Vatican Card and Rome Card in Vatican City. Then, use your sightseeing cards to discover the best of Italy's compelling capital at your own pace. Both cards are valid for three consecutive days from first use.

Omnia Vatican Card:
Use your Vatican pass to enjoy skip-the-line entry to the world-famous Vatican Museums, Sistine Chapel and St Peter's Basilica. Entrance lines to these world-class sites are typically long, so bypass the queues and head inside to sightsee at leisure, admiring religious artwork like Michelangelo's The Creation of Adam and La Pietà.

Rome Card:
Enjoy entry to two out of the following five top Rome attractions:

Borghese Gallery
Capitoline Museums
Castel Sant'Angelo
Colosseum
Palatine Hill and Roman Forum
Save on entry to more than 30 other Rome attractions, including:
Borghese Gallery: 50% savings
Capitoline Museums: 21% savings
Castel Sant'Angelo: 33% savings
Colosseum: 37% savings
National Gallery of Modern and Contemporary Art: 50% savings
Museo della Repubblica Romana e della memoria Garibaldina: 15% savings
Museo Napoleonico: 15% savings
Museo Pietro Canonica a Villa Borghese: 20% savings
Museo Nazionale del Palazzo di Venezia: 50% savings
Villa di Massenzio: 20% savings
Use a hop-on hop-off sightseeing ticket to sightsee at your own pace from an open-top bus. Simply hop on or off at any of the following 12 stops:
St Peter's Basilica, Vatican City
Palazzo della Cancelleria
Rome Pantheon
Piazza Venezia
Termini Station
Santa Maria Maggiore
Basilica of Santi Cosma e Damiano (stop is not in operation on Sundays or bank holidays)
St. John Lateran
Colosseum
Circus Maximus
Tiber Island
Palazzo Farnese
Make use of a travelcard to explore central Rome for free by the following modes of transport. The card does not include travel to/from Rome airports.
Buses
Metro trains
Overground trains
Days of Service
Daily
Meeting Time
Sightseeing passes are valid for three consecutive days after redemption
Details
Inclusions
Omnia Card including hop-on hop-off ticket

Rome Card including travelcard

Guidebook
Map
Exclusions
Additional Info
Confirmation will be received at time of booking
Voucher Information
You must present a paper voucher for this tour. We will email a link to access and print your voucher at the Lead Travelers email address.
Schedule and Pricing
Departure/Exchange Point
Redeem your voucher near St Peter's Square, Vatican City
Duration:
Return Details
Policy:
Refunds, when possible, must be requested at least 4 business days prior to the travel date. Refunds are subject to a 7% administration fee. The Rail Protection Plan™ does not apply.
Note: Tours may be delayed or run late. Please plan accordingly.
Customer Reviews
Jane H
Fabulous dread to think how long we would have had to que for the Vatican without the card, very easy to use. Only complaint took along time to find where to collect card you need much clearer instructions on this and when we did find office somebody told us it was the wrong one staff didn't really know much.
Eileen B
Purchasing the Rome Card and Omnia Vatican Card was the best thing we did for our trip to Rome. The staff at the office near St Peter's were wonderful and with so much included in the passes we managed to do all we wanted in the short time we were there. With bus, metro and entrance tickets included, this is by far the best deal ever.
Kat
Brilliant value for money and is a fab way to see as much of Rome as time allows. Priority entry is fantastic...... We will definitely use again!
Joshua L
Great way to see Rome, would highly recommend this package. The hop on buses were on time and was a relaxing way to see the city. The visit to St Peters Basillica and the Vatican Museum were great experiences. Loved not having to stand in a long line to get into the Colosseum.
Diane l
My friends and I were very happy with the tour, loved it all.
Also my friend lost her wallet and the staff were very helpful and considerate, they were very nice.
Thank you
Di Loneon
nicola m
worth every penny,can,t recommend enough .really good
Selvamary D
It was fast, easy, convenient and we didn't have to wait long for the connecting buses.We could do our tour in our own time minus the queue.
Helen B
A definite money saver and time saver.
elizabeth w
This was an excellent addition to a wonderful trip to Rome it made getting around the city so easy and as our hotel was outside the city we could travel on the metro and the bus without any hassle. I would recommend anyone going to Rome to purchase this card. The staf on the hop on hop off bus were also very helpful and polite.
Juliano M
We were very pleased with our Rome card and Omnia card and what it offered .
stephanie m
Very convenient!
Caprock
These are a great money and time saver. They were amazingly easy to use!
Caprock
These are a great money and time saver. They were amazingly easy to use!
Isabelle G
Easy pass to visit and get around Rome!
Robert K
This was very useful card to buy!
Sugie
Absolutely fantastic time. This 3 day pass made it much easier to get around, there is not enough time to do all in Rome will be returning next fall to continue and will be purchasing the pass again to continue seeing the fantastic sights.
Diane R
Don't see Rome without it
Ava H
We had an awesome time.The OMNIA Card,best investment ever.Highly recommend it,if your stay is less than 2 weeks.
Jennifer W
Great value for money, we took advantage of the hop on hop off bus over the 3 days, and the jump the queue at the Vatican and St Peters was a must for anyone considering this type of visit to Rome.
Susanne T
This was perfect for our group. We got into all the places we wanted, and had lots of flexibility to just enjoy at our own pace. Loved not waiting in the long lines!! We skipped right to the front and even got free audio guide at the Vatican. The city bus was very easy and saved us a ton of walking....which meant more time for Vino!
ALISON S B
The tour was excellent the whole package of travel tickets and entry into historical places of interest was great.
Ronald P
This is a GREAT deal. It makes getting to the places you want to see so easy and gives you skip the lines which is so worth it. We went to the Vatican and the line was 2 blocks long and the guide walked us right to the entrance and in we went. I have actually told several friends that if you get anything get this.
michelle.antelmi
Excellent!
Samantha H
Great deal! We used the hop off hop on bus to get around everywhere and the skip the line options to the main sites was so worth it!