City Sightseeing Potsdam Hop-On Hop-Off Tour
City Sightseeing Potsdam Hop-On Hop-Off Tour
Location: Potsdam, Germany
Duration: Ticket valid for 1 day from time of first use
City Sightseeing Potsdam Hop-On Hop-Off Tour
Discover Potsdam on this all-day City Sightseeing hop-on hop-off sightseeing tour that takes you to the city's top attractions including Brandenburg Gate (Brandenburger Tor Potsdam) and two UNESCO World Heritage-listed palaces: Cecilienhof Palace (Schloss Cecilienhof) and Friedrich the Great's Sanssouci Palace (Schloss Sanssouci). Take a peek behind the scenes at Babelsberg Film Studio; browse shops, galleries and boutiques along the pedestrian-friendly Brandenburger Strasse; and enjoy classic German fare at a café, restaurant or pub in the lively Dutch Quarter (Holländisches Viertel). Enjoy informative commentary and great panoramic city views aboard the open-top, double-decker bus, and hop on and off at your leisure to explore the sights independently.
What You Can Expect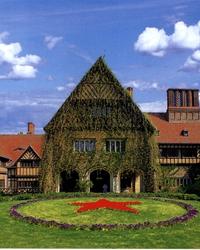 From any of the eight stops around the city, hop aboard the City Sightseeing open-top, double-decker bus and sit back as you explore the city of Potsdam, the capital of the state of Brandenburg and one the most remarkable and historic cities in Germany. As you'll learn, Potsdam has several claims to national and international fame; most notably, it served as the residence of the Prussian kings and the German Kaiser until 1918.
On board, a live guide will provide narration in German and English about the sights you see; there are also audio guides available in French, Italian, Spanish and Russian. Learn all about the city of Potsdam on the entire loop, which takes about 1 hour and 45 minutes, or hop off at conveniently located stops around the city to explore at your own pace.
Visit Brandenburg Gate (Brandenburger Tor Potsdam), which was originally a fortification built to prevent attack on the city. Near the end of the Seven Years' War, Frederick the Great had the old gate demolished and built the current-day Brandenburg Gate as a symbol of his victory. Your onboard guide will point out and explain the interesting design features of the new structure, which resembles a Roman triumphal arch.
Explore the Brandenburger Strasse pedestrian zone with its numerous shops and stylish passages fashioned from old courtyards. Nearby is the Dutch Quarter, a neighborhood consisting of 134 renovated red brick buildings in the Dutch style. This interesting area is home to several charming sidewalk cafes, coffee shops, restaurants and pubs where you can grab a drink or enjoy a classic German meal (own expense).
Hop off at Sanssouci Palace (Sanssouci Schloss), Friedrich the Great's amazing 18th-century palace and magnificent 600-acre (243-hectare) park. This is the largest UNESCO World Heritage Site in Germany. If you see inside the palace chambers or walk around the gardens, you'll understand why Sanssouci Palace is often called the 'Prussian Versailles.'
Follow up with another UNESCO World Heritage-listed palace, Cecilienhof Palace (Schloss Cecilienhof), which was the site of the Potsdam Conference, a major post-World War II conference between the victorious Allies. You can also visit the Orangerie Palace, another notable royal palace built in the 1800s.
Visit the Russian colony of Kolonie Alexandrowka or hop off at the Biosphärenhalle to immerse yourself in a world of tropical plants, birds, reptiles and sea creatures. Don't miss the Babelsberg Film Studio, the oldest large-scale film studio in the world. Get a behind-the-scenes look at the German film industry as you watch shows featuring stunt men, animal trainers and other skilled artists, and see the film sets and props.

Days of Service
Seasonal
22 March to 2 November
Daily
Meeting Time
Buses depart 9:55am - 3:55pm, every 30 minutes
Details
Inclusions
Transport by open-top, double-decker bus
Live narration (English and German)
Audio guide (French, Italian, Spanish, Russian)
Exclusions
Hotel pickup and drop-off
Entrance fees
Food and drinks
Additional Info
Confirmation will be received at time of booking
Not wheelchair accessible
Voucher Information
You must present a paper voucher for this tour. We will email a link to access and print your voucher at the Lead Travelers email address.
Schedule and Pricing
Departure/Exchange Point
Tour departs from Luisenplatz, however you may board the bus and exchange your voucher at any of the stops around the city.

Duration:
Ticket valid for 1 day from time of first use
Return Details
Policy:
Refunds, when possible, must be requested at least 4 business days prior to the travel date. Refunds are subject to a 7% administration fee. The Rail Protection Plan™ does not apply.
Note: Tours may be delayed or run late. Please plan accordingly.
Customer Reviews
Chris C
Potsdam is a must visit if you are visiting Berlin and this is a very cheap, easy and convenient way to see Potsdam. Highly recommended
Alan L
very convenient way to see the sights at you own pace. Tour guide was very knowledgeable. Highly recommended for anyway wanting to see the city but not tied down to a structured tour
Karin C
Loved it! I recommend getting there early and take the bus tour all the way through, then start over and get off where you'd like to spend more time. The tour ends fairly early in the day (5pm) so we used the very convenient local transit to visit the sites we wanted but most of those close fairly early as well. Good value and a good price.
Maria S
Highly recommended
DougallGoogle
We were not sure how this would go because we don't normally like the hop-on-hop-off format. Never fear, this is the best hop-on-hop-off we've ever done. Potsdam is a magnificent city. You can't afford not to see this place if you come to Berlin.
...and a tip for all of you who might be reading that it is a bit of an effort to get to Potsdam in order to start the tour. Absolutely not so!. It is a piece of cake. Roughly 30 mins from Alexanderplatz on a regional train. Fast, comfortable and great value public transport. Do it!
Anthony W
Potsdam is a must-see for any visitor to Berlin, and this is a very good way to get around to give you a sense of the stops you weant to make to spend more time at. This tour seems to stop at all the must-see palaces, and it's vert reasonably priced. The audio is very informative.
TOSHIYUKI M
Convenient, easy and efficient.
Leeta S
The city of Potsdam was beautiful! As for this tour, the spot for pick-up is not well marked, so that started the tour off pretty tough. I am English speaking and the audio on this tour was not that great. It was a male and female having a dialogue during part of the tour. When we reached a point of interest there would be facts given, but that was about it. Music played or the two would dialogue some. If you are German speaking, there is a live guide that gives a detailed explanation of every sight. I know it would be better. If I had it to do over again, I would take an all English tour with a live guide, not an audio tour. For the money, just riding and seeing the sights was pretty. I did get off the bus some, but then knowing where to get back on the tour was tough and it only came every 30 minutes. The driver was rude and did not speak English. He told me to speak to the guide who was upstairs. I didn't even realize there was one on the bus. There is no physical location to ask questions before you board. You just have to be ready and watch for the bus. People were all over looking for the correct bus. It was pretty chaotic. I gave it 3 stars because it did take a pretty tour for a decent price.
cary f
Live tour is NOT in English as advertised. Recorded audio tour is old, sparse on information and commentary. The live German tour appeared good by its amount and reaction of German speakers aboard. I suspect all the tour operators in town are run by same company. Last stop of the day our operator failed to show up. A competitor offered to take us back without our prompting seemingly business as usual. Aboard they had the same audio tour. If I had planned better and were to do it again, I would save money and use an phone app audio tour and local public bus service.