City Sightseeing Paris Hop-On Hop-Off Tour
City Sightseeing Paris Hop-On Hop-Off Tour
View all photos
Location: Paris, France
Duration: 1 or 2 days
City Sightseeing Paris Hop-On Hop-Off Tour
Discover Paris at your leisure with a one- or two-day ticket on this City Sightseeing Paris Hop-on Hop-off Tour. Create your own itinerary as you see the most popular sights of Paris, keeping to your own personal timetable and not others! You'll also receive a free walking tour.
What You Can Expect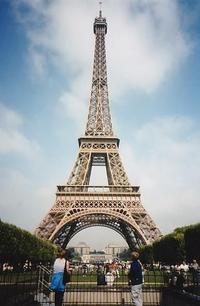 Get a bird's eye view of the cobbled streets of the Left Bank and the Napoleonic splendor of the Ecole Militaire. See the Eiffel Tower, Paris' most famous landmark. Stop off at the Arc de Triomphe and walk down the stylish Champs-Elysees. Become acquainted with some of the world's most famous artworks at the Louvre including the mysterious Mona Lisa.

This City Sightseeing Paris Hop-on Hop-off Tour is the easiest way to get around town. You can hop-on and off at any of the nine stops as often as you like over a one or two day period. The open-top double-decker bus provides fantastic views from the top floor. Buses depart every 10 minutes in summer and every 20 minutes in winter, every day of the year. Recorded commentary is available onboard in French, English, Spanish, German, Italian, Japanese, Russian and Chinese. You will receive headphones for the commentary the first time you use your ticket.

For complete route and full list of stops, please click on 'View Additional Info' below
Receive a FREE walking tour with your Paris ticket!
Now you can experience a free walking tour in partnership with Sandesman's New Europe when you purchase your Hop on Hop off tour in Paris. This walking tour covers some of the most important sights in Paris, giving you an insight into the people, places and events that have graced the 'City of Lights'
Departure Time: 11:30am everyday
Duration: 1 hour
Starting point: Stop 6 - In front of the Saint-Michel Fountain
Important Info: Guests must redeem their voucher on the bus initially before joining the tour
Your ticket allows you to customize your own sightseeing adventure by hopping on and off the bus at any of the following stops between the routes below:

Tour Eiffel: Quai Branly, face au Pont D'Iena
Champs de Mars: Avenue Joseph Bouvard
Musée du Louvre A proximite du Ponts des Arts
Notre Dame: En face du 25 rue d'Arcole
Musée D'Orsay: En face de l'entree du Musee d'Orsay
Opera - Galeries Lafayette: En face du 15 rue Scribe
Champs Élysées-Etoile: En face du 156 avenue Champs Élysées
Grand Palais: Avenue Winston Churchill
Trocedero: A l'angle de l'avenue Paul Doumer
Days of Service
Daily
Meeting Time
Monday to Thursday 9:45am to 4:55pm (last departure for complete tour), approx. every 10 minutes Friday to Sunday 9:30am to 5:29pm (last departure for complete tour), approx. every 6 minutes
Details
Inclusions
Recorded commentary on board
Walking tour
Exclusions
Entrance fees
Gratuities (optional)
Food and drinks
Hotel pickup and drop-off
Additional Info
Confirmation will be received at time of booking
Infant rates apply provided they do not occupy a seat
Not wheelchair accessible
Luggage is unable to be stored at the terminal or taken on board the buses
Audio commentary is available in English, French, German, Spanish, Italian, Russian, Japanese, Brazilian-Portuguese, Arabic, Korean and Mandarin

Voucher Information
You must present a paper voucher for this tour. We will email a link to access and print your voucher at the Lead Travelers email address.
Schedule and Pricing
Departure/Exchange Point
You may board and redeem your voucher on the bus at any of the stops around the city:
Tour Eiffel - Quai Branly, in front of Bridge of Iena
Champs de Mars - Avenue Joseph Bouvard
Musee du Louvre - Near the Pont des Arts
Notre Dame - in front of the 25 rue d'Arcole
Musee d'Orsay - in front of the Musee d'Orsay entrance
Opera - in front of the 15 rue Scribe
Champs Elysees-Etoile - in front of the 156 avenue des Champs-Elysees
Grand Palais - Avenue Winston Churchill
Trocadero - in the angle of the Avenue Paul Doumer
Duration:
1 or 2 days
Return Details
Policy:
Refunds, when possible, must be requested at least 4 business days prior to the travel date. Refunds are subject to a 7% administration fee. The Rail Protection Plan™ does not apply.
Note: Tours may be delayed or run late. Please plan accordingly.
Tour

Code:1DAY

Unlimited use on the Paris hop-on hop-off tour for 1 day
From
Tour

Code:2DAY

Unlimited use on the Paris hop-on hop-off tour for 2 consecutive days
From
Customer Reviews
Maria V
The ease with which you could hop on and off the bus was great. Maybe having a bus going the opposite way as well would be a good idea because if you wanted to go back to a certain point you had to sit on the bus till it went all the way around again, instead of, for example only going back one or two stops.
bert.oudshoorn
A Must for all new Tourist
Janice M
This tour was amazing!
Joseph N D
Thorough tour of city, ve.ry informative
Lee
Fantastic way to see the city
Peter N
Easy way to familiarise ourselves with Paris. There was even a blue tour stop near our hotel. What a bonus. Well worth the money
Ronald R
It was a great tour...loved it. Great process via on line booking...everything went amazingly smooth...not glitches whatsoever...very impressed....I'd use Viator again.
Laura W
Great way to see Paris
Good value for the money
Maria Estela L
This tour adds to our discovering places one seldom skips because of the more famous sights...small out of the way cafes...the Shakespeare and Co. bookstore by the side street of Notre Dame....stalls sharing love for the local artisans.
hersha v b
Loved two days of hop on hop off tour. worth taking this tour .Easy way to see paris by taking this tour.
cookie9212
This was the best tour ever. It just happened to be no car day that day so we really saw the sights. It was so informative and relaxing. It was our orientation day. Could have not picked a better company.
kevgaleuk
Great tour. The weather was horrible so we were confined to the lower deck but the tour was informative and it covered pretty much all of central Paris and the key sights. Love City-Sightseeing even those this was run by Big Bus and use them with every city I visit
Kenneth D
We were directed to the nearest bus stop to our hotel by the concierge. Arriving at the bus stop the attendant there quickly and efficiently issued us with our tickets and the bus arrived in a few minutes. Hopping off and on the bus was easy and we never had to wait more than ten minutes for a bus to arrive. An excellent way to get an overview of the city and see the main places and sights of interest.
joannecarlisle
Excellent route, great stops, excellent audio tour, plenty of upper deck seats available.
We found this a superb review of the highlights of this city, Paris, which we have always loved but hadn't visited for ten years.
Thank you!
Elisabete S
Excelent service, bus are really from 5 to 5 minutes. We really appreciated it!
Cristina A
This is our first activity in Paris. It may us able to roam around and familiarize the locations within the city.
Brad M
The only way to see all of Paris and get acquainted with the city!
marivic d
Very good, highly recommended!!
Karen R
This was a great way to get to know the city and to figure out where we wanted to spend our time.
Kristina L
Easy access, friendly personnel and good route :-
Jose D
Convenient way to see major attractions
myassine50
A must for everyone one want to tour interested places in Paris. They should start with it, as Eiffel Tower.
Thomas M
Very efficient. Hits all the best sites. No waiting. Regret not getting to Arche de Triomphe due to D-day activities, but unavoidable.