Paris Chocolate and Pastry Food Tour
Paris Chocolate and Pastry Food Tour
View all photos
Location: Paris, France
Duration: 3 hours
Paris Chocolate and Pastry Food Tour
Combine your love of chocolate and cakes with your passion for Paris! The Paris Chocolate and Pastry Food Tour combines French gourmet specialities with an afternoon walking tour so you won't need to feel too guilty. Numbers are limited to a maximum of 8 people on this small group tour, ensuring you'll receive personalized attention from your guide. Your tour is led by an expert food connoisseur, who will take you through a number of Paris neighborhoods to visit at least three pastry shops, a bakery and three chocolate shops.
What You Can Expect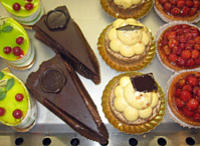 Numbers on this tour are restricted to a maximum of eight, ensuring you'll receive individual attention from your expert gastronomic guide. The number of stops you make could be expanded according to your group's preferences.

The commentary from your expert foodie guide includes an overview of French culinary habits, a description of any seasonal events taking place at the time of your tour and an introduction to selected specialities in the main shops. Your guide will discuss how these specialities are produced, how to choose the best chocolates and pastries, and how to prepare your own treats. You are encouraged to interact with your guide and ask all the questions you like as you are introduced to the fine art of chocolate making and pastry baking.
Days of Service
Daily
Details
Inclusions
Taste pastries, chocolates and a variety of breads
Walking tour (maximum 8 people)
Local guide
Exclusions
Gratuities (optional)
Hotel pickup and drop off
Additional Info
Confirmation will be received at time of booking, unless booked within 1 day of travel. In this case confirmation will be received as soon as possible, subject to availability
Operates in all weather conditions, please dress appropriately
Please note: some boutiques may be extra busy during peak holiday times

Voucher Information
You can present either a paper or an electronic voucher for this activity.
Schedule and Pricing
Departure/Exchange Point
Central Paris location
Duration:
3 hours
Return Details
Policy:
Refunds, when possible, must be requested at least 4 business days prior to the travel date. Refunds are subject to a 7% administration fee. The Rail Protection Plan™ does not apply.
Note: Tours may be delayed or run late. Please plan accordingly.
10:15 AMTour

Code:EN1015

Tour departing at 10:15am with an English speaking guide
From
2:00 PMTour

Code:EN1400

Tour departing at 2pm with an English speaking guide, except Saturdays when the tour departs at 1pm
From
Customer Reviews
Louise B
Excellent tour. Our guide Caroline was fantastic.
victorw
Highlight of the trip, David showed great and genuine interest in every place he brought us and gave great snipets of historical facts of Paris along our walk.
Carol P
Wonderful! Our guide Dave took us on a walk that included shops making and selling the most delicious chocolates and pastries and macarons. He gave us the history of the area and made the afternoon a delight!
Rick H
Absolutely fabulous tour. Great guide and so informative. Lots of fun foe us and our 15 year old daughter and delicious tastes of chocolate and macarons. Highly recommend
Kenneth N
Our guide Erin was extremely helpful and a wonderful guide!
We met in front of our first chocolate stop there were 6 chocolate shops, and 2 bed shops on this tour... all AMAZING!!! The whole tour is all walking, but the stops are close enough together that it doesn't feel like you are walking the whole time.
We enjoyed 2 - 4 chocolates at each stop, and a full baguette and croissant at our bread stops.
Each stop was more yummy than the last but our favorite chocolate was at Patrick Roger!
Our tour was supposed to be 2 hours, but our guide gave us an extra hour since we were the only ones on the whole tour We went right after the terror attack.
Erin was able to help us after the tour find a wonderful chees shop to buy some great items for our dinner that night to go with all of our left over bread and chocolate for dessert.
Over all: One of the most fun tours we did on our whole trip!
David O
We had the unfortunate situation where we arrived in Paris the day of the terrorist attacks in November. Our tour operator contacted us the morning of our tour and checked in to make sure things were ok and wondered if we were still wanting to continue.
We were very excited to get on our tour, and we are glad that we did. Our guide Josie was fantastic! She was very knowledgeable and we had a great time. The food was fantastic. Her knowledge of cooking really helped the tour.
When we return with our daughters, we will ask for her again.
Tiffnay D
This was the highlight of our trip in addition to tasting the best bread and chocolates. We learned a lot about bread and chocolate on this tour. Our tour guide was very helpful and informative. Definitely recommend this tour to anyone who loves chocolate and pastry. It would be a good idea to have only a light lunch if you are doing the afternoon tour as you will have plenty to eat.
Vivian T
Friendly tour guide. It was a very enjoyable and informative tour. Very highly recommended.
Zach G
Arielle was simply fantastic. I was the only student on the tour, so we had plenty of time to chat and discuss everything along the way. Her English was perfect and she is obviously incredibly knowledgeable on the history of Chocolate and Pasties in Paris and was able to deftly explain the intricacies of the chocolate making process, the difference between the types of cacao etc. She was also simply pleasant to be around and a fun guide. The tour itself and the chocolate was of course divine, all of the stops had a unique element and the samples I tried were all 10/10 wonderful. I can't recommend the tour and Arielle enough!
Christianne R
Two thumbs way up. A very knowledgeable tour guide and great places we visited.mand the chocolate was to die for!
Eleanor N
Our guide David was awesome, he gave us tons of information about the city and brought us to 7 different places to try eclairs, chocolates, macaroons, pastry, salted butter caramel, my Favourite was the chou! Three hours flew past in a whizz! Highly recommended!!!
Liane A
Stefan was outstanding. We had an excellent time!!! He was punctual, friendly, generous and informative. Couldn't have asked for a better experience.
Sam L
Excellent tour! Our guide is so knowledgeable with the history of Paris Architecture and Food. This is the second time I have taken this tour in 5 years. It will now disappoint :-
Lisa F
Loved this tour. Our guide was charming and there wasn't too many people. I would recommend this to anyone. The stops on the tour were great and we were able to experience a wide variety of places. It didn't feel rushed and the neighborhood is lovely.
rob sneddon
Fantastic tour of beautiful chocolate and pastry shops. Easy walking and good guide who seemed well received by the shop managers. Well worth the effort, although maybe 30 minute too long. The amount of rich chocolate you taste does mean that you have to either love chocolate or take a doggy bag for some of the tastings!
Marilyn G
We thoroughly enjoyed our walking tour of the bakeries and candy shops. Our guide was informative about the neighborhood and the foods we tried. We recommend this tour!!
Donna K
our guide David was excellent,he had great knowledge of the products ,shops and city.
It was an excellent tour.the pastry and chocolate were out of this world
Joan W
The tour was wonderful and the tour guide Melissa was very flexible and responded to our questions and provided answers to all of our questions. we had a great time and it was well worth the time and money. With a maximum of 8 people the guide was able to tailor the tour and seek input from us and answer each question individually. We had 7 people in our tour and Melissa answered questions on chocolate and pastry and also about the area we were walking through as we went.
David G
Great fun and lots to taste . .
Eat was too much . . .
Tabetha V
Highly recommend. If you enjoy tasting chocolates and pastries, learning the history of some of the goodies, and getting in some walking, then you will enjoy this trip. Our guide Christine was fantastic.
hyacinthncharge
We had David as our guide. There were 5 people in this tour. We tasted pastries, macaroons and chocolate. I cannot say enough about DAVID. So polite, so passionate about his city, We had a lot of laughs on the way and I cant imagine doing this fabulous tour with anyone else besides David. Karen and Rita
Abigail M S
We had a great time on this tour with our 2 kids, ages 12 and 15. Our guide started by talking about the history of chocolate for about 30 minutes, which frankly got a bit boring standing out on the sidewalk listening for that long. But once we got going and went to the various shops 5 we all loved it, and felt like we went to places we wouldn't have know about without the tour. We tried chocolate, bread, croissants, macarons, and drinking chocolate too. It was a fun outing that we all enjoyed.
Sara C
This was the highlight of our trip to Paris. We learned history and ate delicious food at the same time. Christine was the best.
Karen C
Very enjoyable
Tour guide was prompt , knowledgeable about history of chocolates and we got complimentary samples at every shop we went to . i had to buy some macaroons to take back though, they were delious!
We also went to bakery and had original croissants . Much better than ones buy here in the states !