Murano, Burano and Torcello Half-Day Sightseeing Tour
Murano, Burano and Torcello Half-Day Sightseeing Tour
View all photos
Location: Venice, Italy
Duration:
Murano, Burano and Torcello Half-Day Sightseeing Tour
Explore three famous islands of the Venetian Lagoon – Murano, Torcello and Burano – on a half-day sightseeing excursion by motorboat. Accompanied by a local guide, you'll stop at a glass-blowing factory on Murano, visit Venice's first cathedral on the tranquil island of Torcello and shop for handcrafted lace on Burano. This morning or afternoon tour is a great introduction to the magical islands around the medieval city of Venice and its enclosed bay in the Adriatic Sea.
What You Can Expect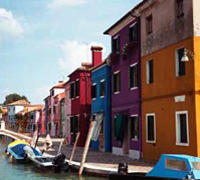 Board a comfortable motorboat, departing from the Alilaguna pier in front of the Royal Gardens, and speed along the Venetian Lagoon to three islands famous for their handicrafts and architecture. You'll cruise past the islands of San Giorgio Maggiore, San Servolo, San Lazzaro degli Armeni and Sant'Elena Gardens to Murano, divided into nine islets crossed by a wide canal. Known for its glassware shops and factories, Murano boasts a long and still-thriving tradition dating back to 1291, when glass artisans moved their kilns from the old city center.
Explore the island on foot and stop at a glass factory to watch a skilled glass blower create works of art. Learn from your guide about Murano's wealth in the 15th and 16th centuries when the island was central to Europe's glass making. View the magnificent splendor of Murano's palaces and Veneto-Byzantine style churches, some with mosaics and ornamental motifs designed in the 12th century, and catch a glimpse of San Michele – Venice's 19th-century cemetery – across the water. Before re-boarding the boat, you'll have time to visit a museum showcasing the world-famous Murano glass.
When you reach the island of Torcello – established between the 5th and 6th centuries and the earliest center of civilization in the Venetian Lagoon – you'll see evidence of the island's glorious past as it once flourished with ornate palaces and churches. First, view the Cathedral of Santa Maria Assunta, founded in the 7th century. Your guide will also show you the excavated remains of the circular baptistery in the Church of Santa Fosca, which showcases a delightful portico and striking Byzantine interior.
Afterward, journey to the island of Burano and admire the picturesque fishermen's houses painted in bright pastel colors. In this miniature Venice, you'll find the famous lace – abundant since the 16th century and once considered the most refined in Europe. Browse local shops and find lace on display at a museum dedicated to the craft of lace making before your guide returns you to Venice.
Days of Service
Daily
Details
Inclusions
Professional guide
Visit a glass-blowing factory at Murano
Travel by shared motor boat between Venice, Murano, Burano and Torcello
Exclusions
Entrance fees to Torcello Church
Gratuities (optional)
Hotel pickup and drop-off
Additional Info
Confirmation will be received at time of booking
The time spent on each island is between 30 to 40 minutes

Voucher Information
You can present either a paper or an electronic voucher for this activity.
Schedule and Pricing
Departure/Exchange Point
Tour departs from the Alilaguna pier in front of the Royal Gardens (Giardinetti Reali) at San Marco
Duration:
Return Details
Returns to original departure point
Policy:
Refunds, when possible, must be requested at least 4 business days prior to the travel date. Refunds are subject to a 7% administration fee. The Rail Protection Plan™ does not apply.
Note: Tours may be delayed or run late. Please plan accordingly.
9:30 AMTour

Code:EN0930

Departs at 9:30am. Available March 28, to November 03 only
From
10:30 AMTour

Code:EN1000

Departs at 10:30am. Available between May 29, until September 14 only with an English-speaking guide
From
11:00 AMTour

Code:ENES1100

Departs at 11:00am.
From
2:00 PMTour

Code:EN1430

Until November 4, 2015, tour departs at 2:30pm. Between November 05, 2015, and March 31, 2016, tour departs at 2pm. Between April 2016 and November 2016 tour departs at 2:30pm
From
3:00 PMTour

Code:ENIT1500

Tour departs at 3pm
From
12:30 PMTour

Code:ENITES1230

Tour departs at 12:30pm
From
Customer Reviews
Keith O
Three beautiful islands! Off the beaten track!
Greg E
Our tour guide was amazing! Wonderful to see these hidden treasures in Venice. Not only did we enjoy delicious food and wine, but we met wonderful new friends and have such great memories to bring home with us! Thank you, thank you!
Rome
Perfect time for this outing. 45 minutes on each island was a good viewing time.
Stephen R
Excellent history, great places visited! Thanks for a good time.
winston.perez66
This is a great way to see the other side of Venice, more tranquil and less crowded. It's fascinating to see how the glass blowing and lace industries in Murano and Burano are still thriving after all these years. Our tour guide was very knowledgeable and informative about the islands and the surrounding communities and she was fluent in English, Italian, Spanish and French. The boat ride was pleasant and the lunch in Torcello is highly recommended.
mlmanzi
Great way to see the islands! Our kids loved the boat ride and scenery!
oohbanana.dhananjay
Simply super. Just go for it and enjoy.
MissUK00
Very beautiful, had a very good time. We did the tour at 2.30pm, so it was quite late by the time we finished around 7pm. So I would advise to do it about 12pm, apart from that, it was great.
Antonio S
I loved it awesome
rwjodon
I really enjoyed this tour. The guide was knowledgeable. The tour exposed us to life on the islands in the lagoon. The Murano tour was outstanding.
dawnsmiarowski
Fabulous! Our tour guides were awesome! I would definitely recommend this to my family and friends.
Kathryn G
Perfect! Great way to see the other islands in Venice.
Matt
Very good tour. Reasonable, very good guide. Fun and nice to see other areas near Venice. Glass blowing and Murano glass in general was great to see!
MISS S V L
The boat itself was great, the multilingual tour guide was very impressive and getting 50 minutes on each island was sufficient. An absolutely must-do, especially for the price!
d_debapratim
All the three locations are par excellent. Was bit rushing through as the crew wanted to finish the trip on time. We had booked an English speaking tour - But the trip was a combined one with Italian, Spanish and English. The tour guide spoke all three languages but the time spent in explaining in English was the shortest - assuming that the tour guide was not too comfortable in speaking in English.
Ilene W
Great tour and wonderful guide. Timed beautifully.
Joseph B
Nice tour. Quiet day exploring the islands.
Vatsala A
It was very informative and a beautiful experience
KARLENE P
Burano was the most relaxing with a great lunch
raymond s
Wonderful tour of the 3 islands. Enjoyed the boat ride and the descriptions of the sights. Betty and Ray Smith
TERRY.FEINBERG
Great boat tour of all three islands.
Nice demonstration in Murano glass factory,
Quaint stroll through Burano and Torcello.
Bought a few things on each island.
Well worth the cost!
Melanie M M
Found the pace of the tour just right for the amount of time spent on each island. Enjoyed the practical component demonstrating the workers handling the glass and staff creating items with lace. Enjoyed the sights along the way when riding the water bus to the various locations.
Marjorie C
I found this tour very enjoyable and relaxing, we had plenty of time so visit the islands and to walk around them and enjoy what they had to offer. As it turned out there was too many people for the first tour so some of us waited for a second boat which didn't start our tour until 2:30 so we were returning to Venice as the sun was setting which was an added bonus to our trip as it was a beautiful sunset!
Linda K
This was an interesting tour with a range of crafts. Burano was the best and we could have spent more time there. Unfortunately the weather was poor.