Milano Card: Milan Sightseeing Pass
Milano Card: Milan Sightseeing Pass
Location: Milan, Italy
Duration: 3 days
Milano Card: Milan Sightseeing Pass
Explore Milan at ease with the Milano Card and sightsee at leisure, enjoying discounted or free entry to the city's world-class museums and monuments. Milan is a mecca for fashion lovers, so make the most of special offers when shopping in its stylish shops or eating in its equally glamorous restaurants. With included public transport and further savings on taxis, football matches, tours, theater shows, airport shuttles, bike rentals and more, your Milan sightseeing pass offers everything you need for hassle-free city sightseeing.
What You Can Expect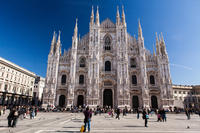 With the Milano Card, save time at Milan's top attractions with skip-the-line entrance, and enjoy savings of up to 85% on local prices. With 48 hours of public transport and two taxi rides (to the value of 15 euros each) included, plus discounted airport shuttles, bike and segway rental, your Milano Card allows you to discover Milan with ease.

Included Attractions, Activities and Savings:





48-Hour Public Transport in Milan:

Travel on any of Milan's buses, city trains, metro services or trams for free. Your public transport ticket is valid for 48 hours from time of first use.

Save on Skip-the-Line Entry to Milan Attractions:

Basilica of Sant' Ambrogio: 50% savings (free entry on Tuesdays)

Branca's Tower: 25% savings (free entry on Wednesday afternoons)

Cappella Portinari: 50% savings (85% savings on Saturdays)

Milan Duomo Terraces : 10% savings

Museum Bagatti Valsecchi: 25% savings

Museum of Art and Science: 50% savings (free entry on Thursdays)

Museum of Scala Theater: 35% savings

Museum Popoli e Culture: 40% savings

National Museum of Science and Technology: 30% savings

Pinacoteca Ambrosiana: 13% savings (35% savings on Wednesdays)

Save on Selected Milan Services:

Airport bus from Linate Airport to Milan and vice-versa: Free

Autostradale Airport bus from Malpensa Airport to Milan and vice-versa: One ticket free when buying two

Bike rental at AWS Bici: 10% savings

On-call Medical Assistance: Free

Save at Selected Milan Restaurants:

Terrazza Aperol, Piazza Duomo: 10% savings on food

Motta, Milan Central Station: 10% savings on food

Blue Note Dinner and Show: 20% savings on food (excludes Sunday brunch)

Save on Milan Football Matches:

Tickets to Milan football matches: 15% savings

Save on Shopping in Selected Milan Stores:

Ecliss Christmas Village: 10% savings (seasonal service)

Milan Ferrari Store: 10% savings

A.C. Milan Megastore (official AC Milan store): 15% savings

Solo Inter (official FC International store): 15% savings

Juventus Store (official FC Juventus store): 15% savings

The HighLine Outlet, Corso Vittorio Emanuele: 10% savings

Save on Transportation:

High-speed train trip by Trenitalia (Frecciarossa, Frecciaargento, Frecciabianca): 15% savings

Italo Treno (new high-speed train company): 10 euro reduction

Taxi services: Enjoy two included taxi rides, to and from any location in Milan, up to the value of 15 euros each. Cannot be combined




* Attractions are subject to change


Days of Service

Daily

Meeting Time

Your Milan Card is valid for three days after redemption
Details
Inclusions
Skip-the-line entry to attractions in Milan

Discounts at Milan restaurants and attractions

Discounts on Milan services
48 hours of public transport
Two taxi rides (to the value of 15 euros each)
Map of Milan

Exclusions
Additional Info
Confirmation will be received at time of booking
Voucher Information
You can present either a paper or an electronic voucher for this activity.
Schedule and Pricing
Departure/Exchange Point
Redeem your voucher at Milan Central Station
Duration:
3 days
Return Details
Policy:
Refunds, when possible, must be requested at least 4 business days prior to the travel date. Refunds are subject to a 7% administration fee. The Rail Protection Plan™ does not apply.
Note: Tours may be delayed or run late. Please plan accordingly.
Customer Reviews
Aisha A
This pass is cheap and worth it. The two free taxi rides they refer to us an Uber, so you will need the app and at least wi-fi to request an Uber car, but I definitely loved this option. We got to ride in style in a Mercedes under the Uber Black Car option. The metro pass was definitely useful and convenient.
edmund P
This card is a must if you are visiting milan ,
Martin S
Excellent service - so easy with the Milano Card !
Paulette B
Milano Card was our best investment when visiting Milan. Loved the ease of getting around with the pass.
archer1204
First the bad what a nightmare finding the office at la centrale that hands these out even trying to follow instructions as its on a half floor.Used it fully and definitely paid for itself.
Beverley G
Very impressed with this card had access to trams, metro and trains was the best option for travelling around Milano. Best of all enjoyed the tram ride. Would definitely recommend.
philippe s
très bien et pratique. complexe de trouver le bureau pour récupérer la carte : à la gare centrale petit bureau pas loin des départs du train entre 2 boutiques, niveau mezzanine. réductions sur les visites
estrake
kasutasime ainult ühistranspordi kaarti. Milano passi alusel ostsime soodustusega piletid galerii katusele. Duomo passi jaoks kahjuks see kaart soodustust ei anna.
midnitecat
We collected this pass at centre station, very convenience! But this pass is not included "Last Super" tour which you need to make appointment before your tour. Originally, we ordered "Milan Pass" which did include the "Last Super" tour, but when we saw this Sightseeing pass, we made mistake to switch to it, and didn't make appointment right after for the "Last Super" tour. So, unfortunately this July trip we couldn't get chance to view this greatest paint in Milan. Except this, this Sightseeing pass is pretty useful.
SHARON O
Wonderful! everything woked perfectly without complications.
PaulaS
Difficult to find the office - on the first 'half 'floor in the central station! Didn't use the card on Day 1 as walked everywhere or went on Red Bus tour. Was handy as days went on for getting round city. Got money off Duomo tickets but 'free' visits weren't always free so need to check. Did get discounts though and also we went to suggested places we wouldn't otherwise have visited. Good for piece of mind about travelling and allowed us to get down to the canals and back.
Paul B
The Milano Card was a good value for the money. We used it to ride the city's buses and subways, as well as get discounts as several museum. The only trouble was finding the card distribution booth at the Milan Central Train Station. The booth location photo provided on the website was not accurate. Make sure to ask for the Milan Tourism booth at the train station.
ROBERTO ACOSTA A
cheap price only used the subway
norma.corrado
I spent a couple of hours trying to locate the Milan Pass office. We followed instructions from several people until eventually finding it. Not easy!!
Ross M R
Not a lot on the Milan card that we could use.
Yan S
Card good value, but some information and discount is not what descriptions promises, one example, bus to airport only 10 %, not up 25 like was promised.
W B C E
The pass itself worked very well. We had difficulty in converting your voucher to the pass at Milan Central because a) a violent storm brought down tram cables, giving us a 90 minute walk through a downpour and b) finding the Ticket-Mi kiosk closed when eventually we found it.
You could improve the service by a) opening a city-centre kiosk near the Duomo and b) giving more precise directions to Ticket-Mi.
Bruna C
O cartão é ótimo para usar nos transportes públicos. Porém, para pega-lo, foi uma via sacra. Fiquei mais de uma hora procurando o local para pega-lo. Não tem qualquer sinalização de onde pega-lo e muitas vezes ao perguntar onde era, ainda ouvi a grosseria dos locais.
Clarence C
The Milano card was not worth it for us. The two free cab rides involved having to download the Uber App and to have the capability of using your cell phone to call them. We did not have this capability. We only used it for a couple of rides on the Metro.
csiewting
Good discount for the museum entrance fees, Lake como cruise fees and the 48 hours free public transport. However, for the free taxi ride which is uber service up to EUR 15, we found that by taking the uber service is much more expensive than the normal taxi ride. The EUR 15 discount is just covered half of the price, which make no different by taking the normal taxi.
Luzelle M
Still waiting for my 2 promised taxi rides. The taxi guys did not have any knowledge about this?
kfarrell
The pass was useful for the transit options but we already had tickets for most of the museums that were eligible for discounts. Retail discounts weren't for anything we were buying.
Alexa G
Didn't really use it. Only a few times for the metro.