Marseille City Pass
View all photos
Location: Marseille, France
Duration: 24, 48 or 72 hours
As a tourist and cultural passport, the Marseille City Pass is valid for 24, 48 or 72 hours. This pass is dedicated to individual visitors who wish to discover Marseille with an all-inclusive package.
What You Can Expect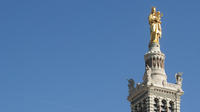 Once you have collected the ticket booklet, take advantage of the fantastic offers including free admission into museums, public transport, guided walks and special offers for shopping, shows, a free sample of "Four des Navettes" (famous local biscuit) and much more!

Discover the oldest city in France with your Marseille City Pass.
Once you have purchased your Marseille CityPass, the following museums, guided tours and transportation is FREE:

FREE access to Museums:
Museum of African, Oceanic and American-Indian Art
Marine Museum
Decorative Arts and Fashion Museum (Borely)

Roman Docks Museum
Museum of Mediterranean Archeology
History Museum
Natural History Museum
Museum of Popular Arts and Traditions
MAC Contemporary Art Museum
Museum of Fine Arts (Palais Longchamp)

Palais des Arts (Temporary exhibitions)
Cantini Museum
MuCEM

FREE Visits:
Visit of If-Castle (Château d'If)

Guided walking tours of the town scheduled every month all year round. The programs of each month are available at the Information Desk upon collection. Please note that commentary is in French only, however a guided visit of the Old Town operated in English departs once a week (usually on Saturday or Sunday afternoon). You must pre-book at the Information Desk.
FREE Strolls:
Tourist train to the basilica Notre Dame de la Garde or through the Old Marseille
Boat to the If-Castle (in front of the city hall, Old Port) or the Frioul Island
FREE Public Transportation:
Free access to the metro bus and tram network in Marseille
In addition to the above mentioned FREE admissions, the pass also provides discounts or added value! You'll receive the fantastic offers outlined below when you present the Marseille CityPass!
10% discount at certified boutiques: Office de Tourisme et des Congres, Les Galeries Lafayette, Le Comptoir du Panier, L'Occitane, Durance, Marseille en Vacances, les minots de Marseille, la Grande Savonnerie, l'Escale Marine, Torrefaction Noailles and Dromel Ainé

Free soap sample at Les savons de St Victor
Free tasting at : Four des navettes, Navettes des Accoules, Cure gourmande and La Maison du Pastis

Discounted price : sightseeing tour by open-deck coach, the Festival of Marseille in July (music, dance), original productions of the Carpe Diem theatre, the National Theatre La Criee, the Gymnase Theatre, the Opera of Marseille, Station Alexandre, le Silo, the international fair of Marseille, Le château de la Buzine, Theater Nono.
10% discount for boat excursions with Compagnies Maritimes Calanques
10% discount for a Ride in TUK TUK
Reduced rate for a return ticket with the airport shuttle bus

Please note, museums are closed on Mondays
Days of Service
Daily
Valid from the time of first use, for the consecutive days selected.
Details
Inclusions
Map of Marseille
Marseille CityPass ticket booklet
Exclusions
Gratuities (optional)
Hotel pickup and drop off
Food and drinks
Additional Info
Confirmation will be received at time of booking
Children under 12 years of age will be entitled to reduced entrance fees or free access to some tourist attractions, therefore it is not recommended to purchase a pass for them.
You are required to enter a travel date, please note this is only required as an indication
Adult pricing applies to all travelers
The public transport system does not run on May 1
Museums are closed on Mondays and French public holidays

Voucher Information
You must present a paper voucher for this tour. We will email a link to access and print your voucher at the Lead Travelers email address.
Schedule and Pricing
Departure/Exchange Point
Vieux Port, central Marseille
Duration:
24, 48 or 72 hours
Return Details
Policy:
Refunds, when possible, must be requested at least 4 business days prior to the travel date. Refunds are subject to a 7% administration fee. The Rail Protection Plan™ does not apply.
Note: Tours may be delayed or run late. Please plan accordingly.
Tour

Code:24HOUR

Unlimited use for 24 hours
From
Tour

Code:48HOUR

Unlimited use for 48 hours from the time of first use
From
Tour

Code:72HOUR

Unlimited use for 72 hours from the time of first use
From
Customer Reviews
Gabriella F
Very efficient and worth the money
Jeff B
Definately get the city pass. Worth every cent. Buses and metro are on time and take you all over the city. Certain buses get more crowded than others, but best way around. Also, visit the museums. I did not have time to hit them all, but the museum at Palais de Longchamp had some wonderful sculptures and paintings.
My trip time was limited but a good week here should allow plenty of time to see the sights in a leisurely mannar.
Evelyn21
A must to have if you want to discover all the places in Marseille. Totally worth it!!
Phoebe T
This was a great deal! It gives you access to everything you want to do and see, lots of parks, museums and cool activities! And the all the public transportation which was a HUGE lifesaver! Marseille is a big town!
Cynthia T
Very easy to use and very friendly and helpful staff at the Tourist Info office. Thank you!
Gareth John T
Definitely recommend this and will also look for this type of pass in other cities I plan to visit around Europe.
Dainis K
Marseille , wonderful city and have a good time.
Evzen S
Everything perfectly organised and clear, absolutely no problem.
Dana K
You get many discounts, including free admission to several attractions. Because there is so much that you can access with this pass, it helps if you will be in Marseille for at least a day. The longer you're there, the more savings you can enjoy with this pass. Even though we weren't there for a full day, we still enjoyed this pass. At the tourism office where we exchanged our vouchers for our passes the representative was very friendly and informative.
Hala A
it kept us organized and the best thing is we had access to all the transportation during our stay. the if island and frioul island are.amazing. it will.save a lot of.time and money.
Shelley B
The pass was good to have. We were only there for one day/night so we didn't use it for the public transportation. The water was too choppy so they weren't doing the tours to the If Castle either, but we did use our pass to see the Notre Dame de la Garde which was neat.
Rachel E M
Great value for your money.
Charles S
This is a must if you plan on seeing a bunch of museums. Each museum costs 4-10 euros, which really adds up. The tourist board where you redeem your voucher is right across the street from the port and easy to find. The pass does not include the main tour bus, however - just a discount.
John S
We never used the passes. We found that walking and the Metro was much more fun.
Richard H
One thing to be aware of, all of the museums and the castle are closed on Mondays.... which is theday we were there. Wish I' had known in advance.
geoffrey p
memorial museum closed cantini closed for exhibition
Harry C
I didn't go; it's too far. Instead I ended up in Lyon. It's quite a trip but it takes a few more days to explore all of that town.
artmama
We bought a 24 hour pass but on the day to validate our pass, it was a national holiday, Bastille Day and everything was either closed or closed early. As a result, we didn't use any of the transportation. Everything was within walking distance of what we wanted to see. If you are planning on spending more time there, then the pass allows free access to many museums so it might be worth it, according to your itinerary.
Mrs D S W
There wasn't enough time to make good use of the opportunities presented by the pass. Most of our time was spent having a wonderful lunch at the Old Port, and buying various soaps, for which Marseille is famous. We wanted to see the Roman docks museum, but did not succeed in finding it! A two -or-three day pass for an extended stay in Marseille would be used more.
DR PAUL A S
Probably not good value when cruise ship shuttle from distant cruise ship terminal ran only 8.30-3.45. By the time we had located and visited tourist office near Vieux Port there were chaotic and lengthy queues for the 10.30 boat to Chateau D'If, the voucher had to be exchanged after one long queue for a boat ticket, then we just squeezed on the 11.05 boat. There was then no time to go ashore at the chateau and guarantee an early enough return boat to allow time to do anything else! So just did the 1 hour round trip without getting off the boat, then similarly did the little train trip up to the cathedral, again without getting off. This just allowed time for lunch by the Vieux port. Would have been cheaper just to buy the boat and little train tickets at normal rates. This ticket I would only recommend to those staying at least 9-5 pm in Marseille city itself.
Shelley L
Didn't get on as bus was full at one stop and blew by us empty at another stop we went to to try and get on. We were frustrated and never did use it.
Shelley