Frankfurt City Tour
View all photos
Location: Frankfurt, Germany
Duration: 2 hours
Enjoy a two-hour Frankfurt sightseeing tour by open-top bus and see the contrasting sides of Frankfurt. Commonly known as an international trade hub, the city of Frankfurt actually boasts many different facets, with beautiful Baroque architecture, lively plazas and impressive modern skyscrapers.

See the famous Romer town hall, walk around the Old Sachsenhausen district and marvel at the sleek buildings in Frankfurt's European banking center.
What You Can Expect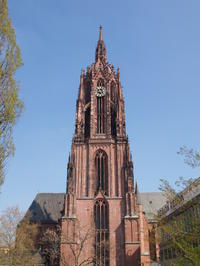 Departing by open-top bus, your Frankfurt city tour will take you to the Romer town hall. Constructed in the 15th century, the Romer is Frankfurt's most important historic building, taking its name from Roman settlements that existed there long before Frankfurt itself was founded.

At the Romer, you'll depart your tour bus to enjoy a leisurely walk around the historic heart of the city. Be sure to bring your camera to capture sights of architecturally stunning buildings such as St Paul's Church and Frankfurt Cathedral (Gotischer Kirchturm). The tour will then continue to Old Sachsenhausen, a pedestrianized district of Frankfurt famed for its lively cafés, bars and restaurants.

Back onboard your open-top bus, you'll travel in comfort to Frankfurt's modern European banking center, where you'll see the tall skyscrapers that characterize the city's imposing skyline. En route to the banking quarter, you'll pass Goethe House, the former home of Johann Wolfgang Von Goethe, an 18th-century literary genius and German poet.

Other top Frankfurt attractions that you'll see before your two-hour guided tour ends include the old Hauptwache Plaza, with its beautiful Baroque buildings, and the famous Zeil shopping center.
Days of Service
Daily
Details
Inclusions
Transport by open-top bus
Professional guide
Exclusions
Gratuities (optional)
Food and drinks
Additional Info
Confirmation will be received at time of booking
Audioguide in several languages available on request (approx. 5.00 euros)

Voucher Information
You can present either a paper or an electronic voucher for this activity.
Schedule and Pricing
Departure/Exchange Point
Central Frankfurt
Duration:
2 hours
Return Details
Returns to original departure point
Policy:
Refunds, when possible, must be requested at least 4 business days prior to the travel date. Refunds are subject to a 7% administration fee. The Rail Protection Plan™ does not apply.
Note: Tours may be delayed or run late. Please plan accordingly.
10:00 AMTour

Code:EN1000

Frankfurt City Tour, departing at 10am
From
1:00 PMTour

Code:EN1300

Frankfurt City Tour, departing at 1pm
From
4:30 PMTour

Code:EN1630

Frankfurt City Tour, departing at 4:30pm
From
8:00 PMTour

Code:EN2000

Frankfurt City Tour, departing at 8pm
From
Customer Reviews
Matthew B
Ended up just being me on the tour. Guide was friendly, charming and showed me all of his best bits. -
Joshua B
A great tour. If you see something you like, hop off and give it a look.
Bernard L
Excellent tour guide and use of time.
nanote76
It was great. Luckily the tour guide spoke in German and English!! Thanks for everything!!
Pamela T
This tour was awesome! Our tour guide was very knowledgeable and made the tour very interesting. She had a lot of energy and kept us on time, enabling us to see so many wonderful sites and landmarks in Frankfurt. There were not a lot of people on the tour the day we went, and during the walking part, it was like we had a private tour guide - which was great for us. My husband and I highly recommend this tour. Great value and well worth it!
roadwarrior
This tour was amazing!
roger_mcfarland
It was a very rainy day so our guide did not do any walking. Without the bus we would have seen very little of Frankfurt. Great trip and enjoyed the tour immensely.
Mariela G
I had the great pleasure to visit this beautiful city and enjoy its wonders. I took this tour in July and Andreas (which was the tour leader) managed to take me, and explained the different sites in a very professional way. I recomend this tour for a quick idea of what is Germany about.
Carol K
Excellent tour, especially for someone who is limited on time and wants to get an overview of Frankfurt. It took me to places I wouldn't have time or energy to navigate on my own but also made me realize that it is quite an intimate city. The tour office is very easy to find from the main station and the office staff was very efficient. Both the tour guide and driver were wonderfully friendly and engaging - it seemed like they were both happy to be there even though it was Easter Holiday! Our guide gave fact in an interesting and upbeat way and I think I even remember some of them! I was surprised that part of the tour was walking, as this was not specified, so maybe that should be listed so people know what to expect. Luckily it was a beautiful day to sit on top of the bus and walk in the new 'old' part of Frankfurt. I would heartily recommed Viator, this is the second time I've used them. The web-site is so easy to maneuver and book tours through, with lots of offerings, all very good value for money.
Christina E
It was great. Got to see a lot of the city and I would do it again
John W
Our first guide, a young lady, basically presented information that she had memorized. The second tour guide, an older lady, made the history come alive! She was fantastic and funny. She kept our interest.
Koteswara Rao P
I relocated to Frankfurt just 2 months ago and this is my first sightseeing trip. The tour is very pleasant and enjoyable. The duration of the tour is just perfect. Guide is very knowledgeable and cooperative. I'll use this tour operator for my other Germany/Europe trips.
Virginia P
We arrived during the art festival. Our tour guide was very animated and knowledgeable. You could tell he enjoyed talking about his city. Additionally, he dropped the group off near the site of the fireworks. I would highly recommend this tour as it really helped orient us to the history and layout of Frankfurt. We were most impressed with this city. :-)
Caki
The length of the tour was perfect. Just what I was looking for.
Curt C
Very good and informative tour for those with limited time!
Sherri G
This tour gives you a taste of Frankfurt.
Joyce F
Good overview of the city and the tour guide was very informative. We did this tour after our long flight from Canada so it was a great way to help decide what to do next.
Matthew B
Very informative and great guide
Mario S
A very pleasant two-hour tour by open-top bus and also on foot. The bus tour covered mostly the modern skyscraper area of Frankfurt, and the one-hour walking tour took us into the old town with its medieval core. The tour guide provided a very enthusiastic commentary.
Pat G
Great 3 hour tour. Guide was well informed and very nice. Gives you a informative overview of the city.
Jennifer F
My children and I took a two hour tour, via bus (with a bit of walking) through Frankfurt. It was lovely! Given our layover, it was the perfect length of tour. The staff were very friendly and kind. I would recommend working with this company.
SAIKATB
A good trip though the tour guide was probably pulling down the city a bit more than needed. Ok it's not Vienna but still there are a few things to see...
Steve F
good tour recommended if you have a short time and want to see the sights
Season W
I enjoyed this tour and our guide was nice and he kept his enthusiasm even though the bus was not all that full on a weekday.