Copenhagen Card
View all photos
Location: Copenhagen, Denmark
Duration: 24-, 48-, 72- and 120-hour cards available
Make the most of Denmark's vibrant capital with a money-saving Copenhagen Card. Simply buy a card valid for 24, 48, 72 or 120 hours and save your way around the city with free admission to 74 attractions and activities, including the must-visit Tivoli Gardens and Den Blå Planet aquarium. Plus, enjoy free public transport on the Copenhagen region's bus, train and Metro networks; valuable discounts on tours, museum entrance fees and other experiences; and brilliant money-off deals at select restaurants, cafes and bars.
What You Can Expect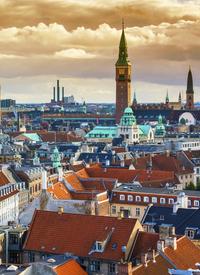 Choose between a 24-, 48-, 72- or 120-hour Copenhagen Card when you book, and then collect your card and free Copenhagen map at Copenhagen Airport or a central redemption point in the city.
Valid for the set number of hours from the time you first use it, your card helps you get the best from your time in Denmark's lovely capital, with included public transport and free admission to 74 top Copenhagen attractions. Additional, valuable discounts on exciting activities, tours and other transport, plus money-off deals at museums, shops and restaurants are also included.
You can use your card to travel quickly and easily between the sights, enjoying free, unlimited transport on the Copenhagen region's Metro, buses and trains, including journeys to and from Copenhagen Airport. Plus, show your card to get free entry to the Tivoli Gardens, the city's legendary amusement park, with its white-knuckle rides, wooden coaster, carousels, parades and beautiful gardens.
In addition, perhaps use your card to enjoy complimentary admission to Den Blå Planet, Copenhagen's spectacular aquarium; take a hop-on, hop-off bus sightseeing tour; and admire the city from the water on a relaxing canal cruise. What's more, your card entitles you to free entry to historical highlights such as the fascinating Amalienborgmuseet (Amalienborg Museum) with its recreated royal palace interiors, and the grand Rosenborg Slot (Rosenborg Palace), built by King Christian IV in the 17th century.
See the Itinerary below for a full list of attractions and discounts included on the card.
Free Admission to:
Amagermuseet




Amalienborgmuseet




Arbejdermuseet




ARKEN Museum for Moderne Kunst




Baadfarten




Ballerup Museum




Brede Værk




Canal Tours' Grand Tour of Copenhagen




Casino Copenhagen




Cirkusmuseet




Danmarks Tekniske Museum




Dansk Arkitektur Center




Dansk Jagt- og Skovbrugsmuseum




Dansk Jødisk Museum




Kongelige Repræsentationslokaler




De Kongelige Stalde på Christiansborg Slot




Den Blå Planet




Den Frie Udstillingsbygning




Den Hirschsprungske Samling




Designmuseum Danmark




Det Nationalhistoriske Museum




Dragør Museum




Esrum Kloster og Møllegård




Experimentarium City




Flynderupgård Museet




Fredensborg Falkonergården




Frilandsmuseet




Færgen Frederiksborg




Geologisk Museum (Statens Naturhistoriske Museum)




Gl Holtegaard




H.C. Andersen Eventyrhuset




Helsingør Bymuseum




House of Amber - Copenhagen Amber Museum




J. F. Willumsens Museum




Jægerspris Slot




Karen Blixen Museet




Kongernes Lapidarium




Kronborg Slot




Kunstforeningen Gl Strand




Kunsthal Charlottenborg




Københavns Museum




KØS Museum for kunst i det offentlige rum




Louisiana Museum for Moderne Kunst




M/S Museet for Søfart




Museet for Samtidskunst - ord, billed, lyd




Nationalmuseet




Nationalmuseets Klunkehjem




Netto-bådene




Nordatlantens Brygge




Ny Carlsberg Glyptotek




Ordrupgaard




Post og Tele Museum




Revymuseet




Rosenborg Slot




Roskilde Domkirke




Roskilde Museum




Rudolph Tegners museum og statuepark




Ruinerne under Christiansborg




Rundetaarn




Sagnlandet Lejre




Statens Museum for Kunst




Storm P.-Museet




Tadre Mølle




Teatermuseet i Hofteatret




Thorvaldsens Museum




Tivoli




Tycho Brahe Planetarium




Tøjhusmuseet




Vedbækfundene




Vor Frelsers Kirkes tårn




Zoo




Zoologisk Museum (Statens Naturhistoriske Museum)




Øresundsakvariet
Discounts on the following tours, activities and experiences:
Copenhagen Panorama Sightseeing

10%

off


Copenhagen Tours

20%

off


Copenhagen Bicycles

20%

off


Danish Art & Christmas Shop

10%

off

Europcar/Pitzner Auto

20%

off

Guinness World Records Museum

25%

off


Open Top Tours - Hop-On Hop-Off

10%

off


Ripley's Believe It or Not! Museum

25%

off

Segway Tourscph

10%

off

Nordisk Korthandel

10%

off


Wallmans

25%

off

Scandlines Helsingør - Helsingborg / ferry

10-25%

off

The Mystic Exploratiorie

25%

off

Vandkulturhuset

20%

off


The Viking Ship Museum in Roskilde

25%

off


Z-way

20%

off
Discounts at the following restaurants, cafes, pubs and bars:
Burger Corner

10%

off

Café Dan Turèll

10%

off


Café Danner

10%

off


Café Emma

10%

off
Frederiks

10% off

Restaurant Garum

10%

off


Restaurant Tapashuset

10%

off

Café Sari

10% off

Café Sommersko

10%

off


Café Stella

10%

off


Heidi's Bier Bar

20%

off*


Hereford Village

10%

off

Il Pecatto

10% off

No. 4

10%

off


Restaurant Amalfi

15%

off


XO Burgers and Steaks

10%

off

* Only from Sunday-Thursday
Days of Service
Daily
Meeting Time
At leisure
Valid from the time of first use, for the duration selected.
Details
Inclusions
The Copenhagen Card
Free admission to 74 museums and attractions throughout the greater Copenhagen region

Free public transport throughout the Copenhagen region

Discounts at select museums, restaurants and experiences




Copenhagen city map
Exclusions
Gratuities (optional)
Hotel pickup and drop-off
Additional Info
Confirmation will be received at time of booking
Upon collection, your card is valid for one year until activated
Upon activation, the card is personal and non-transferable and non-refundable. There will be no refunds or replacements for lost or stolen cards
Voucher Information
You must present a paper voucher for this tour. We will email a link to access and print your voucher at the Lead Travelers email address.
Schedule and Pricing
Departure/Exchange Point
Collect your Copenhagen Card at Copenhagen Right Now or Copenhagen Airport

Duration:
24-, 48-, 72- and 120-hour cards available
Return Details
Policy:
Refunds, when possible, must be requested at least 4 business days prior to the travel date. Refunds are subject to a 7% administration fee. The Rail Protection Plan™ does not apply.
Note: Tours may be delayed or run late. Please plan accordingly.
11:59 PMTour

Code:24HR

Unlimited use for 24 hours from time of first use
From
Tour

Code:48HR

Unlimited use for 48 hours from time of first use
From
11:59 PMTour

Code:72HR

Unlimited use for 72 hours from time of first use
From
11:59 PMTour

Code:120HR

Unlimited use for 120 hours from time of first use
From
Customer Reviews
Karen D
used this card for all of attractions would really recommend it for transport as it was easier than trying to get bus tickets or metro tickets.We used it for blau planetarium,tivoli gardens,round tower, and other attractions certainly saved us money and easy to use
Niclas H
Well worth the money. But don't queue at the bus/train ticket desks, get them from the information desk where there are no queues.
John J
Good value and very easy to use accepted widely in Copenhagen
Lesley P
Excellent value for money. Takes the hassle out of travel and lots of free admissions to choose from.
Jim's
Great card for everything
Benjamin H
Incredibly useful and super convenient!
Nadine P
Everything was great!!! i will be going back next year with the Copenhagen card in tow.
Claire R
Great value for money, able to use on transport as well.
Merrill H
We used the card nearly everywhere we went. The savings in transportation cost alone is worth the price of the card.
Loretta H
The 24-hr card was a great way to catch all the sights, and the hop-on-hop-off bus made it super easy and stress free. Adding the canal tour made it the perfect sightseeing tour. Thanks!!!
Peg.Martino
This was a great deal. We had entry into almost every attraction we wanted to see. In addition, trains, buses and a boat tour was included. It was very easy to use and very convenient. I would recommend this to anyone traveling to Copenhagen.
cwang0205
The Copenhagen card is really convenient to use, and saved a lot of money! You can pick up the card from airport and use it when you want to, within the time frame you purchased for. It is even better if you plan your visit ahead!!
Anne G
The Copenhagen Card was widely accepted across different modes of travel - and included museums - so definately enhanced our travel experience. Would certainly purchase this again if we were to return to Copenhagen.
Anne
Gretchen S
The Copenhagen Card is a MUST for anyone going to Copenhagen! It is great for everything you want to see -- tours, museums, attractions, transit! I loaded 120 hours for myself and for my husband. It was like an automatic pass for the 5 days. :
Kim J
I traveled to Denmark from 7 to 11 October and purchased a 72 hour Copenhagen Card before I left online and in my own currency. This was one of the BEST decisions I made and would recommend to all visitors to do this. It allowed me to travel on the expensive public transport system to the key sights. One day I visited two castles out of town hour by train, and had a fabulous time. One key point is you have to be organised and pack a lot into your day to make it really worthwhile - but I did this easily. It also encouraged me to explore and see lots of things because technically I had already paid entry - so it was great on my daily budget. One mistake I made thought, was that I arrived in the afternoon at the airport and activated it immediately, so I could take the metro to my hotel. On reflection, I should have waited until the next day and activated it at the tourist information office in town- as it starts from the time you activate it. Oh well, it was still excellent value and would absolutely buy it again. A great experience with it overall. Thanks.
Christopher B
It was great to use the Copenhagen Card for our very short overnight stay in the city. Our ship offered very limited excursions. We used the ships shuttle service to go have a canal tour that was wonderful. We also used it to enjoy the Tivoli where we had lunch. This was a much more reasonable way to see Copenhagen.
James G
This is the second time I've purchased a Copenhagen card for a visit to Copenhagen. The tourist information desk at the Copenhagen airport is a little hard to find, but the staff there is very helpful and knew all about the Viator voucher. It took about five minutes to get both cards I'd purchased. Most museums just look at the card and let you in. Nobody ever asked to see it when we took the subway around the city. I think the card is a great value!
Steve Y
Very handy and can use to and from the airport. I also went to Malmo too but I could not use the card for this trip.
Louis 2
We used the card for several museums, castles, bus, train and Tivoli. It was easy to use and no one gave us any hassles of any kind.
Michele K
Definitely worth having for the transportation and included our canal tour and entry into last everything we did. It also gave us a discount on the places that weren't included.
Judith M
I especially liked having a Copenhagen Card in hand while traveling on public transport. And, of course, the free admissions to attractions/museums was nice also.
RobinLynn C
The card included everything we wanted to do and see.