Budapest Card
Location: Budapest, Hungary
Duration: Varies
Explore Budapest at your own pace and see the sights you want to see with the Budapest Card! Simply show your card for free or discounted entry to participating attractions, plus use it for free public transport, two walking tours, discounts at local restaurants and more. You have the choice of a 24-, 48- or 72-hour card, and each card includes a guidebook with helpful information about the included services.
What You Can Expect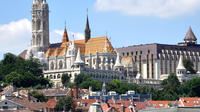 Your Budapest Card includes the following features for either 24, 48 or 72 hours, depending on the option selected.
Travel services and activities:
Unlimited travel on public transport – FREE
Airport shuttle-minibus services – 10% discount
Two walking tours – FREE
Various restaurants and spas – 10-15% discount
Audio-guide that can be downloaded to cell phone or tablet – FREE

One time free entry at the following museums and spas:
Budapest Museum of History
Aquincum Museum
Kiscelli Museum
Vasarely Museum
Hungarian National Gallery
Hungarian National Museum
Szt. Lukács Thermal Bath and Pool
New Budapest Gallery
Hopp Ferenc Art Museum of the Far East
Mai Manó House - Photo Gallery
Robert Capa Contemporary Photography Center
Pocket Guide Mobile App
Discounts at the following museums and attractions
:
Memento Park-Statue Park Museum 20%
Hospital in the Rock 30%
Műcsarnok (Art Hall) 20%
Dreamcar Collection 50%
Programmes
Budapest Summer Festival 2015 - 20%
Danube Symphonic Concert with Cimbalom Show - 10%
Hungária Orchestra & Folk Ensemble - 10%
Organ Concert in the St.Stephen's Basilica - 10%
Cathedral Organ Concerts in St. Stephen's Basilica- 10%
Water Tower on Margaret Island - 20%
Budapest Zoo and Botanical Garden - 25%
Tropicarium- 30%
MINIVERSUM - 30%
Center of Scientific Wonders - 30%
Recreation
Széchenyi Thermal Bath - 10%
Rudas Thermal Bath - 20%
St. Gellért Thermal Bath - 10%
Király Thermal Bath - 20%
Dagály Spa, Bath - 20%
Római Lido - 20%
Palatinus Lido - 20%
Aquaworld - 30%
Gastronomy
Gellért Brasserie and Restaurant - 30%
Gellért Panorama Restaurant - 30%
Gellért Espresso - 30%
Kispipa Restaurant - 30%
Cafe Astoria - 30%
Café Dorottya - 30%
Halászbástya Restaurant - 20%
Spoon Cafe&Lounge - 20%
Mátyás Pince Restaurant - 20%
Karpatia Restaurant, Brasserie and Terrace - 20%
Rudas Étterem - 20%
Columbus Boat - 20%
Vén Hajó Restaurant - 20%
Terminal Restaurant and Bar - 20%

Please be aware that on Mondays most museums are closed.
Days of Service
Daily
Meeting Time
At your leisure; valid from the time of first use for the duration selected
Details
Inclusions
Budapest Card

Free delivery of Budapest Card to your hotel
Budapest Card guidebook

Unlimited use of public transportation for duration selected

Two guided walking tours
Free entry to Lukács Thermal Bath and Pool
Free entry to selection of Museums

Discounts at 86 selected providers
Exclusions
Additional Info
Confirmation will be received at time of booking
Each card is valid for one adult and one child up to 6 years of age
Please provide your full hotel name and address at time of booking so your Budapest Card can be delivered to you
The walking tours take place daily. One starts at 10:30am from the Holy Trinity Statue on the Buda side, the other tour starts at 2pm at Tourinform on Sütő Street (Pest side); each walking tour is approx. two hours
Please be aware that on Mondays most museums are closed

Voucher Information
You can present either a paper or an electronic voucher for this activity.
Schedule and Pricing
Departure/Exchange Point
Your Budapest Card will be delivered to your Budapest hotel free of charge. With it you'll also receive a guide that contains information about the included services.
Duration:
Varies
Return Details
Policy:
Refunds, when possible, must be requested at least 4 business days prior to the travel date. Refunds are subject to a 7% administration fee. The Rail Protection Plan™ does not apply.
Note: Tours may be delayed or run late. Please plan accordingly.
Tour

Code:24HR

Unlimited use of the Budapest Card for 24 hours from time of first use
From
Tour

Code:48HR

Unlimited use of the Budapest Card for 48 hours from time of first use
From
Tour

Code:72HR

Unlimited use of the Budapest Card for 72 hours from time of first use
From
Customer Reviews
Peter M
Cards were waiting for us on arrival at our hotel. Used for public transport and entrance to many museums and attractions. Great value for money.
Scott R
Get it! The best way to see Budapest by far!!!
Selena B
Extremely handy. We took full advantage of this card in both travel and accessing attractions.
Annie
The cards were waiting for me when I arrived at my hotel. There was a great booklet letting me know how to get the most value from my card. It was a great value.
Rhian T
Used transport throughout trip, heard horror stories about fines if you didnt have a valid ticket, however not once was we approached and asked for our ticket.
Warren A
The card was fabulous...also got one in Budapest. well worth the money. Word to the wise....watch for pickpockets on public transportation.....it is true that they are bold. Caught one in the act with my purse on trolley...dropped what he grabbed and ran off when the doors opened.
Deirdre P
Excellent value for those under 65 but we discovered that over 65's are free on all the public transport and over 70's are free to enter museums.
William H
If you want to tour by public transit this is the only way to go. Used it many times while in Budapest.
Irma G
Great way for discounts and free transportation.
Dennis T
This was a very easy and affordable way to get around Buda Pest. Bus 16 rules and pretty much gets one everywhere needed on Buda hill. The trams and underground are likewise easy to use and a good way to see the city.
rumpole
Delivered before our arrival to our hotel this was a great buy. Used it for three days on tram and subway. went over Arpad Bridge from Buda to Szecheny Baths in Pest and the Subway all over the city. Went to Buda caste and at the best museum entry was free!
You will want a serious marker pen to write in the date and time you first USE the card. Get it.you won't regret it.
Stephen D
The card was great value and the city of Budapest was breathtaking!
Mariah P
The card paid for itself!
Pamela B
We loved the Budapest card. We enjoyed using the transit system and visiting museums when the day was too hot or rainy to stay outside. The card also included a 10:30 walking tour on any morning on the Buda side. We took advantaged on our first full day in Budapest. We took the 2:00 p.m. tour on the Pest side on our last day in Budapest. Both tours were quite informative.
Vicki S
This is worth it for the ease of using public transportation.
Natalie L
The Budapest card was extremely practical and very easy to use...once they arrived to the right location
Catherine M
This card was well worth the cost for the free public transport alone! Some of the other specials were not so easy to obtain, mainly because some staff at some venues were not familiar with conditions of the card.
Hannah L
I found the card to be an essential even if you just use for public transport as so convenient and saves money. Handy option of having it delivered to your hotel so pick up on checking in.
I used it for free entry to excellent museums and to roman ruins at aquicum. Savings too on other attractions.
jayney
Well worth having, free travel and lots of discounts at places to visit.
Kimberly O
Well worth getting. I was in Budapest alone and traveled on all public transportation to see all the beautiful sites. I felt very safe. The card paid for itself. Heartedly recommend
Bruno M
The easy way to move around.
The best museums are free with the card as the Lucász Baths, in Buda.
When you spend 3/4 days it's the clever way to win some time.
Dave F
Gave us the flexibility we wanted to see all the sights Budapest had to offer!
Freddy R
I recommend to by in advance the Budapest Card. It is very importante once you can use for tram, bus, and don´t loose time for anything, including the atractions that are included.
At checkout we'll ask you to select a hotel from the list below. Once your booking is confirmed, we'll send you a confirmation voucher with full contact information (phone number, email address, etc.) for our local operator in case you need to update or change your hotel pick-up details.
Commonly Asked Questions
What if my hotel is not listed?
That's ok! At checkout you can select an alternative hotel and make your way there on the day of departure; or you can contact our local operator directly to make alternate pick-up arrangements.
What if I have not yet booked a hotel?
Once your hotel arrangements are finalized, you can contact our local operator directly with your hotel details.
What if I live locally, am staying with friends or relatives, and/or don't require pick-up?
Once your booking is confirmed, we'll send you complete details and directions to the tour/activity departure point.