Berlin Pass
View all photos
Location: Berlin, Germany
Duration: Flexible
See all of Berlin with the Berlin Sightseeing Pass! For either two or three consecutive days (your choice), the Berlin Pass offers you great value and convenience with free entry to more than 50 top attractions and museums, including the Berliner Dom, the Checkpoint Charlie Museum and the UNESCO World Heritage-listed Museum Island. Your Berlin Pass also includes a free hop-on hop-off sightseeing tour, a Spree river cruise (summer only) and free travel on Berlin public transport.
What You Can Expect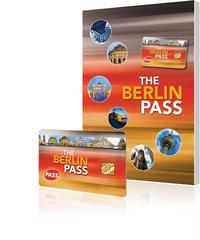 Berlin is a big, bustling city full of museums, art galleries, iconic landmarks and historic monuments. Where to begin? With the Berlin Sightseeing Pass! The pass offers fantastic value and convenience, with free entry to more than 50 top Berlin attractions, plus included sightseeing tours, river cruises (summer only) and walking tours that allow you to explore all sides of the German capital.

If you want to learn more about Berlin's artistic and cultural side, simply use your Berlin Pass for free entry to attractions like the Pergamon Museum, the Alte National Gallery, the Bode Museum or the Jewish Museum on Berlin's Museum Island. Visit the impressive baroque Berliner Dom, where you can climb up the 270 stairs to the dome gallery and enjoy great views over central Berlin. Explore the Checkpoint Charlie Museum, where you can learn everything about the Berlin Wall and cross the border where the East met the West during the Cold War era. Or discover more of Berlin on a hop-on hop-off bus tour, a walking tour or a river boat tour (summer only), where you'll enjoy iconic Berlin sights from the water.

Plus, with the Berlin Pass, see and visit other favorite sights like the Egyptian Museum Berlin, the Church of St Nicholas, the German Guggenheim, the Anne Frank Center, the Kunstbibliothek and the Photography Museum.

Your Berlin Pass also includes free travel on public transport in zones A, B and C for your selected number of days. The Berlin Sightseeing Pass is available for two or three consecutive days, so no matter how long you're in Berlin, you can save time and money at the city's top attractions.

Berlin Sightseeing Pass includes FREE entrance to:

Alliierten Museum
Alte National Gallery
Altes Museum
Anne Frank Centre
Anti Kriegs Museum
Art Forum at Berliner Vol
Bauhaus Archive
Berggruen Museum
Berlin Botanical Museum
Berlin Bus Tour
Berlin River Cruise
Berliner Dom
Berlinische Gallery
Bike Tours
Bode Museum
Brücke Museum
Checkpoint Charlie Museum
Childhood and Youth Collection
Church of St Nicholas
Communication Museum
Dahlem Museum
Düppel Museum Village
Deutscher Dom
Egyptian Museum Berlin
Ephraim Palais Berlin
Ethnological Museum
Gemälde Gallery
Georg Kolbe Museum
German Guggenheim
German Technology Museum
Hamburger Bahnhof
Insider Walking Tours
Jewish Museum Berlin
Kunstbibliothek
Labyrinth Children's Museum
MACHmit! Museum
Märkisches Museum
Medical History Museum
Middle Eastern Museum
Museum of Asian Art
Museum of Decorative Arts
Museum of Islamic Art
Museum of Pre-History and Early History
Musical Instrument Museum
Natural History Museum
Neue National Gallery
Neues Museum
Pergamon Museum
Photography Museum
Scharf-Gerstenberg Collection
Schwules Museum
Days of Service
Daily
Valid from the time of first use, for the consecutive days selected.
Details
Inclusions
Berlin Pass
Skip the line at selected attractions
Many special offers and benefits
FREE use of public transport in Berlin covering zones A, B and C
FREE entry to more than 50 attractions
FREE full-color 95+ page guidebook
FREE Spree river cruise (only between 31 March and 31 October)

Exclusions
Food and drinks, unless specified
Gratuities (optional)
Additional Info
Confirmation will be received at time of booking
We require you to enter a travel date, please note this is only required as an indication
Upon collection, your card is valid for one year until activated
Please note: The hop-on hop-off sightseeing tour is valid for 1 day only

Does my Berlin Pass include transport from the airport?
You must collect the Berlin Pass in central Berlin. Free transportation between Berlin airports and central Berlin is not possible before collection.
Voucher Information
You must present a paper voucher for this tour. We will email a link to access and print your voucher at the Lead Travelers email address.
Schedule and Pricing
Departure/Exchange Point
Please collect your Berlin Pass and your guidebook at the Berlin Pass desk. (Humboldt Box)
Duration:
Flexible
Return Details
Policy:
Refunds, when possible, must be requested at least 4 business days prior to the travel date. Refunds are subject to a 7% administration fee. The Rail Protection Plan™ does not apply.
Note: Tours may be delayed or run late. Please plan accordingly.
Tour

Code:2DAY

Unlimited use for 2 consecutive calendar days from time of first use
From
Tour

Code:3DAY

Unlimited use for 3 consecutive calendar days from time of first use
From
Customer Reviews
Richard W
We used the pass with ease. The hop on hop off tour was excellent. No problems with entrance into the museum or use of the public transportation. Great value for the time we spent in Berlin.
MARGOT P
Great idea to get this card for included travel and free entry to lots of museums and the Hop On Hop Off bus. I used the value of the card in entry fees and travel on the first day alone. The book you get with it has the included museums by area so you can spend a few hours at Museum Island for example and then move on somewhere else.
Steven W
Great experience. Hop on hop off bus and a boat tour. Skip the lines at the museums
Maurizio C
Excellent value for money. You need to plan ahead to take advantage of the pass.
Great memories.
andrew c
it was great. All I wished more was that I had a floating skate board. you know, like the one in the movie Back to the future. Ha Ha !!!
bdmitchell6
We were very happy with our 3 day Berlin Pass. Instruction to go to Hard Rock Cafe to validate voucher then Humbolt Box to collect pass are incorrect. Go straight to Humbolt Box near the Dom and Museum Island, they will have everything there for you. It would have been beneficial to have the booklet before we arrived so we could plan our Pass time efficiently. Bus tour is a great to get a feel of the city and the boat cruise very relaxing and informative too. Unlimited public transport each day was great especially when we were catching buses going in the wrong direction haha. Berlin has so much modern history, the transformation since WW2 is amazing. It is a progressive, vibrant city well worth visiting. I thoroughly recommend a bike ride in Teirgarten as well.
Stephen S
The pass is a great way to get the most out of Berlin and we probably did things that we otherwise would have not bothered with. We stayed very close to Museum Island and the entrance fee to all of the museums, as well as the cathedral, are on the pass so over the weekend we managed to have a good look around all of them. These are some of the best museums that I have ever seen with amazing artifacts.
On a rainy day we jumped on the hop on and off bus and did the whole circuit taking in what we may have missed and a walking tour is also a must.
II know that we got our moneys worth and probably didn't make the most out of the transport tickets, but I am so glad that we had it and will check viator for any passes when I travel in the future.
Berlin is an amazing city and we wouldn't have got as much out of it if we hadn't bought the passes.
sonia28
This tour was amazing!
IronHorse
great pass to use especially for unlimited use of public transport like the U-bahn, the S-bahn, and the bus. really helpful when visiting museums and even a the River Spree ride.
Bree
Having the berlin pass made it so easy to get around Berlin. And we did tours and saw attractions that we did not even no about.
Debra B
Although the pass is very good value it is quite a performance to collect firstly the pass on one side of Berlin and then the tickets for the bus on the other side, fortunately we had good weather but if it had been raining it would have been a nightmare. It would be good to pick up your bus passes with your Berlin pass. We certainly had good use of the tickets and the transport system.
Anonymous
I'd say that all the essentials of Berlin are on this card, from the public transport to the excellent range of museums and galleries – make sure you go on one of the included walking tours!
isa
With free public transport, museums and the included walking, bike and sightseeing tours, the Berlin Pass was really helpful for exploring the city! We especially liked the big choice of museums – don't miss Museum's Island!
Alex P
Very good for getting around Berlin and also getting into the museums and Catherdrals
Mervyn H
Very useful card to have used it for some of the museums. Did the boat trip and the hop on hop off bus tour. Was so easy to have transport cards for three days, saved having to buy tickets at the station every day.
klay
Great Value for Money! Plenty of things to do with the card that's provided, saw a significant savings and made it much easier not to have to spend on door entries.
Amber M
Includes everything you need to get around Berlin.
Flavio M
Too much to cover in just 72 hours.
But flexibility of navigating Berlin on public transport facilitates.
Great to be able to bit some museums, and would favor the 3 rather than 1 hour boat tour around the city.
e bruce m
Nice way to see the city and visit the museums!
johngorman52
Although informative this tour company seemed to have difficulty maintaining their scheduled times during our visit BUT I have to emphasise that it provided us with a perfect introduction to Berlin's beauty, history and wonder..... I would book this again.
I would also like to complement the Staff who were very hospitable and always obliging.
John B. P
Using the transportation pass made it easy to get around and the museum pass saved us money. Would highly recommend it to anyone traveling to Berlin. One note - the 100 and 200 buses don't let you stay on in order to return to your starting point. You have to change busses.
Ravi C
Useful if you have enough time to enjoy the full features available with the Berlin Pass.
Gerald J C
Good value. But I did not use it enough to to get the best value. You really need to read the book that comes with it thoroughly to get the best value.