Berlin City Hop-on Hop-off Tour
Berlin City Hop-on Hop-off Tour
View all photos
Location: Berlin, Germany
Duration: 48 hours
Berlin City Hop-on Hop-off Tour
Berlin hop-on hop-off tour allows you to hop-on and off as many times as you like aboard open top double decker buses. There are 20 stops around Berlin, and buses departs every 10 minutes in Summer or 15 minutes in Winter. The continuous route without hopping-off is approx. 2.5 hours and a guided commentary in 13 languages is available. Tickets are valid for 48 hours from first use. Many must-see Berlin attractions are easily accessible enroute including Checkpoint Charlie, Berliner Dom (Cathedral), Pergamon Museum, Brandenburg Gate and the enchanting Charlottenburg Palace.
What You Can Expect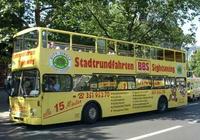 At time of booking choose to include a one hour boat trip for a one day visit.
Upgrade to Berlin River Boat Tour (15 March - 27 October only)
Add a one hour boat trip to your Berlin hop-on hop-off tour and see the city from another vantage point. The tremendous views of the urban landscape unfold as you cruise along the River Spree. Simply hop-off the tour at Berliner Dom (Berlin Cathedral) and hop-on the boat tour. Departure between 10:00am and 3:00pm every 30 minutes, on Friday and Saturday ntil 4:00pm. After the cruise, you can continue to use the hop-on hop-off tickets to explore Berlin.
Berlin Hop-on Hop-off Tour Stops (Yellow line):
Kurfürstendamm
KaDeWe
Lützowplatz
Kulturforum
Potsdamer Platz
Checkpoint Charlie
Gendarmenmarkt
Alexanderplatz/TV Tower
Neptunbrunnen/Well
Museumsinsel/Museum Island
Berliner Dom/Cathedral
Lustgarten/Museum Island
Unter den Linden
Brandenburger Tor/Reichstag
Central Train Station
Victory Column
Palace Bellevue
Straße-des-17. Juni/Flea market
Charlottenburg Palace
Antique Mall
Days of Service
Daily (River Boat Tour operates 15 March to 27 October only)
Meeting Time
Hop-on hop-off bus tour: Summer season (15 March to 27 October): Every 10 minutes from 10am to 4:30pm (last departure); Friday and Saturday until 5:30pm Winter season (28 October to 14 March): Every 10 minutes from 10am to 3:30pm (last departure) River boat tour: Summer season (15 March to 27 October): Every 10 minutes from 10am to 3:00pm (last departure); Friday and Saturday until 4:00pm
Details
Inclusions
Exclusions
Additional Info
Confirmation will be received at time of booking
Not wheelchair accessible
Voucher Information
You can present either a paper or an electronic voucher for this activity.
Schedule and Pricing
Departure/Exchange Point
Kurfurstendamm/corner Rankestrasse - opposite the Kaiser-Wilhelm Memorial Church or Alexanderplatz/at the main entrance of the Park Inn Hotel

Duration:
48 hours
Return Details
Returns to original departure point
Policy:
Refunds, when possible, must be requested at least 4 business days prior to the travel date. Refunds are subject to a 7% administration fee. The Rail Protection Plan™ does not apply.
Note: Tours may be delayed or run late. Please plan accordingly.
Tour

Code:BTO2DAYS

Unlimited use of Berlin City Hop-on Hop-off Tour valid for 2 consecutive calender days from first time of first use
From
Tour

Code:BBT2Days

Unlimited use of Berlin City Hop-on Hop-off Tour valid for 2 consecutive days, and a 1-hr river boat cruise from; March to October
From
Customer Reviews
Alan S
Good intro to Berlin. Day one completed the tour and day two picked out the sites we wanted to hop off at. Very easy to use and good value
Errol M
I took the 2-day option. This was good value for money. It gave me flexibility and the opportunity to see the attractions that I was interested in and at a pace that suited me. The on-board audio commentary was informative and not over-burdened with useless trivia. The stops were well-spaced and the buses were easy to locate.
Thomas R M R
A very helpful audio introduction to the city. Extensive choice of languages. About 18 different hop-on, hop-off points. Worth getting the 2-day ticket. Do full tour about 2 hours on day 1, then cherry pick where you want to see again on day 2. Good value too.
Caroline W
We did the Traditional tour a couple of times as I'm not a great walker. The second time as it grew dark to enjoy the Christmas lights. A lovely experience and the best way to get your bearings.
adam b
Was very interesting and as always in the past with viatour great value for money. The only disappointment was that we bought the yellow line tour but the same company did a purple line tour. As we had booked through viatour they wouldn't let us pay the smaller charge to upgrade to the purple tour and said we had to pay an extra 30 euros for the two of us. When an upgrade was only 5/6 euros each so we didn't bother.
alohagrimm
I highly recommend taking this tour, It was a great way to see Berlin, multiple Christmas markets and the Christmas lights around Berlin. Berlin is beautifully decorated during Christmas season. I only wish they would run this tour later during the winter, so you could have more time to see all the decorations.
Eric B
Fantastic and economical way to see the whole city
ian s
Superb value --- fantastic way to see the city on first day and to visit various sites on day two.
Paul
We used the service for two full days and it was great. It allowed us to get an overview and then go back around for certain sites we wanted to go into. We also took the associated Spree River boat tour and had a great time on that. It was nice to see things from that vantage.
TRICIA
Excellent tour took the bus round complete tour first .then we used hop on off facility . Would recommend this tour .
MARIA S
Best way to see most of the sights in Berlin!!! We found it very convenient to hop on and hop off the bus at any point in the city!! Highly recommended
Bernard K
Great way to see Berlin
Nicole P
A very good and easy was to meet the city. Perfect if you don't have too much time.
Nell P
Great views, stops, and info on the city of Berlin. Lots of good information. Nothing to complain about!
Leesa
I love hop on hop off buses, I do them in all cities I visit if they're available. This was great as usual, no problems with pick up and drop off locations and everyone was friendly and helpful.
Geoffrey C
This hop-on/hop-off tour is worth the cost. Allows you to see the major sights without having to walk all over the city. If you purchase the 2 day or 3 day pass. I would recommend holding off until your second day to actually initiate your tour and use your first day to explore to find out where the bus stops are before you redeem your ticket so that you get the full tour period you pay for. Buses are clean and comfortable and the staff are generally pleasant and helpful. Ear buds are supplied and you can plug in to all the major languages. I would recommend this ticket.
Francine D
The yellow line covered everything we wanted to see and more. Hats off to the drivers, they are doing an excellent job and they are smiling despite the infernal traffic. The boat cruise was nice with friendly staff.
Rhonda D
Great way to get an idea of how Berlin works and what to see. It's invaluable for being able to spend time at the sites you want to see. I would recommend that you do both the yellow and purple as the east side gallery is a must as you get a better idea of the wall and how far it spread.
DONALD C
An excellent way to see Berlin with this 48 hr. yellow tour - it could keep a history buff busy for the entire 2 day period. We added on the purple tour for a reasonable price and got to see most of East Berlin, some added for history buffs as it includes the Berlin Wall Memorial and a lot of the wall itself. There's 18 stops on the yellow line, a lot of which history buffs will enjoy on WWII.
Anne S
The Berlin hop on - hop off tour was excellent. It took us on both routes of the city and to all the famous places and there was plenty of time to get off and view all the landmarks. We had a two day ticket and we did each route more than once so we had a good look around Berlin. We have already recommended this tour to other who are visiting Berlin soon.
jenniferduncan1
By using this facility it gives you a great knowledge of Berlin and its attractions and suburbs.
Cynthia I
The bus was great on time lots of interesting information given as we passed the points of interest. The 2 day pass gave us the extra time to see more of the attractions.
John B
This is a great way to see the city and also have transportation to all the major sights. We recommend doing the full length of the tour and then going back and hopping off at the places you really want to visit. Great value and great tour.
Michael F
Very good and quite informative.