Barcelona Card with Guidebook
Barcelona Card with Guidebook
View all photos
Location: Barcelona, Spain
Duration: Varies
Barcelona Card with Guidebook
See and do everything Barcelona has to offer with this great value city sightseeing and discount card. Choose from 3, 4 or 5 consecutive day passes and receive free entry, great discounts and offers to Barcelona's major attractions. Whether you prefer museums or galleries, cathedrals or shopping - Barcelona has it all. The Barcelona Card offers FREE ENTRY to over 20 of the city's top visitor attractions (including the Chocolate Museum and Columbus Monument), free transport around Barcelona, and access to over 90 special offers in shops, restaurants, museums and much more.
What You Can Expect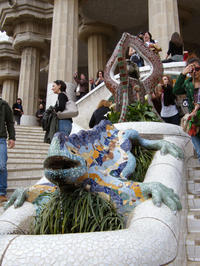 The Barcelona Card leaves you in control, allowing you to have the best, customized experience possible in Barcelona while saving you time and money. Barcelona has endless options and with this card and guidebook you can do as much or as little sightseeing as you like, ensuring you get the most out of your visit.

Every card comes with a FREE guidebook with helpful information on the establishments associated with the card, as well as a city map - BOOK NOW!

FREE ENTRY to 20 of Barcelona's top visitor attractions:
There are over 20 attractions available for free on your Barcelona Card, so the more you see, the more you save! Barcelona is a delight to explore and very easy to navigate on foot. All the free entry attractions are listed below.

FREE Barcelona Transport:
Free unlimited travel on Barcelona's public transport including metro and city buses.

Travel free of charge on the train from Barcelona Airport Terminal 2 to Barcelona City ONLY. Transfer between Terminal 1 and Terminal 2 to take advantage of this service. Simply collect your card at the airport and use the public transport options to get into central Barcelona. Use of the transport will activate your card and it is valid for the number of days indicated.

Special Offers:
Save even more money with over 90 special offers across Barcelona. Receive discounted entry into museums, culture venues, entertainment, leisure attractions, night-time venues, shops, restaurants and much more.
Once you have purchased your Barcelona Card, the following museums, attractions and activities are free or discounted as noted:

Museums - Admission included with skip the line access:
Museu CCCB

Museu Fundació Miró




Fundació Tàpies




Museu MACBA



National Art Museum of Catalunya
Museu Chocolate
Museu del Modernisme Català

Museu Egyptian

Museu Caixa Forum
Joan Antoni Samaranch Olimpic stadium
Others - Admission included and discounts:
El Born Cultural Centre (admission included)
Botanic Garden of Barcelona (admission included)
Museu Blau

(admission included)

Cosmocaixa

(admission included)

Music Museum

(admission included)

Santa Maria de Pedralbes Royal Monastery

(admission included)

MUHBA El Call

(admission included)

MUHBA Placa del Rei

(admission included)

MUHBA Refugi 307

(admission included)

MUHBA Roman sepulcral way

(admission included)

Museu Erotic (20% Off)
Museu Fundació Francisco Godia (20% Off)
Museu FC Barcelona (5% Off)
Museu History of Catalonia (30% Off)
Museu La Pedrera (20% Off)
Museu Sagrada Familia (1.00 Euro Off)
Wax Museum (20% Off)
Museum of Ideas & Inventions (20% Off)
European Museum of Modern Art (20% Off)
Museu del Perfum (40% Off)
Bellesguard tower (20% discount)
Archaelogical museum of Catalunya (30% discount)
Frederic Mares museum

(admission included)
Leisure Activities - FREE:
Golondrinas
Mirador de Colom
Torre de Collserola
Circuit de Catalunya
Unlimited Public Transport:
Unlimited FREE travel on all public city transport including Metro and urban bus (including train from Barcelona Airport Terminal 2 to the city)
Cooltra Motos (20% Off)
Cable Car (2.00 Euro Off)
Barcelone Rent a bike (20% Off)
There are several additional offers and discounts at shops, restaurants and attractions!Culture:
Casa Batllo (20% Off)
Gran Teatre del Liceu (20% Off)
Palau de la Musica Catalana (20% Off)
Mies van der Rohe Pavillion(20% Off)
Poble Espanyol (20% Off)
Gaudi crypt in Guell colony (20% Off)
Museu History of Catalonia (30% Off)
Fundació Suñol (25% Off)

Museu Casa Gaudí (1 Euro Off)
Leisure - Discounts:
Aquarium (20% Off)
Casino (Free admission + drink)
Parc d'Atraccions del Tibidabo (20% Off)
Zoo de Barcelona (20% Off)
Aqua Urban Spa (30% Off)
Bosc Urbà (20% Off)
Illa Fantasia (20% Off)
Port Aventura (20% Off)
Gaudi experiencia (20% Off)
Entertainment - Discounts:
Cordobes-Tablao Flamenco (20% Off)
El Patio Andaluz (20% Off)
Palacio del Flamenco (5 Euros Off)
Nervion-Tablao Flamenco (20% Off)
Opera y flamenco (20% Off)
Shops - 15% Off:
BCN Original Shops
Futbolmania
La Roca Village
Perfumeria Regia
Restaurants - 15% Off:
Costa Gallega
Diagonal Can Soteras
El Chipiron de Moncho's
El Tinglado de Moncho's
Marina Moncho's
Masia Tibidabo
Nervion
L'Arrosseria X-tiva
La Tertúlia
Asador del Mar
Arrosseria Xàtiva amb Gràcia
Heart Burger
Moncho's Barcelona
Tapas Locas (20% Off + glass of cava)
Nightlife - Discounts:
Ice Barcelona (20% Off)
Michael Collins Irish Bar (20% Off)
Days of Service
Daily
Meeting Time
Valid from the time of first use, for the number of consecutive days selected.
Details
Inclusions
Barcelona Card
FREE full-color guidebook
FREE ENTRY to 20 of Barcelona's top visitor attractions
FREE unlimited use of public transport
Exclusions
Food and drink
Gratuities (optional)
Hotel pickup and drop off
Additional Info
Confirmation will be received at time of booking
Your Barcelona card can be redeemed until December 31, 2015
Voucher Information
You must present a paper voucher for this tour. We will email a link to access and print your voucher at the Lead Travelers email address.
Schedule and Pricing
Departure/Exchange Point
Barcelona Card can be collected from both terminals at Barcelona Airport or several locations in the city center. You must collect the pass between 9am-8:30pm.
Duration:
Varies
Return Details
Policy:
Refunds, when possible, must be requested at least 4 business days prior to the travel date. Refunds are subject to a 7% administration fee. The Rail Protection Plan™ does not apply.
Note: Tours may be delayed or run late. Please plan accordingly.
Tour

Code:3DAY

Unlimited use for 3 consecutive calendar days from time of first use
From
Tour

Code:4DAY

Unlimited use for 4 consecutive calendar days from time of first use
From
Tour

Code:5DAY

Unlimited use for 5 consecutive calendar days from time of first use
From
Customer Reviews
Nina L
Goos transportation system and access to cultural sites.
Cindy B
We purchased the Barcelona Card with Guidebook that provided many means of transportation. This is affordable, and we used it daily for 5 days. This was definitely worth the purchase. We enjoyed using the Metro, train, bus and underground.
Mark O
MUST GET 100!! Trip would not have been the same without the benefits of this card..
lisa s
excellent, didnt have to worry about hopping on and off the networks, which gave us the opportunity to see more!
g.val
Barcelona card was brilliant.
Transport, museums and all the great suggestions in the tour guide.
Definite recommendation to all my friends
George M
The trip was amazing... we felt we didn't really maximized the potential of the card.. but was helpful
Theodora
What a value for the money. We got into several sites for free and discounts on others. Barcelona is so beautiful and clean I am very impressed. We almost ran ourselves ragged to see as much as possible but loved every minute of it. The Egyptian Museum was one of my favorites. I wish everyone could experience this fabulous city and country.
Alison T
Had a great time in Barcelona over three days. We covered a lot of ground in our short stay and Barcelona Card with guidebook was really helpful. The only downside if you like was that we did not get our card until lunch time on our first day as we could not find where to get card and once we had located the office there was a very long queue but that itself was not really a problem but it would have been even better had we received all this information prior to arriving in Barcelona as it was a bit much to take in when you are actually in the city. I think it would be a good idea when you order this Barcelona card it is then posted out to the visitor prior to their visit. But anyhow, many thanks and what a lovely city Barcelona is and we all intend returning one of these days. Alison Twaddle Scotland
Stephen H
Underutilized by us, but a spectacular bargain if you have lots of time!!!
Bryn J
3 day pass provided great value for daily travel and free access to some attractions. Used it from the airport and day to day bus and metro without having to worry about buying tickets
Trevor R
The card is good value for,the money. In Barcelona the bus, subway and tram lines not only touch all the major sites but get you there very quickly. Their subway map is easy to understand and use, and the tram provides you with a unique way to see the city. The sic out booketlet came in very hand at mot a of the museums and, and some of the major sites. We used it for three days and save a lot of money on cab fare. I would recommend this to anyone
Dorothy M
This is so worth the money especially for the metro and buses. So glad we bought the cards would recommended it to anyone. You have not got to worry about buying the tickets. Easy to pick up from airport.
Victor F
Excellent for enjoying Barcelona in short stay
David M
We found the Barcelona cards very useful. We took the metro to every part of the city, sometimes several times in a day, and having the cards was much more convenient than having to buy individual tickets for every trip. The trains are clean and not too crowded most of the time. We also saved on tickets for several museums.
Mark T
Great way to get around Barcelona with such ease ! Metro is easier than the London underground !! Gets a little hot down there in the middle of the summer though
Rio Abraham S
EVERYTHING IS PERFECT
Shana M
This really added huge value to our trip!!
Barcelona was amazing and I can definitely recommend the Barcelona Card!!
jack w
Great value! THE BEST!
troy.w.washington
This is well worth your money and the public transportation is very easy to use.
Maire C
This card was a treasure. it enabled us to travel when we wished, to wherever we wished, as often as we wished. It made everywhere accessible
ADEMOLA T
I highly recommended it! Getting this card made things easier for me in-terms of travel and sight-seeing.
Alongcameme
If you will be travelling around Barcelona, please get this card. It will save you a lot of time and money.
ladynp
This card was awesome, from the value to priceto the ability to pickup it up at the airport tourist information center.
We saved so much money on the transport costs, we could just catch the bus or the metro and go wherever we chose.
We also saved significant amount of money with the free admission and the discounted admission to many interesting sights and museums.
I would recommend not going to Barcelona without this card!!!! Booking online was easy,and will use it again when return to visit in future.
Tanking others for the positive review of this card, it was well worth the price.
Peter M
In four days we did not have time to do it all but , the BCN card proved very usfull. Took a bit of time to search for things as they are ordered in sequence starting with the free stuff.