Avila and Segovia Day Trip from Madrid
Avila and Segovia Day Trip from Madrid
View all photos
Location: Madrid, Spain
Duration: 9 hours
Avila and Segovia Day Trip from Madrid
Soak up Spain's fascinating history and legendary culture on an Avila and Segovia day trip from Madrid. Explore the walled city of Avila, Spain's best-preserved 11th-century fortified town, and discover why it is known as the City of Stones and Saints. Then unravel centuries of history in the city of Segovia, from its two-tiered Roman aqueduct to its Moorish fort and stunning Gothic cathedral. With the option to indulge in a gastronomic lunch, your trip to these two UNESCO World Heritage sites is a feast for all the senses!
What You Can Expect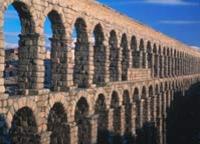 Your day trip from Madrid to Avila begins with a stop at hilltop Los Cuatro Postes to admire superb panoramic views over the city of Avila, dotted with church towers and Gothic palaces, and declared a UNESCO 'Heritage of Mankind' city.

Entering the 11th-century city walls encircling Avila, notice how the 90 fortified towers and circular turrets look like they've stepped out of a storybook, and hear how Avila is an important pilgrimage site as the birthplace of the mystic writer Saint Teresa of Jesus (1515–82). Then explore two of the best examples from the astounding array of Romanesque and Gothic churches in Avila, packed with one of the highest concentrations of Romanesque and Gothic churches in Spain.

Your guided visit to Avila's churches takes you to San Vicente Basilica, a Gothic masterpiece and home to some of Spain's most prized examples of Romanesque sculpture. Then see how Gothic and Romanesque architecture combine in Avila's celebrated cathedral, with its fortress design and alabaster chapels and tombs.

Continue your Segovia day trip to see one of the finest Roman-era monuments in Spain -- Segovia's Roman aqueduct. Admire the scale of this incredible feat of engineering, built entirely without mortar during the reign of Augustus in the 1st century AD, and see how the aqueduct originally had 118 arches and was 10 miles (16 kilometers) long.

Your guided tour of Segovia also takes you to the famous Alcazar, a beautiful 11th-century medieval fort that inspired the design of Disney's fairytale castle. One of the finest Moorish fortresses in Spain, it's also at the heart of one of the most significant group of medieval buildings in the country. Step back in time and imagine the medieval tournaments that once took place here, and the heroic knights who fought in the court of the kings of Castile who ruled from Segovia.

Complete your Segovia guided visit with a look at the city's impressive cathedral, the last Gothic cathedral built in Spain and known as 'the Lady of the Cathedrals'.

On this day trip to Segovia you have the option of including a tourist-style lunch of stuffed veal or a superb gastronomic meal featuring local Segovian specialties such as roasted suckling pig.
Sample Menu (subject to change)

Tourist Lunch:

La Granja white beans
Beef cooked 'Segovian style'
Dessert
Gastronomic Lunch
La Granja white beans
Roasted baby pig
Segovian cake
Mineral water, wine and coffee
Days of Service
January 01 to March 31
Daily, except Tuesdays and Thursdays
April 1 to March 31
Daily

Meeting Time
9am
Details
Inclusions
Avila visit and entrance fee to Basilica of San Vincente
Transport by air-conditioned coach
Segovia visit and entrance fee to the Alcazar, with its Artillery Museum and Church of Vera Cruz
Exclusions
Gratuities (optional)
Hotel pickup and drop off
Food and drinks, unless specified
Additional Info
Confirmation will be received at time of booking
Not wheelchair accessible and is not suitable for those with limited mobility
If the Cathedral in Avila is being used for exhibitions or other events, it may affect the normal flow of your visit. In this case, another monuments in Avila will be visited instead.
Infants aged 5 years and under, are free of charge provided they do not occupy a seat
Operated by a bilingual guide in Spanish and English

Voucher Information
You can present either a paper or an electronic voucher for this activity.
Schedule and Pricing
Departure/Exchange Point
Central Madrid
Duration:
9 hours
Return Details
The tour ends at Bus Parking Plaza de Oriente, Level -2, Madrid.
Policy:
Refunds, when possible, must be requested at least 4 business days prior to the travel date. Refunds are subject to a 7% administration fee. The Rail Protection Plan™ does not apply.
Note: Tours may be delayed or run late. Please plan accordingly.
9:00 AMTour

Code:ENG945T

Avila and Segovia Day Trip from Madrid with English-speaking guide
From
9:00 AMTour

Code:ENG945TL1

Avila and Segovia Day Trip from Madrid including Tourist Lunch with English-speaking guide
From
9:00 AMTour

Code:ENG945TL2

Avila and Segovia Day Trip from Madrid including Segovian Lunch with English-speaking guide
From
Customer Reviews
Mcferrazzi
The tour was very good!
Karen T
Wonderful trip. I recommend it to everyone.
SPH
I loved this tour and our guide was terrific! There was a great balance between structured guided tours and time to look around on our own. The sights were great and lunch was very good.
Christopher F
Incredible history and great sights. Buildings that are hundreds, even thousands of years old. Magnificent tour, great food, and the guide was knowledgeable and interesting.
Amir Z
very good again not recommended for handicapped
John M
Excellent guides and interesting history
Michael V
Tour guide was really good! She knew her stuff and was funny in the process. Loved it and would do another day trip tour through Viator again!!
Christina C
An amazing tour not to be missed. It is a full day with LOTS of walking. I think I measured over 7 miles!
After meeting at the tour office, we walked a short distance to the very comfortable bus with our guide Nuria. She speaks great Spanish and English, the tour is bilingual. You start out with a lovely drive to Avila, a walled city. Lots of walking and picture opportunities here. Make sure you visit the restrooms before leaving Avila...she doesnt point out that opportunity before leaving. Then another drive to Segovia where you can see the aqueduct and have some time for lunch. We did the lunch on your own option, which I highly recommend. Lots of restaurants very reasonably priced. On to the rest of the walking tour. Exhausted at the end of a long day but one well worth the effort.
Bobby B
Great time in Avila and Segovia. Was certainly worth it.
Joseph W.
This was a excellent tour. Isabel, our guide, was knowledgable and fun. We tend to avoid these kinds of tours big buses full of tourists and we did our own tours of Toledo and Cordoba. There were 42 people on the bus but we divided into two groups. We could not have duplicated the experience of this tour on our own. To have missed this tour would have been great loss to our Spain tour vacation.
Victor C
Lo disfrutamos muchisimo!!! Isabel nuestra guia con pleno dominio y Conocimiento. Espectacular el acueducto!!!
Victor C
Lo disfrutamos muchisimo!!! Isabel nuestra guia con pleno dominio y Conocimiento. Espectacular el acueducto!!!
Eilene S
we had a great time. The group was around 20 and that is a good size. We didn't feel rushed with Gorge. He was very clear in his explanations and full of information.
I would recommend this to anyone!
Lillian M
I loved this tour! Segovia and Avila are beautiful places with a lot of history.
tanmezh
A really interesting tour, beautiful Avila town wall, great structures in Segovia. nicely planned, enough independent time as well as information from the tour guide. The tour guide Isabelle was a real modern Spanish woman, passionate Spanish patriot and skillful professional. I would highly recommend this tour.
Jon E
Excellent tour guide made the difference in making this an great tour. A lot of historical background information was needed to understand what we were seeing, and our guide connected the dots and answered any questions.
Edrwin G. F
Excellent. Both town are worth to visit. Staff was very nice and kind.
Katherine S
The tour guide was knowledgeable and helpful with suggestions. I opted out of the tour lunch since I'm usually an independent traveler. There was plenty of free time for pictures and to just absorb the ambiance of these charming towns..
Judith S
Excellent trip with friendly guide on crowded day in Avila and Segovia. Good lunch served - back to basics soup, casserole and icecream.
William H
Excellent guide and itinerary.
Ross
Great tour. I took it on Sep. 14. Our guide was very informative. The walls at Avila and the aqueduct at Segovia were very impressive. Just outside Avila, we had short rest break at hotel before we entered the town. The hotel location had a great view of the town.
Luis A
This was a long, intense day. But, well worth it. These 2 cities are beautiful and breathtaking. I totally enjoyed this tour and the Segovian lunch was delicious. I wished for a few more minutes to be able to buy a souvenir, but we had to keep moving to be able to see both cities in one day.
Lincoln W
Booked trip to see the wall in Avila and Segovia turned out to be more impressive than I expected. Great tour recommend taking a day out of your schedule to take this tour. You get on the bus right off the metro in the heart of Madrid.