Stonehenge, Windsor Castle and Bath from London
Discover Stonehenge, Windsor Castle and Bath on this day trip from London. Leave the city behind you and travel by air-conditioned coach to (...)
Overview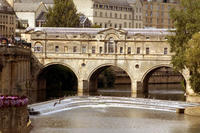 Location: London, United Kingdom
Depart from London and travel out of the city in your air-conditioned coach toward the majestic Windsor Castle. Home of the British Royal Family for 900 years, and location for the 2018 Royal Wedding, Windsor is the world's largest and oldest occupied castle and widely considered one of England's finest. Explore the lavishly-decorated State Apartments and St George's Chapel with your guide and hear of the castle's fascinating history and heritage.
From 19 January to 17 February, A Royal Wedding: The Duke and Duchess of Sussex will form part of your visit to Windsor Castle. This special exhibition will feature the wedding outfits worn by the couple at their wedding in May 2018.
Continue on through the rolling green Wiltshire landscape to Stonehenge, a collection of stones dragged to this lonely plain near Salisbury 5,000 years ago. This ancient stone circle is still a place of strong spiritual significance, and continues to capture the imagination of the many visitors it welcomes each year. Why the stones were placed here and what purpose they served remains a mystery though, so wander around the site at your leisure and decide for yourself why these age-old rocks have found themselves here. Take a look around the visitors' center and learn the history of this ancient, mysterious site. During your visit enjoy a free interactive map and VOX personal headset that is exclusive to this tour.
Next, hop back in your coach and continue onward to Bath, famous for its elegant Georgian architecture and widely considered one of England's prettiest cities. Follow your guide on a panoramic tour of Bath and be enchanted by the town's beautiful streets and alleyways, capturing the sites on camera as you go. You'll see Bath Abbey and the much-photographed Pulteney Bridge, modeled on the Ponte Vecchio in Florence. During the tour, you will see the city's famous Roman Baths — the best preserved Roman spa from the ancient world.
At the end of your time in Bath, travel back to London's Victoria where your day trip concludes.
Enjoy a day away from the hustle and bustle of the city
Tour is wheelchair accessible
All entrance fees included
What you can expect
Discover Stonehenge, Windsor Castle and Bath on this day trip from London. Leave the city behind you and travel by air-conditioned coach to Windsor Castle, home of the British Royal Family for the last 900 years. Visit St George's Chapel and the State Apartments with your tour guide before traveling out to Salisbury, where the ancient rock formations of Stonehenge await. Continue on to the beautiful Georgian city of Bath, visit the Roman Baths and enjoy a panoramic tour with your guide before returning to London.
Practical information
What's inside
Entrance to Windsor Castle and a tour of the State Apartments and St George's Chapel
Admission to the ancient circle of Stonehenge
Panoramic Tour of Georgian Bath
Admission to the famous Roman Baths or explore the beautiful city of Bath (if option selected) 
Professional guide
Transport by air-conditioned coach (maximum 53 people)
Luxury Mercedes coach with FREE Wi-Fi access & reclining seats
What's NOT inside
Hotel drop off
Hotel pick-up
Gratuities (optional)
Food and drinks, unless specified
Admission to the Roman Baths (if the option with no entrance fee is selected)
Additional info
Refundable up to 4 business days prior to the travel date minus a 7% administrative fee.
Confirmation will be received at time of booking
Departs at 8am (boarding at 7.30am), Victoria Coach Station Gate 1-5, 164 Buckingham Palace Road, London, SW1W 9TP
The Changing of the Guard only takes place on selected dates
St George's Chapel is closed on Sundays / Queen Mary's Dolls' House is currently closed.
Windsor Castle is closed (full or part) on 18-19, 21 Apr, 2, 3, 18 May, 16, 17 Jun
The State Apartments are closed on 22 Mar, 18 Jun
Stonehenge will be closed to visitors on 20 and 21 June due to the Summer Solstice. Tour will visit Avebury instead.
Please note: the tour itinerary and order may change
Departure point:
Victoria Coach Station, Gates 1-5.
Departure time:
8:00am *Please arrive 30 minutes before time.
Return details:
Concludes at Victoria
Reviews & ratings
Stonehenge, Windsor Castle, and Bath from London
Stonehenge, Windsor Castle, and Bath from London

|

Vivien T.

|

28a oktobro 2018

"As we had limited time to spend at the places, be sure to keep track of your time ! We were given audio guides at the different spots. Toby was a great tour guide ! (...) "

Stonehenge, Windsor Castle, and Bath from London

|

Evelyncdepaz.

|

25a oktobro 2018

"Patricia and Mark were absolutely amazing on this tour. So informative, kept the group together even though we were free to explore and had a lot of information (...) "

Stonehenge, Windsor Castle, and Bath from London

|

Micheal D.

|

1a novembro 2018

"We got kicked off of the bus and bath because no one on that bus or in the company had our confirmations and we are asked to pay again so we refused. Stonehenge was (...) "

Stonehenge, Windsor Castle, and Bath from London

|

Frank V.

|

2a novembro 2018

"I can't write a review for this exact tour however I would like to recommend this company to anyone who's planning a tour. due to the power going out in our hotel (...) "

Stonehenge, Windsor Castle, and Bath from London

|

William B.

|

5a novembro 2018

"We really enjoyed the the tour. Our tour guide Tony Matthews was amazing. He was very knowledgeable and insightful. The tour would not have been the same without (...) "

Stonehenge, Windsor Castle, and Bath from London

|

John M.

|

24a oktobro 2018

"Three awesome day-trip-from-London experiences, compacted into one.Windsor was just enough time - we arrived before the gates opened, and there was a bit of a wait (...) "

Stonehenge, Windsor Castle, and Bath from London

|

Bruce M.

|

24a oktobro 2018

"Kevin, our tour guide, did an excellent job narrating on the bus, organizing our day and setting up our tours on site. "

Stonehenge, Windsor Castle, and Bath from London

|

Michael D.

|

1a oktobro 2018

"Mel Adams (tour guide) and Steve (driver) did a really great job. They worked well together and knew the 3 sites we visited. All 3 sites are excellent stops w tours (...) "

Stonehenge, Windsor Castle, and Bath from London

|

Robert H.

|

8a oktobro 2018

"You should be prepared for a longer day then advertised.?..?/444444444444444444444 you gotta be kidding me. "

Stonehenge, Windsor Castle, and Bath from London

|

Natalie B.

|

10a oktobro 2018

"This was a trip that I've waited to be able to go on forever ! The tour guide was fantastic, and I hope the next tour I'm able to go on, he's there (...) "