Venice Gondola Ride and Serenade
Venice Gondola Ride and Serenade
View all photos
Location: Venice, Italy
Duration: 35 minutes
Venice Gondola Ride and Serenade
Waft by the beautiful sights of Venice on a 35-minute shared gondola ride and enjoy a serenade, too. Select an afternoon or evening trip, be welcomed aboard your six-passenger gondola by a traditionally dressed gondolier, and set off in a group of around eight gondolas, with a singer aboard one of the boats. Admire the Rialto Bridge, Palazzo Barberino and other romantic landmarks as your flotilla navigates the Grand Canal and smaller waterways, and soak up the dulcet melodies from the flotilla's singer along the way!
What You Can Expect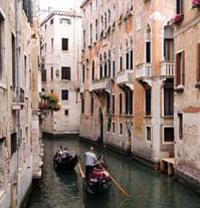 Choose from one of four start times when you book and, on the day, make your own way to the gondola pier near Santa Maria del Giglio Square in central Venice.
When you're ready, be shown onto your shared gondola by a traditionally dressed gondolier. Each gondola seats six people, and your craft will be just one of a group of around eight gondolas that will cruise the canals together as a flotilla. A singer will board one of the gondolas in the flotilla and will serenade your group of shared gondolas as you waft along the waters.
Sit back on your seat and soak up the gorgeous scenes as your gondola bobs along some of Venice's prettiest waterways. Dip into romantic side canals and drift along a stretch of the Grand Canal past exquisite mansions and landmarks such as the Palazzo Barberino.
Enjoy the dulcet tones and melodies of the singer traveling with your flotilla as the notes drift through the air around your gondola. Lose yourself in the Italian songs as you watch for top Venice attractions including the Peggy Guggenheim Collection museum and the Rialto, the stunning marble bridge designed by one of the finest Italian architects of the 16th century – Anthony da Ponte.


After around 35 minutes of gliding along and around the Grand Canal, return to the start pier where your gondola ride finishes.
Days of Service
Daily
Details
Inclusions
Shared gondola ride in a flotilla of gondolas (approx. 35 minutes)
Serenade from singer aboard one of flotilla gondolas
Exclusions
Guide
Gratuities (optional)
Hotel pickup and drop-off
Additional Info
Confirmation will be received at time of booking
Voucher Information
You must present a paper voucher for this tour. We will email a link to access and print your voucher at the Lead Travelers email address.
Schedule and Pricing
Departure Point
Veneto and Venice
Duration:
35 minutes
Return Details
Returns to original departure point
Policy:
Refunds, when possible, must be requested at least 4 business days prior to the travel date. Refunds are subject to a 7% administration fee. The Rail Protection Plan™ does not apply.
Note: Tours may be delayed or run late. Please plan accordingly.
German Activities Terms & Conditions
The 20% Off German Activities offer is valid with bookings of any German Rail Pass with coupon code OKTOBERFEST20. The maximum coupon code discount is $35 per booking. Offer is valid for the first 280 coupon codes redeemed or until the promo's end date of 5:00 pm ET on September 29, 2015, whichever comes first. Offer is subject to change or extension without notice. No adjustments can be made on prior purchases. One coupon code per booking may be applied.
3:30 PMTour

Code:EN1530

Starts at 3:30pm. Available November to March only
From
6:30 PMTour

Code:EN1830

Starts at 6:30pm. Available April to October only
From
7:00 PMTour

Code:EN1900

Starts at 7:00pm. Available May to September only
From
7:30 PMTour

Code:EN18930

Starts at 7:30pm. Available April to October only
From
Customer Reviews
Suzanne B
Just fabulous!Everyone needs to do it when in Venice!
Michael L
It a must do, very cost effective way to do the gondola ride with music and singing
Janetscheid
The gondola ride was the highlight of my stay in Venice! Definitely worth doing. We scored the lover's seat and the singer in our boat. There are usually 5-6 gondolas sailing around together. Felt very, very special. Do this tour as close to sunset as possible! Then go have gelato at Groms.
ALFONSO B
The best tour ever, we'll do it again, aviator is very well represented.
Kristen L
This was a beautiful evening with an amazing accordion player and singer. We were fortunate to have the musicians in our boat and our gondola driver was whistling and singing along. As we did the evening tour, the sun was creating a beautiful sky. With some time on the large canal and some on the smaller, side canals, we had a wonderful ride.
Kay P
We had 1 gondola with a singer and accordion player, and about 6 other gondolas. Each gondola carried 6 persons. The singer was very good, we had a good time.
Simon D
Wonderful experience made sweeter by us being fortunate and getting the king and queen seats, the serenading was perfect and just a shame it was only 35 minutes
Amreta V
One of the highlights of Venice.
Claire A
Magical for our 10th wedding anniversary! We were so lucky to have the singer in our boat! Beautiful atmosphere through the whole boat ride. Very well organised and a must if this is your first time in Venice like us. Well worth it - so glad we did it.
Debra l
Very nice for the price. If you are looking for something romantic or special pay more money and get a smaller group. If you just want to experience it and enjoy other people this is the way to go.
Brian H
Overall a cheap alternative to taking a Gondola ride on the side of one of the canals. The music was great and the trip lasted about 45 minutes. Great scenery and out boat only had 2 other people in it. If you are looking for romantic however this is not the option for you, although my wife and I both enjoyed it. If you are looking to check a gondola ride off your bucket list this is it.
Steven P
Fantastic . We actually had the singer and accompanying musician in our Gondola . Well worth the money .
Heather G
A must do in Venice, awesome ride and serenade was great.
Chris J
A value for money trip.
Although we did not have the musician and singer in our gondola each gondola took turns in being next to them for a photo opportunity and you could always hear them. It was good to see Venice from a different viewpoint, would definitely recommend it, why would you go to Venice and not have a gondola ride??
Brian
This actually exceeded our expectations. I suppose we were lucky to get the King and Queen seats directly in front of the gondolier so it almost seemed like we had it to ourselves. The serenade was beautiful - musicians were in another gondola accompanying the group but the singing and the accordion playing were awesome. We took the 7:30pm tour which was as the sun was getting lower on the horizon and it just added that little bit more romance to the occasion.
Carmen N
this was the most amazing moment of our stay in Venice will do it again
Mohammed H
Really beautiful experience. We were a family of four, and unfortunately, others were in the gondola with us on the better side of the boat. Had to shift around to get some good pictures.
Mary P. V
A gondola ride is a must in Venice. The group of gondolas and the serenade was fantastic.
kimberly A
Our gondola ride with serenade was so amazing and one of our most memorable experiences in Venice. As with all our other tours/excursions, it was so simple and organized with our Viator purchase. We loved, loved, loved this!
pgonder
We all thoroughly enjoyed this gondola ride with serenade. The men were very helpful to get my sister on and off of the gondola as she has some disabilities. Our gondolier was pleasant and answered our questions. The ride down the canals was great. My only complaint is that the singer sang American songs and I was really looking forward to hearing romantic Italian songs. I couldn't understand that. But the singing and playing were excellent.
suzanne_kyleen
We saved our Gondola ride for our last night in Venice. It was just a special as expected. We took a 7.30pm tour, just on sunset. We were in a flotilla of 8 boats with the musician and singer in one of the boats. Naturally they picked the gondola with the 2 pretty young girls!! We headed out into the Grand Canal for a tune or two and then headed down the smaller canals under the little bridges, it was such a nice experience to view the city from the canals and with the sweet sounds of the accordion and singer in the background. We were 4 in our boat and we swapped seats half way through so each couple could have a turn in the love seat. So that was also nice. I'm not sure of the prices of the other gondola rides available around Venice, but it was nice to have it booked for a particular time and date. We also dressed up for the evening as we followed up with a celebratory dinner. While in Venice!
Gurdeep V
Lovely canal ride at the perfect time...so romantic with the serenade too.made the day perfect