The Original London Sightseeing Tour
The Original London Sightseeing Tour
View all photos
Location: London, United Kingdom
Duration: 1 day
The Original London Sightseeing Tour: Hop-on Hop-off
Discover top London attractions at your leisure on this flexible open dated hop-on hop-off sightseeing tour of London. With three family-friendly routes and three transport link services available, this hop-on hop-off bus in London offers a perfect day of sightseeing. Admire Tower Bridge, the London Eye, Big Ben, Westminster Abbey and more from the comfort of your spacious open-top double-decker bus. As a bonus, use your London hop-on hop-off tour ticket for a range of additional activities including a Thames River sightseeing cruise and three London walking tours.
What You Can Expect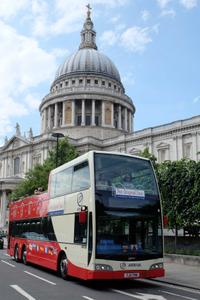 Redeem your voucher, ride around London aboard your spacious open-top double-decker bus and enjoy the flexibility to plan your day exactly how you like. Your London sightseeing ticket can be used on three tour routes — red, yellow or blue — as well as the transport links: black, green and purple. Tour routes are great options, with entertaining commentary for all ages plus children's activity packs.
Your ticket also includes a hop-on, hop-off Thames River cruise and three walking tours – all of which take place daily. See Itinerary for details.
Tour – Red Route:
Discover top city highlights in central London with full audio commentary throughout. Stay on board for the full loop (approx two hours), or hop on and off at your leisure at any of these stops:
Madam Tussauds, London Planetarium, Regent's Park, Oxford Street, Regent Street, Piccadilly Circus and Eros Statue, Leicester Square, the National Gallery, Nelson's Column and Trafalgar Square, Horse Guard's Parade, Downing Street, Big Ben and Houses of Parliament, Lambeth Palace, Imperial War Museum, London Aquarium, London Eye, South Bank Arts Centre, BFI Imax Cinema, Covent Garden, Fleet Street, St Paul's Cathedral, Monument, London Bridge, London Dungeon, Tower Bridge, Tower of London, Shakespeare's Globe, Tate Gallery Bankside, Millennium Bridge, Catamaran Cruisers, Sherlock Holmes Pub, Westminster Abbey, Buckingham Palace, Hyde Park and Speakers' Corner.
Tour – Yellow Route:
Explore central London with a live guide. Stay on board for the full loop (approx two hours), or hop on or off at any of the stops. The route includes all stops mentioned on the Red Route except Madam Tussauds, London Planetarium, Regent's Park, Oxford Street and Regent Street. These attractions are replaced with the Ritz Hotel, Royal Academy of Arts and Fortnum and Mason.
Tour – Blue Route:
Discover London's museums and shopping districts and enjoy comprehensive audio commentary throughout. Stay on board for the full loop (approx two hours) or hop on and off at any of the stops:
Kensington Palace, Baden-Powell House, Natural History Museum, Science Museum, Victoria and Albert Museum, Brompton Oratory, Harrods, Knightsbridge, Harvey Nichols, Hyde Park, Ritz Hotel, Piccadilly Circus, Shaftsbury Avenue, British Museum, Russell Square, Wellington Museum, Royal Albert Hall, Albert Memorial, Kensington High Street and Princess Diana Memorial Fountain.
Transport Links
Transport Link

– Black Route:
Use this route to travel between the main London transport hubs of St Pancras, King's Cross, Marble Arch, Paddington, Marylebone and Euston.
Transport Link – Green Route:
This route provides a handy loop around central London, stopping at Leicester Square, the London Eye, Westminster and Piccadilly Circus.
Transport Link – Purple Route:
Use this route to travel around west London, stopping at Holland Park, Notting Hill, Bayswater, Kensington Gardens, Paddington and Madam Tussauds.
The following complimentary activities are subject to availability on the day of your tour.
Thames River Sightseeing Cruise:
Simply hop off your sightseeing bus at either Big Ben and the Houses of Parliament (Westminster Pier) or the Tower of London, and then walk the short distance to the pier. Show your hop-on hop-off ticket and step aboard the boat to begin your river cruise. Take in spectacular city views from out on deck or relax by the windows inside the boat as you glide up and down the Thames River, with top London attractions such as the London Eye, Tate Modern and St Paul's Cathedral drifting slowly by.
Walking Tour – Changing of the Guard:
Meet your guide at The Original London visitor center in Trafalgar Square at 10:30am. Stroll past St James's Palace on your way to Buckingham Palace, and then watch the time-honored Changing of the Guard ceremony taking place. In time to drumbeats, soldiers from the Queen's Foot Guard march in front of the palace in their red tunics and bearskin hats.
Walking Tour – Rock 'n' Roll:
Start at The Original London visitor center in Trafalgar Square at 1pm then set off to explore the capital. Discover famous venues and sites linked to rock 'n' roll legends of the past few decades. See where the Beatles were nearly arrested, the venue of Jimi Hendrix's last gig and more.
Walking Tour – Jack the Ripper:
Leave the bus stop at the Tower of London at 3:30pm with your guide and walk around Whitechapel in London's East End. Follow the trail of London's infamous serial killer, hear murderous tales from the city's dim and dark past and see the places that gave the Ripper his notorious acclaim.
Days of Service
Daily
Meeting Time
Buses depart every 15-20 minutes from 8:30am to 5pm
Details
Inclusions
Hop-on hop-off tour
Sightseeing cruise
Walking tours
Children's activity pack
Commentary
Professional guide (yellow route only)

Exclusions
Gratuities (optional)
Food and drinks
Hotel pickup and drop-off
Additional Info
Confirmation will be received at time of booking
Children under 16 years must be accompanied by an adult
Hop-on, hop-off Thames River cruise ticket is valid for the same period as your bus ticket only

Voucher Information
You can present either a paper or an electronic voucher for this activity.
Schedule and Pricing
Departure Point
England-London
Duration:
1 day
Return Details
Valid for 24 hours from time of first use
Policy:
Refunds, when possible, must be requested at least 4 business days prior to the travel date. Refunds are subject to a 7% administration fee. The Rail Protection Plan™ does not apply.
Tour

Code:1DAY

Ticket is valid for 24-hours
From
Customer Reviews
Wallace J W
No problems--our vouchers were immediately recognized and tickets issued. Great way for introductory London.
Christopher T
... Absolutely worth doing this to get an overall feel for the city and the monuments.
cherbear
I highly recommend doing the hop on hop off tour. I only had a few days in London and choosing this option was the best! It includes the changing of the guard walking tour at buckingham palace which was pretty cool and a river Thames cruise to relax and take in the beauty of London.
kristycropandstamp
Really enjoyed this tour! Lots of great information about the city!
glenstanley
Great tour and well organised. Shame though about the traffic in London. But that's London for you.
Deborah K
This tour was amazing. Helpful staff. Plenty of buses and routes. Cannot fault it. Suggest this be used in Paris as well
Robert N
Great value for the money
Drivers very pleasant
Erica G
We took the train from Paris to London for the day. This tour was perfect to make the most of our trip. My daughter loved the changing of the guards walking tour and river cruise. Best tour for your money!
Kazookris
Great way to see the city and get a lay of the land. We did several routes. Would recommend.
Elizabeth M
This was great-there was a lady who gave a fantastic commentary for our benefit. Got to go all over London and see historic sights. Great drop off points and our tour included a boat ride down the Thames to the London Eye.
kjphillips80
Drivers and everyone else working were very friendly and polite! Great information from the tour guides! There were some issues with late buses, but since there was a lot of roadwork and traffic that day, we didn't blame it on the tour company.
Craig S
My family thoroughly enjoyed our time on the Original London Sightseeing Tour bus. We were able to experience all the major attractions in comfort with good commentary and great views from the open deck. The stops were convenient and allowed hassle free sightseeing. The two-day tickets we purchased proved to be great value.
Kristi
This is such a good idea. Really takes you quickly through the locations. You can just hop off and visit the site, buses seem to run about every 15-20 minutes. You get great views from the second level, especially of the Parliament/Big Ben from across the water. I definitely recommend.
Meredith R
This tour was amazing!
Chris F
This tour was amazing!
Kathy S
Very friendly. Great weather. Funny commentators. Helpful.
Ancy W
Excellent way to see the highlights. We ended up just staying on the bus through one route and going later to some of the places that we drove by on the tour. It would be difficult, if not impossible, to hop-on hop-off and see it all in a day. A river cruise is included in the price, which is also a pleasant and relaxing way to see the city.
Randy E
Rode on 2 different routes and enjoyed both. Particularly enjoyed the yellow route because of the live narrators who were very knowledgeable and entertaining. Good value since we paid for one day pass and got the second day free.
Eva W
Really enjoyed seeing all of the city and learning about it and being able to hop off at places we wanted to see and do things. Very good tour.
David M
Excellent value for money and it was so easy to get your voucher exchanged.
trn679
Hop on Hop off is a great option if you do not have a set itinerary and have not joined any formal tours. Your tickets are good for 24 hours and includes a river cruise on the Thames which gets you to Greenwich. The stops bring you to the popular landmarks and sites, and the buses come often so you'll be able to use your time efficiently. If you're on one of the lines that include a tour guide that narrates, you can ask them for suggestions on anything from food to which stops you need to get off to get to certain sites, they are very helpful and friendly. Recommendation- bring sunglasses, a warm jacket, and wear sunscreen. When you sit on the top deck, it's sunny, you can get sunburn/windburn, and it can get cold. if you want to be dropped off in front of the Tower of London, take the River Thames cruise and one of the stops is in front of the Tower of London. You can get there by bus too, but you have to walk a few blocks to get there. To take the cruise, pick it up by Westminster/Big Ben, since you get your tickets when you pick up the hop-on hop-off, you don't have to wait in the purchase ticket line, just look for the sign that says Original London Sightseeing and it will take you to the gate you need to pick up the cruise. Everything was very easy and I got to see all the sights, even take a picture of Harrods from the top deck. From the top deck you also get a different view of places because you're higher up and not fighting the crowds to get a picture of things.
Adam G
Excellent way to see the city.
kenneth K
This tour was amazing!
sam e
very good experience and good detailed compertory