Skip the Line: Vatican Museums Walking Tour including Sistine Chapel, Raphael's Rooms and St Peter's
Skip the Line: Vatican Museums Walking Tour including Sistine Chapel, Raphael's Rooms and St Peter's
View all photos
Location: Rome, Italy
Duration: 3 hours
Skip the Line: Vatican Museums Walking Tour including Sistine Chapel, Raphael's Rooms and St Peter's
Visit the Vatican Museums, Sistine Chapel and St Peter's Basilica on this must-do Vatican walking tour, in a group of no more than 20 people! With some 12,000 rooms spanning nearly 4,000 years of history, the Vatican's magnificent museum complex can be overwhelming, so let an expert guide introduce you to its defining highlights on this 3-hour tour. Visit Raphael's Rooms, Gallery of the Maps and more, and then step inside the Sistine Chapel to see Michelangelo's fresco 'The Creation of Adam.' Finish with a St Peter's Basilica tour and hear the secrets of the holiest place in Christendom. Choose from four different start times or upgrade to a small-group tour (12 people maximum). Skip the long lines for St. Peter's Basilica with special access directly from the Sistine Chapel.

Due to a new Vatican partnership, this tour provides VIP access through a reserved door, allowing you to skip all the lines – even the priority lines.
What You Can Expect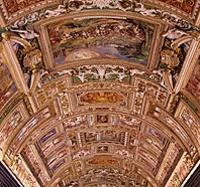 Skip-the-line Vatican tours are so popular, even the priority lines are long! But this tour includes exclusive access through a reserved entranceway, ensuring that you will not wait in any long lines. Head straight inside with your guide and enter the world's most extensive private collections of art.

Hear the stories and secrets of the intriguing Vatican while following your guide through incredible rooms like the Gallery of Tapestries and the Gallery of Maps, a seemingly never-ending corridor adorned with intricately detailed Italian maps. Pass through the Gallery of Candelabras, seeing ancient sculptures and opulent candelabras from Imperial villas, and wander through Bramante's Pinecone Courtyard to pose for pictures in front of the bronze Pigna statue.

Amble through Raphael's Rooms, marveling at the interconnecting galleries that showcase the artistic genius of Raphael, and then enter the awe-inspiring Sistine Chapel – the crowning glory of any visit to the Vatican. Gaze up at Michelangelo's famous The Creation of Adam ceiling fresco, see The Last Judgement on the chapel's back wall and absorb the sacred ambiance of the pope's private chapel.

Your tour finishes with a fully guided visit to St Peter's Basilica, the home of the Catholic Church, where more artistic masterpieces await. See La Pieta, a stunning Michelangelo sculpture created by the artist when he was just 24, and admire Bernini's Baldachino – the ornate bronze canopy that sits above St Peter's high altar. Bid your guide farewell and take a stroll through St Peter's Square if you wish.

8:10am Small-Group Tour:
Upgrade to the 8:10am tour, and not only will you skip the long lines to enter the Vatican Museums, but you'll gain access as soon as the doors open -- before the general public step foot inside. Groups never exceed 12 people, ensuring you'll see the Vatican highlights up-close with personalized attention from your guide.

7:30pm Tour:
Book the evening tour and explore the Vatican Museums and Sistine Chapel after the main closing times – an opportunity available for a strictly limited season. Access is only possible for people pre-booking an evening tour, so book now to secure your spot! The season runs every Friday from May 6 until July 26, and then from September 6 until October 25. Numbers are limited to 20 people. Tour does not include a visit to St Peter's Basilica.
Days of Service
Varies



Details
Inclusions
Entrance fee

Professional guide
Skip-the-line entry

Headsets to hear the guide clearly
Exclusions
Gratuities (optional)
Hotel pickup and drop-off
Food and drinks
Additional Info
Confirmation will be received at time of booking, unless booked within 1 day of travel. In this case confirmation will be received within 24 hours, subject to availability.
Pre-booking this ticket enables you to skip the long lines (which can take up to two hours!) to enter the Vatican Museums. Please note, all visitors must pass through metal detectors at the security check point. Please expect to wait 20-30 minutes to clear security.
Tours departing Wednesday: There is a possibility that St Peter's Basilica and St Peter's Square will be unavailable due to the weekly Papal Audience during which access to St Peter's Basilica is closed. As an alternative you will be offered an extended itinerary within the Vatican Museums, which still includes the Sistine Chapel and Raphael's Rooms. We are sorry for any inconvenience this may cause. If you would prefer that St Peter's Basilica and Square are included, please DO NOT select Wednesday as your travel date.
We are unable to accommodate other entrance times. Entrance is strictly limited so you must arrive early. Anyone who arrives late cannot be accommodated
This tour involves a fair amount of walking, comfortable shoes are recommended
Duration of the walking tour is 3-hours

On rare occasions, St Peter's Basilica closes without notice. If this happens, you'll spend a full 3 hours touring the Vatican Museums and Sistine Chapel. We will list any affected dates as they become available. The tour guides aim to notify guests if St Peter's Basilica is unexpectedly closed upon commencement of the tour. It is beyond our control, so no refunds or discounts will be issued.
Do you cater to wheelchair users? Do you or the Vatican provide wheelchairs? This tour is NOT wheelchair accessible. For your information, Vatican Museums provide wheelchairs free of charge in the main lobby. You can easily pick one up after entrance, before starting your own independent visit. If you are looking for a guided tour with wheelchair access, we recommend booking our private tours so a guide can lead you through the alternate routes.
When our tour is over will we be able to visit St. Peter's Basilica or the grottos or dome? Absolutely. Our tours end at the front of St Peter's Basilica, which is a very convenient location to leave for lunch, visit the Vatican bookstore, visit the Vatican post office, enter St Peter's Basilica, continue to the grottos below St Peter's, or climb to the dome. Your guide will happily point you in the right direction!
Backpacks, tripods and big umbrellas must be left inside a cloakroom on entering the Vatican Museums. To reduce any disruption for your group, we recommend that these items are not taken on this tour

Voucher Information
You can present either a paper or an electronic voucher for this activity.
Schedule and Pricing
Departure Point
Latium and Rome
Duration:
3 hours
Return Details
Concludes at St. Peter's Basilica.

Policy:
Refunds, when possible, must be requested at least 4 business days prior to the travel date. Refunds are subject to a 7% administration fee. The Rail Protection Plan™ does not apply.
9:00 AMTour

Code:EN0900

Skip-the-line Vatican tour in a group of no more than 20 people. Arrive at 8:45am to start at 9am
From
10:00 AMTour

Code:EN1000

Skip-the-line Vatican tour in a group of no more than 20 people. Arrive at 9:45am to start at 10am
From
2:30 PMTour

Code:EN1430

Skip-the-line Vatican tour in a group of no more than 20 people. Arrive at 2:15pm to start at 2:30pm
From
8:10 AMTour

Code:EN0810

Small-group upgrade: Skip-the-line Vatican tour in a group of no more than 12 people. Arrive at 7:50am to start at 8:10am
From
7:30 PMTour

Code:EN1915

Skip-the-line Vatican evening tour in a group of no more than 20 people. Arrive at 7:15pm to start at 7:30pm. Does not include St Peter's Basilica. Available for a limited summer season!
From
Customer Reviews
Robert O
Loved the evening tour- much cooler- but didn't include St. Peter's but that was ok because the tour was 3 1/2 hours as it was. We saw the basilica the next day- better to split up those two tours.
Giovanna G
Highly recommended for those who have never been to the Vatican especially the skip the line, there is a minimum 4 hour wait. Fantastic tour director very knowledgable with interesting historical facts.
Ingrid H
Franchesco was very nice and fun .
Vatican is beautiful
Donna S
Fantastic tour. Barbara was very knowledgeable and made the tour flow and enjoyable. Understand what 'skip the line' means now.
Linda U
You really do skip the line. All those people waiting out in the heat and we just walked in with a very knowledable guide. We learned so much that others just probably just walked by. Excellent..
Balbir Sanjay P
Francesca our tour guide was fantastic.
Ronald R
Great experience !! I would use them!!
Karen M
This tour was worth the money! Our guide was excellent and very informative! We saw extremely long lines to purchase admission tickets and to enter the Vatican, but we were able to bypass and go right in because of this tour! I highly recommend this tour!
Nicole M
Our tour guide was amazing and the entire crew organized. My husband got sick at the last minute and they accommodated us even though it was tough on their end. Very professional and considerate.
James N
Fantastic tour. Tour guide was very knowledgeable. Highly recommend. Just remember to wear appropriate clothing and the check in is across the street at the bottom of the steps from the entrance.
Prasanna K
Excellent Guide
Aaron R
Excellent tour the guide was very knowledgable and the group was a good size. Going at the end of the day was perfect as each rom was empty as we entered! Highly recommend!
Susan S
Out of several tours, I really think this was my favorite tour and my favorite guide. Our guide's name was Sev. Sev is a professor of Archeology at the University. Before you decide that sounds dull and bland, it was anything BUT! Sev is smart and filled with information that he imparts in a very humorous and interesting way. He was excited about his subject matter and that made me excited about it , as well. I learned more about the Sistine Chapel and the artist than I ever expected. I highly recommend this tour guide and the tour company.
Eric S
This is definitely the way to see the Vatican! Our tour guide, Vincenzo, was excellent because he was both knowledgeable and passionate about the art and architecture of the museum and St. Peter's Basilica. I can't imagine visiting the Vatican without a tour guide to provide the context and explain the background of the amazing works of art that we saw. Be sure to bring a bottled water and wear comfortable shoes because even though the tour is advertised as 3 hours, it lasted closer to 4 hours after checking in, going through security, etc. Also make sure you get there early enough to find your tour group and guide because there is literally a mass of humanity waiting to get in. And because there is so much artwork everywhere you look to the point of feeling very overwhelmed, you won't regret going with an expert who knows the key masterpieces to discuss in detail. I know so much more about the Vatican and the incredible works of art it contains thanks to this highly engaging tour.
jose.rivera30
As soon as we arrived, we immediately skipped the line. This is a must because the line outside wrapped around the Vatican Museum. Please be advised: hang on to your belongings and do not leave anything valuable in your pockets. There were pick pockets in the Sistene Chapel and in the Basilica. Most of them are wearing sunglasses and you can easily spot them because they are looking down to see what you have. Our tour guide was a bit sarcastic and abrasive. Once you visit the Basilica and the tour is over, you can go back in the church and take your time viewing what you might have missed. There is a lot of walking involved in this tour but for being there the first time, I was very impressed with the entire visit.
andres a
Well coordinator. Knowledgeable tour guide. I will definitely use Viator again.
Colin W
Really excellent tour. Very knowledgeable tour guide made it very interesting and informative. Definitely worth the money!
jukang
Amazing tour! The tour guide was really nice and informative.
Fiona F
Well organized tour, led by knowledgable guide. When I saw the queues, I was very great fun we had chosen a skip the line queue!
mdgrassi
This was a great tour because our guide was so knowledgeable and entertaining. Finding our group at the start of the tour was easy and well-organized. The pace was just right - not too slow, not too fast. We enjoyed this tour and thought it worth every penny!
Lizbeth T
I am so glad that we took this tour. I think we might still be waiting on line if we hadn't, I couldn't believe the number of people waiting to go in. Our guide was terrific. She was very knowledgable and I know I didn't miss anything.
Judy D
My family and I really enjoyed our tour.
Shankar
Great tour. Made much more enjoyable by Oscar, our guide.