Skip the Line: Florence Accademia and Uffizi Gallery Tour
Skip the Line: Florence Accademia and Uffizi Gallery Tour
View all photos
Location: Florence, Italy
Duration: Varies
Skip the Line: Florence Accademia and Uffizi Gallery Tour
Explore Florence's two must-visit art museums – the Accademia and Uffizi galleries – on this Florence combo tour! Start with a morning skip-the-line access and guided tour of the Accademia Gallery (Galleria dell'Accademia) to see Michelangelo's statue of 'David' as well as other treasures, and then spend four hours at leisure (or select the option that includes lunch), either roaming the rooms of the gallery or strolling around the city before your next tour. In the afternoon, skip the lines of the Uffizi Gallery, and explore it on a walking tour. Learn about the famous Renaissance artists of Italy and see highlights like Leonardo da Vinci's 'Annunciation.'
What You Can Expect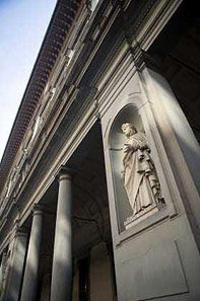 Accademia Gallery (1 hour and 15 minutes):
Start outside the Accademia Gallery at 11:30am, and then head past the entrance lines with your skip-the-line ticket and guide. As you walk, listen to stories about the bounty of artwork contained inside the gallery's walls. Works by Michelangelo are given pride of place, and your guide's commentary focuses on the artist. Admire his unfinished sculptures – Prigioni and San Matteo – and then gaze in awe at the statue of David that dominates the central gallery.

Created by Michelangelo when he was just in his twenties, David was sculpted just after he carved La Pietà. Made from local Carrara marble, the statue of the nude biblical hero is incredible with life-like muscles carved to precision. Explore rooms that showcase works by Botticelli and Lippi, and learn about the characteristics of Renaissance art that are prevalent throughout the gallery.

After your tour finishes, spend four hours at leisure or you can choose to end this part of the tour with lunch at a restaurant in the town center (optional). Remain inside the gallery if you wish.

Uffizi Gallery (1 hour and 30 minutes):
Meet your guide at 4:30pm and head inside with your skip-the-line ticket, and start exploring the gallery's treasure trove of art. Housed in a large horseshoe-shaped building, the Uffizi Gallery's history is as fascinating to hear about as the works inside it. Built as Florence's judiciary offices, the palace was decorated with fine art by the ruling Medici family. After their dynasty fell in the 18th century, the palace was opened to the public and has remained popular ever since.

Like the Accademia Gallery, the Uffizi Gallery's claim to fame is its wealth of Renaissance artwork, and your guide will talk you through its most interesting rooms. Admire early Renaissance treasures by Giotto, and then stroll through halls dedicated to Michelangelo, da Vinci, Caravaggio and Raphael – artists regarded as masters of their time. Learn about highlights like da Vinci's Annunciation and Michelangelo's Doni Tondo, and then explore the gallery's upper level to see Caravaggio's works.

Your tour finishes inside the gallery, but you can stay inside for another hour to browse the art independently.
Sample Light Lunch Menu:

Toasted bread with tomato. 2 First courses; Macaroni with Bolognese sauce (or tomato and basil sauce as vegetarian option) Penne with pesto sauce
Homemade dessert or cofee

Water and glass of wine (Chianti or Trebbiano)

Children Menu:

2 First courses; Macaroni with Bolognese sauce (or tomato and basil sauce as vegetarian option) - Penne with pesto sauce
Homemade dessert or Ice-cream

Water or orange juice
Please note
: Children menu will be paid at the restaurant directly.
Days of Service
Daily, except Monday
Meeting Time
11:30am: Accademia Gallery 4:30pm: Uffizi Gallery
Details
Inclusions
Entrance fees
Local guide
Professional guide

Exclusions
Gratuities (optional)

Hotel pickup and drop-off
Food and drinks

Additional Info
Confirmation will be received at time of booking
Children must be accompanied by an adult
When booking a tour including the lunch for a child under 5 years old, this one will be payable directly at the restaurant only

Voucher Information
You can present either a paper or an electronic voucher for this activity.
Schedule and Pricing
Departure Point
Tuscany and Florence
Duration:
Varies
Return Details
Inside the Uffizi Gallery
Policy:
Refunds, when possible, must be requested at least 4 business days prior to the travel date. Refunds are subject to a 7% administration fee. The Rail Protection Plan™ does not apply.
Note: Tours may be delayed or run late. Please plan accordingly.
German Activities Terms & Conditions
The 20% Off German Activities offer is valid with bookings of any German Rail Pass with coupon code OKTOBERFEST20. The maximum coupon code discount is $35 per booking. Offer is valid for the first 280 coupon codes redeemed or until the promo's end date of 5:00 pm ET on September 29, 2015, whichever comes first. Offer is subject to change or extension without notice. No adjustments can be made on prior purchases. One coupon code per booking may be applied.
11:30 AMTour

Code:ONLYTOUR

Skip the Line: Florence Accademia starting at 11:30am and Uffizi Gallery Tour starting at 4:30pm
From
11:30 AMTour

Code:WITHLUNCH

Skip the Line: Florence Accademia starting at 11:30am, finish the tour and go for lunch. Start your Uffizi Gallery Tour at 4:30pm
From
Customer Reviews
John P
Great guide, very knowledgeable and friendly.
Michelle J
Wonderful tours of beautiful galleries. We enjoyed having free time between to grab lunch, shop, and explore more of the city. David, at the Accademia, exceeds expectations as does Birth of Venus at Uffizi!
Louisa M
Excellent in every way. It was easy to find the group when we arrived at the designated meeting place and both of the tour guides were wonderful!!! We were able to by pass the long lines to get into the museums and the sound system allowed us to hear everything that our guides were telling us. These tours made our trip even more wonderful! I would recommend these tours to anyone visiting Florence.
italy
So much to see but so beautiful!!
Paul W
Nice that it was broken up so there was time to enjoy Florence for lunch and shopping. It would be too much to do both museums back to back. The guides were fun and educational. The skip the line was definitely quick at the Uffizi at the Academia, it was about 75 minutes, but the other line of people who did not reserve there was a wait of about 3-4 hours.Great way to get a taste and understand and see the masterpieces like the David.
GJ M
Meeting was good and the guides excellent for both. They are must do activities. The tours are pretty short so do them over two days so that you can stay in the galleries after the tour. Each gallery could easily take a day.
Katharine L
Excellent guide. Really enjoyed tours. David is a must see!
mdmmdm
A definite must if you want to see the highlights of the museums in the most efficient manner.
David W
Excellent guides who were very knowledgeable and a great lunch included
Sreenath H
This tour was amazing. The tour guides were very good. Not to miss this tour.
susancyoung
Great collections and a reservation with a tour company is a must to reduce wait time. An in my case, it was really nice to know what I was looking at.
Gwen S
Lovely tour with friendly guides!
John R
The Skip the Line tickets saved us a lot of time with the queuing and the guides were very impressive in both their knowledge of the exhibits and English
Very enjoyable day
kathryn c
Great tour. Our guide Rebecca was very knowledgeable and clearly pretty passionate about the museum and its pieces. Definitely recommend!
Christopher C
What an awesome tour! We had two different guides, a lady in the meaning and Marchello for the afternoon tour!
Both were animated and had great sense of humor!
They made the tour so worthwhile!
Charles N
Great tours, both of them. Great tour guides, with great English. Skipping the lines is awesome and the lines were incredibly long. This is the only way to go. Lunch, well it wasn't special, but it was filling!
Jennifer G
Excellent tour! I was very happy we had a guide. Meeting our guide was a quick process. After we met we had to wait in line to get our tickets but our guide handled everything. It was nice having a guide - I was concerned it would be information overload but she explained a lot of key pieces and I left feeling very satisfied and knowledge. Sometimes in crowed rooms it was hard to find her. It would be nice like some of the tour companies to have flags so you can always find your guide. Our guide was a historian and full of knowledge. She was wonderful!
LuAnn G
Wonderful tour! Great tour guide and excellent food and wine! Only complaint is that the bus ride is EXTREMELY bumpy. New shocks on the bus are definitely in order. Those with car sickness should avoid this tour due to the bumpiness and twists and turns.
Randheer S
Elena was superb. She is extremely knowledgeable about the Uffizi, Florence, Art and history. She is passionate and seems very interested in her job and the tour. She is patient and takes her time.
George S
very very very indepth.....you'll learn more than you can imagine
Nancy Fly G
We had different guides with completely different styles for each segment, and yet each was thoroughly enjoyable, informed, and accurate with their historical details. We were very glad that we signed up for this tour with a nice break for lunch. Thank you!!!
Marsha
we had 2 different guides, one for the Academia and another for the Uffizi. Both spoke perfect English and both were absolutely fantastic. The young, enthusiastic woman for the Accademia gave us a wonderful taste of the museum away from the room with the David and the Slaves. She built up interest and energy and anticipation before we entered the room with David. Really fun and very informative.
Matthew T
The Viator connection in Florence were wonderful in that I had mixed up the dates of our reservation and they took care of it on the spot with a smile! I would recommend them again. David was the highlight of the Accademia and our tour guide was helpful but seemed a little unsure of herself. The tour guide for the Uffizi was a different person. He was outstanding and made this museum come to life! it was great that these 2 tours were several hour apart from each other to break up the day!
Dennis M. H
both tours were excellent. the guides were knowledgeable and engaged the participants. they related art to history and the present. well worth the money.