Skip the Line: Chateaux de Chambord, Chenonceau and Loire Valley Wine-Tasting Day Trip from Paris
Skip the Line: Chateaux de Chambord, Chenonceau and Loire Valley Wine-Tasting Day Trip from Paris
View all photos
Location: Paris, France
Duration: 13 hours
Skip the Line: Chateaux de Chambord, Chenonceau and Loire Valley Wine-Tasting Day Trip from Paris
What would a trip to France be without escaping Paris for a day trip in the countryside? Take a break from the city bustle, and discover the magnificent castles of the Loire Valley. On this full-day tour from Paris, your guide will lead you through some of the region's most stunning châteaux (French for "castles"). Marvel over the complexity of Loire Valley wines in a prestigious local vineyard and soak up the tranquility over a gourmet lunch served among the vines.

Numbers are limited to a maximum of 25 people when exploring the castles, ensuring you'll receive personalized attention from your knowledgeable guide. This tour also includes access to skip the long entry lines at Château de Chenonceau.
What You Can Expect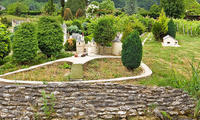 After leaving Paris in a comfortable air-conditioned coach, your day trip of the wine and castles of the Loire Valley starts at Château de Chambord. This beautiful château was built in 1519 by King Francis I, who used it as a hunting lodge. Admire its French Renaissance architecture, luxurious furniture, ornamental ceiling vaults and astounding staircases, and keep an eye out for frolicking deer and wild boar as you stroll along the castle's lush grounds.

Next, you'll stop to enjoy a delicious lunch at the Nitray Vineyards at Château de Nitray. This is not your average box lunch -- you'll enjoy a home-cooked lunch of fresh, local French ingredients and sample some of the region's best wines, including a crisp Sauvignon Blanc and a full-bodied Cabernet Rouge. Your guide will take you through the wine-tasting, pointing out the different flavors. You will end your visit with a tour of the vineyard.

Your final stop is Château de Chenonceau, an elegant 16th-century castle that is sure to steal your heart at first sight with its smooth white stone and intricately painted wooden door. Entry lines can be quite long here, especially in the peak summer season, but don't worry! This tour includes skip-the-line access, so you don't have to wait in the long queue. The interior of the castle is well-maintained with original stone carvings, immense tapestries and an intimate chapel. Almost equal in beauty are the castle grounds and many gardens, planted by the famous ladies who owned the Ladies' Château and gave it its name.
Days of Service
Tuesday and Saturday
Meeting Time
7:30am (arrive strictly at 7:15am)
Details
Inclusions
Local guide
Entrance and guided tour of Chambord
Skip-the-line entrance and guided tour of Chenonceau
Headsets to hear the guide clearly
Gourmet lunch and wine-tasting at Nitray Vineyards
Exclusions
Gratuities (optional)
Hotel pickup and drop-off
Additional Info
Confirmation will be received at time of booking, unless booked within 1 day of travel. In this case confirmation will be received as soon as possible, subject to availability
Not wheelchair accessible
Voucher Information
You can present either a paper or an electronic voucher for this activity.
Schedule and Pricing
Departure Point
Ile de France and Paris
Duration:
13 hours
Return Details
Returns to original departure point
Policy:
Refunds, when possible, must be requested at least 4 business days prior to the travel date. Refunds are subject to a 7% administration fee. The Rail Protection Plan™ does not apply.
Note: Tours may be delayed or run late. Please plan accordingly.
German Activities Terms & Conditions
The 20% Off German Activities offer is valid with bookings of any German Rail Pass with coupon code OKTOBERFEST20. The maximum coupon code discount is $35 per booking. Offer is valid for the first 280 coupon codes redeemed or until the promo's end date of 5:00 pm ET on September 29, 2015, whichever comes first. Offer is subject to change or extension without notice. No adjustments can be made on prior purchases. One coupon code per booking may be applied.
Customer Reviews
Stephanie J
Perfect balance of sight-seeing and wine-tasting. The host, Tina, was great - fun and informative!
Alison T
We really enjoyed this tour. You get to see to great Chateaux and have lunch at a winery. The air conditioning on the bus was minimal, but the tour guides addressed the issue and gave up a free beverage and got us a 10 discount - VERY CLASSY that they addressed the issue best that they could.
Sam S
This tour was fantastic! Our tour guide Adam was amazing! He gave some rich history lessons all throughout the tour and had some hilariously funny facts and stories to share. He kept the bus rides entertaining and enlightening and gave just the right amount of context to each stop we made. The tour of Chambord was the perfect amount of time as there really isnt much to see and Adam led us to all the good spots. The wine tasting and lunch at Nitray was great. A simple, but delicious meal. Overall we tasted 4 wines, 3 before lunch and 1 after lunch and coffee. During lunch they have wine on the table and you can ask for more. In fact it is encouraged! The wine here was good and very cheap! Average 6 euro a bottle. The next stop is Chenonceau. The chateaux and its ground are gorgeous. The tour here is much shorter but you have the option to walk around some more or go to the 2nd wine tasting, which is something they dont tell you when you sign up. I opted for the 2nd wine tasting as I felt that the tour showed you the nicest rooms inside the castle and the rest of the time spent would be wandering the grounds and some of the other rooms. The wine tasting here was even better than the one at Nitray. The wines are little more expensive but only by 2-3 Euro. Overall this tour was definitely worth the price and great way to explore outside of Paris.
Ravit Y
Great Tour, Tina was a very good guide and a very nice person. Many thanks to her
WaCo
Simply enchanting!! Andrew, our tour guide, provided us with a knowledgeable, entertaining look into days of old and the ensuing drama created by the royalty. And then there was the wine....simply delicious.
Christine J
City wonders do excellent tours with great guides, Adam was excellent, very knolwdgable and funny. Booking through viator was great I booked only a couple of days before and it was all perfect.
deborah f
Absolutely fantastic ! the guides Adam and Violette were wonderful complemented each other so well, best history lesson , wine tasting tour we have ever been on
can't recommend this tour highly enough a must do if staying in Paris Fabulous
circus6
Violet was our tour guide and was the most outstanding guide we have ever had. Her passion, enthusiasm, and knowledge added to the trip that was already exceptional because of the beauty of the region. She took her time, was personable to all, and made the day even better than we had anticipated. Our entire family went and it was one of the best days of our trip. I would highly recommend this tour!
Bruce K
What a great way to see 3 different Chateaux and enjoy wine from the Loire Valley. Violet, our tour guide was a joy during the day long tour providing interesting history of the Loire Valley and Chateaux de Chambord and Chenonceau. Since we were staying in Paris, it was nice to get away from the city and enjoy a relaxing day in the countryside!
Leslie P
We had a great time on this tour exploring the Loire Valley and Wine Tasting! It was a long day but highly recommend it to those wanting to see some lovely Chateaux's. Our guide was very knowledgeable, easy to understand, friendly and gave excellent recommendations for the rest of trip.
Rachel R
This was a fantastic tour. I thought we were going to tour three chateaux but the 2nd one was just for lunch as it is also a residence, but I'm sure that was just a bad assumption on my part. The two tour guides were both fantastic. The tours were great, the food was great, the wine was great. Absolutely fantastic.
Bronwyn J
We meet bright and early at Denfert-Roucheau outside the ticket office of the catacombe. Caught the metro, as the exit was just across the road, there are a number of cafes open nearby as well as a great artisnal bakery for coffee and snacks before you leave. Our guides for the say were Tina a lovely Croatian girl,and Adam a wonderful Canadian young man. Both were extremely friendly and knowledgable. Adams knowledge of french history was second to none. The chateaus were just wonderful, Tina and Adam brought them to life with their commentary. Lunch at the Chateau de Nitray was delicious, yet so simple. The wines werent too bad either. The meeting point at Denfert-Roucheau is a fair distance from where we were staying on Ille St Louis, about a 45 minute walk, thats why we did the trip on the metro. All in all a fabulous day. Well organised. Not too rushed. Returned Paris about 7.30pm. There was a toilet, refreshment stop both ways. Take a snack and water for the trip, even with the breaks something to eat was nice to have. 10/10

with their commentary. Lunch at Chateau Nitray was something special. The food was so simple but so
delicious. The wines werent too bad either, if only maybe a bit young for my liking. This is a long day, with an
early start, the starting point in Paris is a fair distance from where we were staying on Ille St
Cynthia C
Tour guides very knowledgeable and interesting. Lovely day
Warren S
Beautiful trip, very well planned and organized. Just the right mix of sightseeing and wine tasting. The guides were very knowledgeable and helpful. Lunch was provided at one of the chateaux where we also did some wine tasting. Exellent meal and lots of fun.
sharon_lyerly
It was a great trip. The guides were very knowledgeable and friendly. The wines were great, the food at lunch was delicious and the wine master was entertaining. The optional wine tasting in the afternoon was worth the time.
Meagan G
A wonderful tour that I would highly recommend. Our guides violet and Patrice were informative friendly and funny. It was a long day, but it gave us the opportunity to see the countryside of France in an air conditioned coach. Our visit to Chateaux de Chambord and Chenonceau was beautiful, and our lunch very enjoyable.
Alison G
My friend and I really enjoyed this tour. It was a long day, but well worth it to see a few castles and taste some local wines. Our guide gave us lots of interesting information about the castles and the history. Lunch was good, though I felt like that stop could've been shortened a little bit to give more time at the other two castles. I felt rushed at Chenonceau especially, and even another 30 minutes there would've been nice, even if it meant getting back to Paris 30 minutes later. But overall, this was a really enjoyable tour and I'd definitely recommend it.
Kristin L
This tour was everything I had expected. It was thoroughly delightful and informative. Our guide, Tina, was very personable and added to the tour with her knowledge of French history and the chateaux.
Our visits to the different chateaux were brief but we had a guided tour and then a little bit of time to explore on our own. The chateaux themselves were outstanding with their history, architecture and gardens.
The lunch at Chateau Nitray was a delight. The food and wine were excellent and the owner was very fun. I
I definitely recommend this tour for someone who would like to get a taste of the Loire Valley.
Lee M
We greatly enjoyed the beautiful architecture of Castle Chambord, and the lovely Chateau Chenonceau. This was my husband's favourite thing we did in Europe. I am glad we went on the tour, although, personally I did not think much of the wine. The best of those we tasted was, I thought, the sparkling white, a bit like champagne, but I found even that one had an after taste I did not like. This tour is also something that would be fairly complex and expensive to do on your own, so offers a way to see these castles that is comfortable and easy and is pretty good value for money. Chambord was a lovely surprise- I thought I was going because I wanted to see Chenonceau.
Brandon
Lovely tour guides. The lunch and wine tasting were a highlight!
Becci
This tour was a lot of fun! The chateaux's are just spectacular and lunch was nice. We also bought some beautiful wine from Chateau de Nitray and Chenonceau. Our guide Tina was lovely and very knowledgable. The only downside is we would have loved more time in each of the chateaux's to explore
Tonia L
It was an awesome day! Violet and Lilia, our tour guides were very interesting, knowledgeable, and easy to understand. Information given just added to the whole experience. We would highly recommend to anyone!
Jacqueline
This tour was amazing!
Jeffrey B
This was by far one of our favorite days while in France. Our guide, Violet, was very knowledgeable and added a nice, personal touch to the tour. We enjoyed her stories of the history of both of the chateaux. Chateaux de Chambord and Chenonceau were both absolutely stunning. However, our favorite part of the day was our visit to Chateau de Nitray for lunch and wine tasting. The food was great, the wine was amazing and the owner was entertaining. Overall, a very nice opportunity to get away from the hustle and bustle of Paris and enjoy the French countryside. We highly recommend this day trip!