Rome Card and Omnia Vatican Card: Valid for 3 Days
Rome Card and Omnia Vatican Card: Valid for 3 Days
View all photos
Location: Rome, Italy
Duration: 3 days
Rome Card and Omnia Vatican Card: Valid for 3 Days
Explore Rome and Vatican City at ease with the Rome Card and Omnia Vatican card – two must-have 3-day sightseeing passes that include entry to selected attractions, discounts and more. Enjoy skip-the-line entry to the Vatican Museums, Sistine Chapel and St Peter's Basilica with the Omnia Card, and use the Rome Card for entry to two out of five possible attractions such as the Colosseum. Other features of the Rome Card include a hop-on hop-off bus ticket, a central Rome travelcard, guidebook and map.
What You Can Expect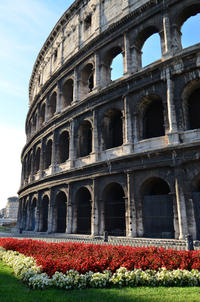 Simply exchange your voucher for the Omnia Vatican Card and Rome Card in Vatican City. Then, use your sightseeing cards to discover the best of Italy's compelling capital at your own pace. Both cards are valid for three consecutive days from first use.

Omnia Vatican Card:
Use your Vatican pass to enjoy skip-the-line entry to the world-famous Vatican Museums, Sistine Chapel and St Peter's Basilica. Entrance lines to these world-class sites are typically long, so bypass the queues and head inside to sightsee at leisure, admiring religious artwork like Michelangelo's The Creation of Adam and La Pietà.

Rome Card:
Enjoy entry to two out of the following five top Rome attractions:

Borghese Gallery
Capitoline Museums
Castel Sant'Angelo
Colosseum
Palatine Hill and Roman Forum
Save on entry to more than 30 other Rome attractions, including:
Borghese Gallery: 50% savings
Capitoline Museums: 21% savings
Castel Sant'Angelo: 33% savings
Colosseum: 37% savings
National Gallery of Modern and Contemporary Art: 50% savings
Museo della Repubblica Romana e della memoria Garibaldina: 15% savings
Museo Napoleonico: 15% savings
Museo Pietro Canonica a Villa Borghese: 20% savings
Museo Nazionale del Palazzo di Venezia: 50% savings
Villa di Massenzio: 20% savings
Use a hop-on hop-off sightseeing ticket to sightsee at your own pace from an open-top bus. Simply hop on or off at any of the following 12 stops:
St Peter's Basilica, Vatican City
Palazzo della Cancelleria
Rome Pantheon
Piazza Venezia
Termini Station
Santa Maria Maggiore
Basilica of Santi Cosma e Damiano (stop is not in operation on Sundays or bank holidays)
St. John Lateran
Colosseum
Circus Maximus
Tiber Island
Palazzo Farnese
Make use of a travelcard to explore central Rome for free by the following modes of transport. The card does not include travel to/from Rome airports.
Buses
Metro trains
Overground trains
Days of Service
Daily
Meeting Time
Sightseeing passes are valid for three consecutive days after redemption
Details
Inclusions
Omnia Card including hop-on hop-off ticket

Rome Card including travelcard

Guidebook
Map
Exclusions
Additional Info
Confirmation will be received at time of booking
Voucher Information
You must present a paper voucher for this tour. We will email a link to access and print your voucher at the Lead Travelers email address.
Schedule and Pricing
Departure Point
Latium and Rome
Duration:
3 days
Return Details
Policy:
Refunds, when possible, must be requested at least 4 business days prior to the travel date. Refunds are subject to a 7% administration fee. The Rail Protection Plan™ does not apply.
Note: Tours may be delayed or run late. Please plan accordingly.
Customer Reviews
Ava H
We had an awesome time.The OMNIA Card,best investment ever.Highly recommend it,if your stay is less than 2 weeks.
Jennifer W
Great value for money, we took advantage of the hop on hop off bus over the 3 days, and the jump the queue at the Vatican and St Peters was a must for anyone considering this type of visit to Rome.
Susanne T
This was perfect for our group. We got into all the places we wanted, and had lots of flexibility to just enjoy at our own pace. Loved not waiting in the long lines!! We skipped right to the front and even got free audio guide at the Vatican. The city bus was very easy and saved us a ton of walking....which meant more time for Vino!
ALISON S B
The tour was excellent the whole package of travel tickets and entry into historical places of interest was great.
Ronald P
This is a GREAT deal. It makes getting to the places you want to see so easy and gives you skip the lines which is so worth it. We went to the Vatican and the line was 2 blocks long and the guide walked us right to the entrance and in we went. I have actually told several friends that if you get anything get this.
michelle.antelmi
Excellent!
Samantha H
Great deal! We used the hop off hop on bus to get around everywhere and the skip the line options to the main sites was so worth it!
Crystal E
Skip the line doesn't even start to explain the time saved at the Vatican alone!!! Able to see the sights quickly and easily with this one pass!!!
Lorna N
money well spent covered all the major attractions with skip the line as well as other attractions for a discount price up to 50 it also included free bus pass on the trains and buses and hop on hop off tour bus for all major attractions . must have for my next European trip Omnia Spain here I come. wish it lasted 5 days instead of 3 days
JOSE L N
worth every penny not having to stand in line
Wendy
Excellent great value and saved a lot time waiting in line
Marie M
This was a great investment. I got to see the Castel S'ant Angelo and the Coliseum for free and it was nice to have the unlimited rides on the Metro. However, beware that you have to go all the way to St. Peter's Square to pick it up and it is activated at that time.
Bonnie M
Great value... highly recommend. Even though we didn't get to take advantage of all 3 days, it made it easy to get around and see the major sites and skipping the lines.
jacamaca
worth every penny
EDGARDO S
This 3 day pass that combines The Vatican and the top 10 areas of Rome which is a must buy for travelers interested in a V.I.P. experience. The pass allows you to save countless hours of waiting in queue for all the major attractions of the capital of Italia and everything within Vatican City! The pass also offers you access to all the Metro buses and trains. Moreover, you can enjoy one of the many yellow hop on/hop off buses, with 5 language translation, to see all of what Rome has to enjoy. In addition, the pass gives you discounts at private museums such as Davinci's. Please don't go to Rome without The Omnia pass !
Victoria B
The pass was great for our few days in the city, we made the most of the hop on hop off open bus tour getting on and off at various stop allowing us to get round true city with ease. The card also allowed us to use the metro for the three days allowing us to get into and out of the city with ease, such a simple system. Using the card for the attractions, not only got us entry but allowed us to skip the three hour queuing to get inside both the basilica and the coliseum. I would highly recommend this to anyone knowing that they are visiting Rome to see the sites, and to make the most of the transport included.
Willis
Really useful.
If you are staying in Rome for a minimum of 3 Days then you should take this. You can use the Roma Pass to Travel in and Around Rome. Just a Tip if you are gong to collect the card from the ORP office in front of St. Peters Square remember they have two offices, one if for the tours and one is for the Roma Omnia Pass Collection .
Few tips.
Sometimes it is better to use the public transport to reach the main places quicker.
Mannyrpt
Excellent for the price, able to skip lines lines in major attractions especially the Vatican museum/ St. Peter's basilica, worth paying the card rather standing in a mile long line out in a 90 degree weather in August
Darryl B
Excellent way to see as many sights as possible in as short a period as possible.
Tracy M
I would recommend anybody going to Rome to obtain this pass before they go. Much easier. No queues and the pass for the buses is excellent. The people at the office in St Peters Square, where you collect your pass are extremely helpful too.
Ruth
This was awesome! got us past the enormous lines at the vatican and the colosseum and inside quickly. The bus pass was ok but busses were extremely packed and uncomfortable. But the savings on the cards is too good to pass up!
B.J. S
VERY VERY USEFULL. Everyone who goes to Rome for a week should take this card. You can use the rome card for the first 3 days and the omnia card for the 4th, 5th and 6th day. So you are able to travel for 'free' trough Rome. Skip the line tickets are very good. There was a queue of 2,5 hours and it was super to skip that line at the st peters basilic.
Michelle E
This tour was amazing!
Andrew S
The only way to see Rome unless you fancy quieting in 30 degrees for 2 hours!