Paris Pass
View all photos
Location: Paris, France
Duration: Flexible
Discover the joy of sightseeing with the Paris Pass, which gives you free entry to the best attractions Paris has to offer. Save time as you skip the queues with fast track entry at many attractions, including the Louvre and Musée d'Orsay, and take advantage of special offers at various Paris restaurants and shops.
What You Can Expect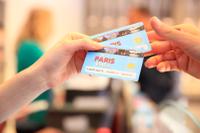 Save time as you skip the long queues, and save money with free entry to over 60 Paris sights and attractions. With your Paris Pass, there is no need to use cash, simply show your pass for fast entry. Choose from a two, four or six day pass.
Paris Pass includes:
A free map of Paris
1-day hop-on hop-off tour

Free entry to over 60 sights and attractions (see 'View Additional Info' below for full list)
Additional special offers and benefits at selected restaurants and shops
Free use of public transport within Paris Zones 1 - 3 (Metro and public buses) for the validity of your pass
Skip the queues with fast-track entry at many of the major sights, including the Louvre, Pantheon, Arc de Triomphe, Musée d'Orsay, Centre Pompidou and many more!
Paris Pass includes FREE ENTRY to over 60 top Paris sights and attractions, including:

Abbaye Royale de Chaalis- Musée Jacquemart André
Aquarium Tropical de la Porte Dorée
Arc de Triomphe
Basilique royale de Saint-Denis
1-hr Seine River Cruise
Centre Pompidou - Musée national d'Art moderne
Chapelle expiatoire
Chateau de Champs
Chateau de Maison-Laffitte
Chateau de Pierrefonds
Chateau de Rambouillet
Chateau de Vincennes
Cité des Sciences et de l'Industrie - La Villette.
Conciergerie
Crypte archéologique de Notre-Dame
Espace Dali
Maison d'Auguste Rodin Meudon
Musée Condé - Chateau de Chantilly
Musée d'art et d'histoire du Judaïsme
Musée d'Archéologie nationale de Saint-Germain-en-Laye
Musée de la Mode et du Textile
Musée de la Monnaie
Musée de la Musique - La Villette
Musée de la Poste
Musée de la Publicité
Musée de l'Air et de l'Espace
Musée de l'Armee, Tombeau de Napolon 1er
Musée de l'Assistance Publique - Hepitaux de Paris
Musée de l'Institut du Monde arabe
Musée national de l'Orangerie

Musée de l'Ordre de la Liberation
Musée de partemental Maurice Denis
Musée des Arts de coratifs
Musée des Arts et Metiers
Musée des égouts de Paris
Musée des Plans-reliefs
Musée d'Orsay
Musée du Cinema - La Cinematheque Francoise
Musée du Louvre
Musée du quai Branly
Musée et domaine nationaux du Chateau de Compiegne
Musée Grévin
Musée Gustave Moreau
Musée national de Ceramique de Sevres
Musée national de la Marine
Musée national de la Renaissance - Chateau d'Ecouen
Musée national de Port-Royal des Champs
Musée national des Arts asiatiques
Musée national des Chateaux de Malmaison et Bois Preau
Musée national des Chateaux de Versailles et du Trianon
Musée national du Chateau de Fontainebleau
Musée national du Moyen Age - Thermes de Cluny
Musée national Eugene Delacroix
Musée national Picasso
Musée Nissim de Camondo
Musée Rodin
Opéra de Paris - Palais Garnier Guided Tour
Pantheon
Sainte Chapelle
Tour Montparnasse
Tours de Notre-Dame
Villa Savoye
Special offers and great benefits include:
Fragonard Parfumeur - FREE perfume gift
Chez Clement restaurants - FREE aperitif or creme brulee
Days of Service
Daily
Meeting Time
Opening hours to collect your pass: Monday to Friday: 10am - 4pm Saturday, Sunday and some public holidays: 10am - 12:30pm Closed on New Year's Day, Easter Sunday, Labor Day (1 May), Whit Monday (9 June, 2014 and 25 May, 2015) and Christmas Day.
Details
Inclusions
Free map of Paris
Free entry to over 60 sights and attractions
Free use of public transport within Paris Zones 1 - 3 (Metro and public buses) for the validity of your pass
Exclusions
Gratuities (optional)
Hotel pickup and drop off
Food and drinks, unless specified
Additional Info
Confirmation will be received at time of booking
Paris Pass is valid for entry to each attraction only once.
Passes cannot be mailed to your place of residence.
Most museums and monuments in Paris are closed on Monday and Tuesday
Voucher Information
You must present a paper voucher for this tour. We will email a link to access and print your voucher at the Lead Travelers email address.
Schedule and Pricing
Departure Point
Ile de France and Paris
Duration:
Flexible
Return Details
Paris Pass is valid for the selected number of consecutive days from the time of first use
Policy:
Refunds, when possible, must be requested at least 4 business days prior to the travel date. Refunds are subject to a 7% administration fee. The Rail Protection Plan™ does not apply.
Note: Tours may be delayed or run late. Please plan accordingly.
German Activities Terms & Conditions
The 20% Off German Activities offer is valid with bookings of any German Rail Pass with coupon code OKTOBERFEST20. The maximum coupon code discount is $35 per booking. Offer is valid for the first 280 coupon codes redeemed or until the promo's end date of 5:00 pm ET on September 29, 2015, whichever comes first. Offer is subject to change or extension without notice. No adjustments can be made on prior purchases. One coupon code per booking may be applied.
Tour

Code:2DAY

Unlimited use for 2 consecutive calendar days from time of first use
From
Tour

Code:4DAY

Unlimited use for 4 consecutive calendar days from time of first use
From
Tour

Code:6DAY

Unlimited use for 6 consecutive calendar days from time of first use
From
Customer Reviews
Linda C
We were able to see all the museums on the Paris Pass without waiting in lineups. Also, the Metro subway was used optimally. We had a great time.
Jenny v
This was great. The booklet that came with the pass was very informative and I was able to go everywhere I wanted to using the pass.
John F
Well worth it. Need to spend the time to plan your days accordingly to get the most out of the pass. But you can start at 8:00 am and go to 10:00 pm each day. well worth it
Karen G
Yes many attractions are free. However, the Paris Pass was priceless when it came to some entrance fees and Skipping the long lines. Great value.
bobby
Don't leave home without one....excellent value..
jill.dawson80
Really easy to use the metro and bus services. Would recommend if you intend doing slit if sightseeing
Missy
I highly recommended this tour. It is the best way to see Paris at your own pace. It saves you much money.
James B
Very valuable if you are looking to save money while touring Paris.
Bruce B
You have to go to the City of Lights at least once in your life! Food was fantastic, museums and history was unparalleled. People were very helpful and the mass transit is very easy to get around. Lots of smokers compared to what we in US are use to. Also, was disappointed by the amount of graffiti everywhere and trash.
Karen Q
I loved the fact that I was able to explore Paris at my own pace. The package included a metro pass for 2 days and for me that was a life saver!
dasoharrison
Great Value - Saw and Did Plenty
GERALDINE S
Worth it! We were in Paris for 3 days exactly and this allowed us entrance everywhere, and the metro pass is BIG plus! Very much worth it.
Edward K
This is a great way to see and do Paris. The Paris Pass includes 1 day of a hop-on/hop-off tour, with an option to buy a second day. Take my advice and don't buy the second day since the Paris Pass also comes with a 2-day Paris Metro pass with unlimited use. The Metro is a great way to visit a good number of the famous sites around Paris, including the Champs Elysee/Arch de Triomphe and the Eiffel Tower/Champ de Mars and it's safe to take the Metro at all hours. Do yourself a favor and find a hotel near a Metro stop and you won't have to pay a euro on cap fare except for transit to and from the airport.
Jane Montero
Yes! This was great to using the Metro and getting into the museums. We had a wonderful time at the Musee d'Orsay and would highly recommend that museum. The Louvre was too crowded, but our pass did get us in for free without waiting in line.
lkaluza
When visiting a place like Paris that always has a lot of tourists, your two major choices are to: pre-purchase your tickets which means spending more before you visit, or get there and wait in line. The adage time is money applies in spades to Paris. L-O-N-G lines, hot weather, no shade or water can turn any experience into a why-are-we-doing-this pain in a very short time.
The Paris Pass package we purchased was complete- Tour book, Metro pass, Museum Pass, Attraction Pass. The Tour book highlighted many Paris attractions, gave you information about available discounts at various attractions, and most importantly told you which public transport lines to use to get to these attractions. The enclosed Metro map quickly shows you which lines to use and where to depart .
We will purchase the Paris Pass the next time we visit The City of Light.
Gary S
Great to use! They don't open until 10 AM so plan your day accordingly on the first day you are going to use the pass. Well worth it!
Robyn A
The Paris Pass is the way to go when visiting Paris. We enjoyed the commentary and visited many places of interest including the cruise on the River Seine.
Sandra t
Perfect! Don't miss the hop on hop off bus!
paris
Wow a lot of things to do next time I will buy the pass again !!
Tina M
Easy to use and a very affordable method to see and enjoy the city. The packaging was nice and helped keep track of the items. My only regret is that I ordered online and did not have it delivered to my home before the trip--this would have saved time. Overall, a mist have for those visiting the city.
Steven G
Paris pass smartest thing we did. Pickup location slightly hard to find.
Christina P
I have purchases a Paris pass twice. Both times the pass was a great value. You get to use the transportation during your pass duration. The best sights like Versailles, Notre Dame Tower, St. Chappele and the Louvre are included, as well as the Arc de Triomphe. The only thing missing is the Eiffel Tower. The only complaint is the pick up. Be sure to check the times. We arrived on a Sunday and couldn't get our passes until the next day, which cost a bit of time from our day trip to Versailes.
Janelle S
This pass is a definite must for all travellers-- avoid queues, and transport costs, buy this pass
Douglas G
Excellent sites to see using the Pass. Enjoyed it.