Half Day City Sightseeing Tour of Warsaw
Half Day City Sightseeing Tour of Warsaw
View all photos
Location: Warsaw, Poland
Duration: 4 hours
Half Day City Sightseeing Tour of Warsaw
Travel with the experts on the City Sightseeing Tour of Warsaw and let them show you famous landmarks, cultural centers and busy market squares. During the sightseeing tour of Warsaw you will gain a general impression of Poland's capital. By bus you pass the Royal Route with its aristocratic residences, historic churches and famous statues.
What You Can Expect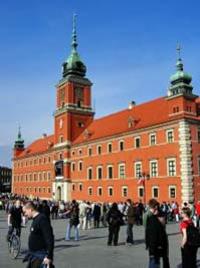 Historical sites such as the Ghetto Memorial, the Monument of Warsaw Uprising, the Tomb of the Unknown Soldier, the Grand Theatre, Chopin's monument, the Belvedere Palace and the Old Town are all seen on your tour.
At the Old Town you can enjoy a walking tour passing by the Castle Square, King Sigismund's Column, St. John's Cathedral, the Old Town Market Square and the Barbican.
Days of Service
Daily
Meeting Time
Departs between 9:40am and 10:15am.
Details
Inclusions
Hotel pickup and drop off
Exclusions
Food and drinks, unless specified
Gratuities (optional)
Additional Info
Confirmation will be received at time of booking
Adult pricing applies to all travelers
Voucher Information
You can present either a paper or an electronic voucher for this activity.
Schedule and Pricing
Departure Point
Central Poland
Duration:
4 hours
Return Details
Tour concludes with drop off at your hotel
Policy:
Refunds, when possible, must be requested at least 4 business days prior to the travel date. Refunds are subject to a 7% administration fee. The Rail Protection Plan™ does not apply.
Note: Tours may be delayed or run late. Please plan accordingly.
Customer Reviews
Matt L
This was a very scenic and educational tour of Warsaw. Great guide who was passionate about sharing the history of this great city. I would highly recommend this tour to anyone visiting Warsaw.
Guillermo B
Excellent tour, excellent organization and very friendly tour guide
tmorizuka
As we were five in the group, each of us got more personal attention from our guide.
I found our tour covering so many and so much and so interesing that I would not mind paying more for 4-5 hour.
DougallGoogle
Great tour guide...and a really interesting city.
Clara J V
very personalized tour/ One of the best. can recommend to friends
Dana M
The bus picked me up quite promptly. We had a lovely tour guide who took us through all over Warsaw including memorial sights for the holocaust. Our tour ended with our group walking through Old Town. The bus then took us to everyones hotel.
Lovely tour and really got to see the sights of Warsaw. Highly Recommended.
Lilliam P
Great guide. He was well informed and went out of his way to be attentive and helpful.
Denise D
A very interesting and informative trip. Our guide was very professional.
LAUREN K
Wonderful half day tour!!! Our guide was really good and knew his stuff! The tour takes you to all the main parts of Warsaw and covers everything you need to know! Defiantly worth it!!!
Mario S
Very well-presented and explained tour covering Warsaw's past and present histories.
BennyCampo
fantastic. well worth it
William F
This tour was an excellent way of getting to know Warsaw in a short period of time, which was ideal for us only spending a day and a half in Warsaw. Hotel pick up is available from a number of hotels. Our guide spoke excellent English, was very friendly and obviously passionate about her city and also Poland in general. Overall an excellent half day tour..
Chutima P
The guide is excellent and arrived on time to pick me up at the hotel. He spoke English fluently and provided useful info about places we visited. Very impressive.
Brian S
An excellent tour, I would recommend it to anybody.
Mary D
Excellent trip.. The guide and driver where very good . I would recommend this tour to anyone who has a limited amount of time in Warsaw.
James P
There were about 10 of us in a little mini-bus and there were several opportunities to get out and walk. We seemed to cover just about everything of note in the city. The guide spoke excellent English, was extremebly informative and very entertaining. At the end of the tour we were able to get out and return to areas we wanted to visit in more depth. It was an excellent way to see the city if time is limited.
airportbabe
Excellent trip. There was a great combination of riding in the bus to get from point to point and then we would get out and do the tour walking through the streets. Perfect. The guide was very good and really knew a lot of history. I would recommend this tour to anyone who has a limited amount of time in Warsaw as you get to see a lot of the city and still have time to explore on your own before the day is done.
Monica S
We liked very much the trip in the city. We had a complete view of the most important places in the city, and we could decide where we should go after.
Ted S
Really interesting trip and very informative. The guide was very friendly and knew all about the history of Warsaw and answered everyone's questions without hesitation. Surprisingly, the trip was mostly walking with occasional spells on the bus. However, this did not detract as it meant we could see more and discuss with the guide what we were passing. We also benefited from the weather, which was lovely, and the fact that there were only five of us on the trip. The trip was the first thing we did in Warsaw, and it introduced us to the city, enabling us to find our own way round after. Absolutely recommended as a way to start a trip to Warsaw.
LESLIE W
I enjoyed this tour from the moment they picked us up at our hotel until they dropped us off. Our multi-lingual guide worked hard to ensure that we understood the history of Warsaw and that we saw all of the must-see sights.
Joyce B
We had a wonderful time. Our guide spoke fluent English and Spanish and barely stopped to take a breath. She made sure all questions were answered. I liked getting off the bus to explore the Royal Way and the Old City. It was also nice to have the option to remain in Old City after the tour. That's where we were going next, and staying there saved us lots of time.
Mary W
Gave me a good overview of the city.
William W
This was very informative sightseeing tour. The guide provide a comprehensive and thought provoking historical, cultural and social narrative of the city
Ronald E
Loved the tour. Our guide was very personable/likeable, and extremenly knowledgeable. One caveat which was great for me - there is a lot of walking on this tour, so wear comfortable shoes.
At checkout we'll ask you to select a hotel from the list below. Once your booking is confirmed, we'll send you a confirmation voucher with full contact information (phone number, email address, etc.) for our local operator in case you need to update or change your hotel pick-up details.
Commonly Asked Questions
What if my hotel is not listed?
That's ok! At checkout you can select an alternative hotel and make your way there on the day of departure; or you can contact our local operator directly to make alternate pick-up arrangements.
What if I have not yet booked a hotel?
Once your hotel arrangements are finalized, you can contact our local operator directly with your hotel details.
What if I live locally, am staying with friends or relatives, and/or don't require pick-up?
Once your booking is confirmed, we'll send you complete details and directions to the tour/activity departure point.