Berlin City Hop-on Hop-off Tour
Berlin City Hop-on Hop-off Tour
View all photos
Location: Berlin, Germany
Duration: 48 hours
Berlin City Hop-on Hop-off Tour
Berlin hop-on hop-off tour allows you to hop-on and off as many times as you like aboard open top double decker buses. There are 20 stops around Berlin, and buses departs every 10 minutes in Summer or 15 minutes in Winter. The continuous route without hopping-off is approx. 2.5 hours and a guided commentary in 13 languages is available. Tickets are valid for 48 hours from first use. Many must-see Berlin attractions are easily accessible enroute including Checkpoint Charlie, Berliner Dom (Cathedral), Pergamon Museum, Brandenburg Gate and the enchanting Charlottenburg Palace.
What You Can Expect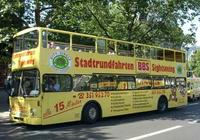 At time of booking choose to include a one hour boat trip for a one day visit.
Upgrade to Berlin River Boat Tour (15 March - 27 October only)
Add a one hour boat trip to your Berlin hop-on hop-off tour and see the city from another vantage point. The tremendous views of the urban landscape unfold as you cruise along the River Spree. Simply hop-off the tour at Berliner Dom (Berlin Cathedral) and hop-on the boat tour. Departure between 10:00am and 3:00pm every 30 minutes, on Friday and Saturday ntil 4:00pm. After the cruise, you can continue to use the hop-on hop-off tickets to explore Berlin.
Berlin Hop-on Hop-off Tour Stops (Yellow line):
Kurfürstendamm
KaDeWe
Lützowplatz
Kulturforum
Potsdamer Platz
Checkpoint Charlie
Gendarmenmarkt
Alexanderplatz/TV Tower
Neptunbrunnen/Well
Museumsinsel/Museum Island
Berliner Dom/Cathedral
Lustgarten/Museum Island
Unter den Linden
Brandenburger Tor/Reichstag
Central Train Station
Victory Column
Palace Bellevue
Straße-des-17. Juni/Flea market
Charlottenburg Palace
Antique Mall
Days of Service
Daily (River Boat Tour operates 15 March to 27 October only)
Meeting Time
Hop-on hop-off bus tour: Summer season (15 March to 27 October): Every 10 minutes from 10am to 4:30pm (last departure); Friday and Saturday until 5:30pm Winter season (28 October to 14 March): Every 10 minutes from 10am to 3:30pm (last departure) River boat tour: Summer season (15 March to 27 October): Every 10 minutes from 10am to 3:00pm (last departure); Friday and Saturday until 4:00pm
Details
Inclusions
Exclusions
Additional Info
Confirmation will be received at time of booking
Not wheelchair accessible
Voucher Information
You can present either a paper or an electronic voucher for this activity.
Schedule and Pricing
Departure Point
Brandenburg
Duration:
48 hours
Return Details
Returns to original departure point
Policy:
Refunds, when possible, must be requested at least 4 business days prior to the travel date. Refunds are subject to a 7% administration fee. The Rail Protection Plan™ does not apply.
Note: Tours may be delayed or run late. Please plan accordingly.
Tour

Code:BTO2DAYS

Unlimited use of Berlin City Hop-on Hop-off Tour valid for 2 consecutive calender days from first time of first use
From
Tour

Code:BBT2Days

Unlimited use of Berlin City Hop-on Hop-off Tour valid for 2 consecutive days, and a 1-hr river boat cruise from; March to October
From
Customer Reviews
Cynthia I
The bus was great on time lots of interesting information given as we passed the points of interest. The 2 day pass gave us the extra time to see more of the attractions.
John B
This is a great way to see the city and also have transportation to all the major sights. We recommend doing the full length of the tour and then going back and hopping off at the places you really want to visit. Great value and great tour.
Michael F
Very good and quite informative.
Tony V
Great way to find out the places you want to visit later - very good
Chris J
Excellent way to see the main sights of the City also allowing stops to look at specific places of interest.
S S
I took this 2 hour bus tour and was really satisfied with all the sights shown and information provided about the history and current affairs of Berlin.
This is a great tour for vistors who do not have a great deal of time on their hands.However,for those who do,the ticket is valid for 2 days so the trip can be undertaken at a more leisurely pace.
As with most hop-on hop-off tours,this is hassle free so one can get off at any stop along the route and then jump back on the next tour coach that comes along.........usually within 10 minutes or so.
Tourists are unlikely to regret this value for money tour which gives you a very good snapshot
of Berlin in a brief period of time without you having to leave your moving armchair,unless
you so desired.
S.SHARMA Mr
Solo traveller to Berlin on Wed,16th September 2015.
ROGER K
Very nice. The hop on, hop off bus is excellent. I strongly advise you purchase this tour with the 1 hour boat trip addition - the tour down the gentle River Spree through much of historic Berlin is fantastic and well worth the additional small fee.
Stephen R
very good way to get round berlin and see the sites,
Chris C
The best way to see Berlin at your pace.
mherrig42
I loved the tour. I wish we could have stayed there longer. :
Elma T
The tour gave us good view and background of Berlin. We could then go back to the places we wanted to explore better. The boat trip was special.
DBHSK
Perfect experience!
John
Great way to see the city. The audio was clear, over 15 languages catered for. Would recommend the 2-day ticket.
Thomas H
Very good for seeing all the sights
Maria D
Great you can see all the Berlin sights
Gerald F
My first trip to Berlin, Germany was really enhanced by the Hop-on Hop-off tour. I got to see a lot of the sights of Berlin in a more relaxed format. I especially liked the boat tour around the city. It was a nice opportunity to rest my tired legs from touring. I HIGHLY recommend this method of seeing Berlin, especially for a first timer to Berlin. It was simply AWESOME!
Deborah H
Excellent value for money and the add-on river cruise was well worth the extra 9 euros
Kenneth M
Brilliant city - the Hop on hop off bus is the ideal way to see the best of Berlin in a short timeframe
Penelope G
Comprehensive tour yellow route. The best way to see Berlin. Very helpful Agents and Drivers. Buses were all punctual and comfortable. No hesitation in recommending this tour.
seifeldeen.hesham
Simply I couldn't imagine my stay in Berlin without this hop-on hop-off tour.. :) there are 22 audio languages that act as your tour guide.. Buses come every ten minutes.. Believe me it's worth doing :) (the only negative thing is that it's a bit expensive but still way cheaper than Berlin Taxis :))
Ling L
The company is easy to find. There are 18 stops on this bus tour covered most famous tourist spots in Berlin.
Allan T
The red buses had a pre-recorded tour commentary which was activated by GPS once we got to the appropriate place, this was excellent. The green and yellow buses had an onboard guide who's narratives were often hard to understand and not as good as the pre-recorded commentaries.
Marlena M
The bus was easy to locate. It had very clear maps and offered listening tours gor free in a multitude of languages.