Avila and Segovia Day Trip from Madrid
Avila and Segovia Day Trip from Madrid
View all photos
Location: Madrid, Spain
Duration: 9 hours
Avila and Segovia Day Trip from Madrid
Soak up Spain's fascinating history and legendary culture on an Avila and Segovia day trip from Madrid. Explore the walled city of Avila, Spain's best-preserved 11th-century fortified town, and discover why it is known as the City of Stones and Saints. Then unravel centuries of history in the city of Segovia, from its two-tiered Roman aqueduct to its Moorish fort and stunning Gothic cathedral. With the option to indulge in a gastronomic lunch, your trip to these two UNESCO World Heritage sites is a feast for all the senses!
What You Can Expect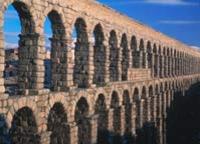 Your day trip from Madrid to Avila begins with a stop at hilltop Los Cuatro Postes to admire superb panoramic views over the city of Avila, dotted with church towers and Gothic palaces, and declared a UNESCO 'Heritage of Mankind' city.

Entering the 11th-century city walls encircling Avila, notice how the 90 fortified towers and circular turrets look like they've stepped out of a storybook, and hear how Avila is an important pilgrimage site as the birthplace of the mystic writer Saint Teresa of Jesus (1515–82). Then explore two of the best examples from the astounding array of Romanesque and Gothic churches in Avila, packed with one of the highest concentrations of Romanesque and Gothic churches in Spain.

Your guided visit to Avila's churches takes you to San Vicente Basilica, a Gothic masterpiece and home to some of Spain's most prized examples of Romanesque sculpture. Then see how Gothic and Romanesque architecture combine in Avila's celebrated cathedral, with its fortress design and alabaster chapels and tombs.

Continue your Segovia day trip to see one of the finest Roman-era monuments in Spain -- Segovia's Roman aqueduct. Admire the scale of this incredible feat of engineering, built entirely without mortar during the reign of Augustus in the 1st century AD, and see how the aqueduct originally had 118 arches and was 10 miles (16 kilometers) long.

Your guided tour of Segovia also takes you to the famous Alcazar, a beautiful 11th-century medieval fort that inspired the design of Disney's fairytale castle. One of the finest Moorish fortresses in Spain, it's also at the heart of one of the most significant group of medieval buildings in the country. Step back in time and imagine the medieval tournaments that once took place here, and the heroic knights who fought in the court of the kings of Castile who ruled from Segovia.

Complete your Segovia guided visit with a look at the city's impressive cathedral, the last Gothic cathedral built in Spain and known as 'the Lady of the Cathedrals'.

On this day trip to Segovia you have the option of including a tourist-style lunch of stuffed veal or a superb gastronomic meal featuring local Segovian specialties such as roasted suckling pig.
Sample Menu (subject to change)

Tourist Lunch:

La Granja white beans
Beef cooked 'Segovian style'
Dessert
Gastronomic Lunch
La Granja white beans
Roasted baby pig
Segovian cake
Mineral water, wine and coffee
Days of Service
January 01 to March 31
Daily, except Tuesdays and Thursdays
April 1 to October 31
Daily
November 1 to December 31
Daily, except Tuesdays and Thursdays
Meeting Time
9am
Details
Inclusions
Avila visit and entrance fee to Basilica of San Vincente
Transport by air-conditioned coach
Segovia visit and entrance fee to the Alcazar, with its Artillery Museum and Church of Vera Cruz
Exclusions
Gratuities (optional)
Hotel pickup and drop off
Food and drinks, unless specified
Additional Info
Confirmation will be received at time of booking
Not wheelchair accessible and is not suitable for those with limited mobility
If the Cathedral in Avila is being used for exhibitions or other events, it may affect the normal flow of your visit. In this case, another monuments in Avila will be visited instead.
Infants aged 5 years and under, are free of charge provided they do not occupy a seat
Operated by a bilingual guide in Spanish and English

Voucher Information
You can present either a paper or an electronic voucher for this activity.
Schedule and Pricing
Departure Point
Madrid
Duration:
9 hours
Return Details
Returns to original departure point
Policy:
Refunds, when possible, must be requested at least 4 business days prior to the travel date. Refunds are subject to a 7% administration fee. The Rail Protection Plan™ does not apply.
9:00 AMTour

Code:ENG945T

Avila and Segovia Day Trip from Madrid with English-speaking guide
From
9:00 AMTour

Code:ENG945TL1

Avila and Segovia Day Trip from Madrid including Tourist Lunch with English-speaking guide
From
9:00 AMTour

Code:ENG945TL2

Avila and Segovia Day Trip from Madrid including Segovian Lunch with English-speaking guide
From
Customer Reviews
Rosario I
This tour was great and the tour guide was very good explain everything in both English and Spanish.
Kristin D
We thoroughly enjoyed this trip and appreciated the time given for independent exploration of Segovia. Avila is celebrating 500 years of the birth of St Teresa and it likewise is a beautiful city to visit. For those with limited time it is a very worthwhile trip to take because of the easy access to both cities
paul a
loved it , worth it, food was amazing, wish we had more free time for browsing.
Fernie S
My family and I enjoyed this tour very much. It was well organized and the tour guide was very knowledgeable. Wear comfortable shoes for there's lots of walking.
Elisa P
We had a great time in this tour. The two sites are very beautiful and have interesting histories, they're must-sees when you're in Spain. Also, our tour guide was excellent! Not only is he very knowledgeable about the places we visited but he also tells stories and jokes well, it's not as though he's just reading from a book. This day trip was one of the highlights of our trip in Spain!
vhbedoya
Must Do! Beautiful place Avila. Will come back. Segovia too.
Curtis W
This tour was amazing!
Eduardo T
This tour was amazing!
kukdai
Loved the tour and guide. it is worth visiting. Our travel was organized by the tour operator in Madrid. The tour was on time and disciplined to attend. Our guide a lady from Granada was very, informative and was eager to answer all the questions. She took us right through all the histories and facts that surround the cities, churches and cathedrals and other landmarks. Don't miss this tour you will thoroughly enjoy the history and the physical structures in these two cities. make sure to get a comfortable dress and shoes because the tour is on foot.
Cristobal B. E
Excellent tour, very knowledgeable guide. Our guide spoke several languages and conveyed history like a historian. In Segovia I recommend going for the special lunch which includes the world famous Segovian Cochinillo pork, awesome taste and excellent restaurant. The bus has AC and is very comfortable. The two cities are well worth the trip, they contain hundreds of years of history. The price of the tour is worth every penny.
John P
This was a very good tour of Avila and Segovia. We purchased the lunch as well and it was a fabulous hot 4 course meal and excellent service as well. The tour to both cities was very interesting and comfortable. Marta - our tour guide was very good kept a good pace and was easy to understand. I highly recommend this tour!
Sanna B
Very well arranged trip with lots of interesting information along the way. Would have been nice to have some free time to browse around in Segovia though in addition to lunch break. Some steep down-/ and uphills to walk which was not mentioned in the tour description. Was not a problem for me but someone might be interested in knowing that before booking.
SILVIA ANDREA F
beautiful day trip
Grant B
Good tour to see both cities in one day. Our guide Marta was both friendly and informative.
colin q
It was a wonderful trip and Marta was a warm friendly guide.
Joseph O
Excellent tour! Our Guide was very good.
Mrs Rhonda P
Tour was fantastic. Meals were terrific. Guide and bus driver were friendly. Guide had emense knowledge re both cities. Such beautiful medievil towns. Breathtaking scenery. So glad my husband and I decided to do it. A long day but an unforgettable one. Thankyou
Meisam
I am glad we did this tour during our stay in Madrid. It gives you idea about Spain history and how this country united in 15 century. Drive was not long, and our tour guide was explaining the history and main attractions while we were driving from one point to the other.
Elleke P
Ana was a terrific guide and was so knowledgable. We thoroughly enjoyed the day and would recommend it to friends
Bonnie V
This was a great tour! We loved our tour guide and Segovia was an amazing place to visit. I would highly recommend this tour to anyone
J L
This was one of the best tours ever I've taken!!!
It's so, so, so worth to take this trip. At the end of the tour is almost impossible to decide which one you liked the most!
Just fantastic tour and the tour guide was fantastic!
Philip B
We thoroughly enjoyed our trip to Avila and Segovia. The guide was good and you managed to pack a lot of activity into the tour. We also liked the lunch.
Kenneth H
We booked easily via internet once in country and easily found tour operator office with phone call for directions. Tour operator was very professional, clean, safe, modern coaches and great bilingual tour guide. Avila and Segovia were both worth the effort of getting to them.