London Eye Skip-the-Line Ticket with 4D Experience
Skip the line for a perfect Coca-Cola London Eye experience! With fast track entry for your standard flight in a shared capsule, you get to skip (...)
Overview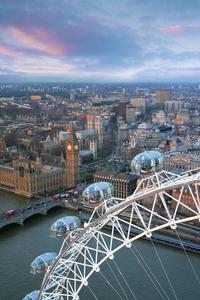 Location: London, United Kingdom
The Coca-Cola London Eye soars 443 feet (135 meters) into the sky and views stretching 25 miles (40 kilometers) in every direction. Since opening at the turn of the century, it has been used as a backdrop in countless films and is loved by Britons and visitors alike. More than 3.5 million people a year have ridden the London Eye (an average of 10,000 a day).
Skip the Line: London Eye Tickets are the fastest way to the sky! Check in just 15 minutes before your flight and avoiding the majority of the queue with fast track priority access. The tickets are pre-paid, for fast, hassle-free entry and you can board any flight on your chosen day. Price includes standard ticket price plus fast-track fee.
Pay a little more and you could save a lot of time! At weekends, during Bank Holidays and during school holidays the London Eye is at its most popular. London Eye: Skip the Line Tickets allow priority boarding and include a complimentary mini-guide for adults and an in-flight kids' pack for children.
Each London Eye capsule holds up to 25 passengers comfortably. All capsules are fully air-conditioned and rotate on a special device designed to keep everyone upright as the wheel makes a slow but progressive revolution.
If you wish to see the 4D Experience beforehand, we recommend you arrive 30-40 minutes before your visit time. Alternately visit at your leisure afterwards.
Skip the line
All entrance fees included
Likely to Sell Out
What you can expect
Skip the line for a perfect Coca-Cola London Eye experience! With fast track entry for your standard flight in a shared capsule, you get to skip the majority of the queue. Don't waste time waiting in lines on vacation! The London Eye offers spectacular views of the capital of England from high above the River Thames. The famous landmarks to be seen include Big Ben and the Houses of Parliament, St. Paul's Cathedral, Buckingham Palace and Westminster Abbey. Visit includes new interactive guides powered by Samsung Galaxy Tab and an entry to the London Eye 4D Experience, an inspiring journey of discovery that brings London to life through multi-sensory special effects.
Practical information
What's inside
London Eye Flight (30 minutes)
Guaranteed fast track access
Additional info
Refunds, when possible, must be requested at least 4 business days prior to the travel date. Refunds are subject to a 7% administration fee. The Rail Protection Plan™ does not apply.
Confirmation will be received at time of booking
Wheelchair accessible
Strollers or heavy luggage are not allowed on The London Eye. A limited "left luggage" facility is available
All visitors must pass through metal detectors at the security check point
Please note: Once the lead passenger name has been added this cannot be changed. Please bring a form of identification that matches the Lead Traveller name on your ticket, with you on the day of your visit, as this may be checked before entry is allowed
Departure point:
London Eye is situated on the South Bank of the River Thames, opposite the Houses of Parliament.
Departure time:
By pre-purchasing your ticket, you can skip the long lines (which can take up to one hour in peak season!) by using the "Fast-Track ticket desk". It's fast and simple.
Timed entry as per selected, exact admission time will be confirmed at checkout and on the voucher:
Morning Admission: between 10am to 12:15pm
Mid-day Admission: between 12:30pm to 2:15pm
Early Afternoon Admission: 2:30pm to 4:15pm
Late Afternoon Admission: 4:30pm to 6:15pm
Evening Admission: 6:30pm to 7:45pm
Reviews & ratings
London Eye Skip-the-Line Ticket
London Eye Skip-the-Line Ticket

|

.

|

29 December 2017

"I have visited the London Eye twice and have enjoyed it very much on both occasions. Highly recommended. "

London Eye Skip-the-Line Ticket

|

.

|

28 December 2017

"Worth doing. "

London Eye Skip-the-Line Ticket

|

.

|

2 January 2018

"The Skip-the-Line pass was well worth it ! We were able to go directly to the Fast Track line and were on the Eye in under two minutes. "

London Eye Skip-the-Line Ticket

|

.

|

2 January 2018

"A great experience. "

London Eye Skip-the-Line Ticket

|

.

|

3 January 2018

"Long line—and we just went to the front ! They do move people through very fast. Had to experience the Eye while in London. Glad we did. Great views and just enough (...) "

London Eye Skip-the-Line Ticket

|

.

|

27 December 2017

"Worth buying the skip-the-line ticket.It was really quick "

London Eye Skip-the-Line Ticket

|

.

|

16 December 2017

"This tour was amazing ! "

London Eye Skip-the-Line Ticket

|

.

|

8 December 2017

"Great view of London, would suggest going in the afternoon so the fog has time to clear "

London Eye Skip-the-Line Ticket

|

.

|

10 December 2017

"The skip the line was a blssing , it was a great experience. "

London Eye Skip-the-Line Ticket

|

.

|

13 December 2017

"This tour was amazing ! "